MH-60R Helicopters to Begin Flight Trials Aboard Royal Australian Navy's Largest Warship
First-of-class flight trials for the service's new MH-60R helicopters will begin aboard the HMAS Adelaide shortly.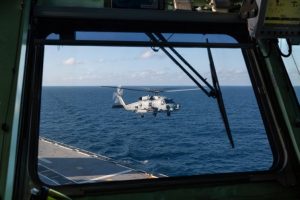 First-of-class flight trials for the Royal Australian Navy's (RAN) new MH-60R 'Romeo' maritime multirole helicopters aboard the service's largest warship, landing helicopter dock (LHD) vessel HMAS Adelaide, will begin shortly, the RAN announced on April 7.
HMAS Adelaide left its home port in Sydney to conduct the flight trials off the coast of Queensland. The entire crew on Adelaide was screened for COVID-19 symptoms before departure.
"The trials will determine the safe operating limits of the Romeo helicopters on the [LHD] in a range of sea states and wind speeds at both day and night," according to a RAN statement.
"The results will provide a new standard of operational capability, informing how Navy can employ the MH-60R and LHD together in the future to increase both lethality in combat, and responsiveness during humanitarian assistance and disaster relief tasks," said the commanding officer of the Adelaide, Captain Jonathan Ley.
The MH-60R 'Romeo' helicopters are based at 816 Squadron in Nowra, New South Wales. Deliveries of 24 MH-60Rs to the RAN were completed in August 2016. MH-60R helicopters can carry AGM-114 Hellfires for use against small surface combatants and land targets, as well as MK 54 torpedoes for anti-submarine warfare (ASW) missions, and can also be armed with APKWS 70mm laser-guided rockets.
"While MH-60R aircraft have been used on HMA Ships Adelaide and Canberra for some time, new tests are required to determine what new safe operating limits they can achieve when working together," Lieutenant Commander Chris Broadbent of the Aircraft Maintenance and Flight Trials Unit was quoted as saying.
The Canberra-class LHD's HMAS Canberra and HMAS Adelaide are the RAN's two largest warships. The ships achieved final operational capability in November 2019. HMAS Canberra was commissioned in November 2014, HMAS Adelaide in December 2015. As I explained previously:
The 27,500-tonne, 230 meter-long amphibious assault ships can carry six helicopters—six-medium sized or four heavy lift rotorcraft–and four small LCM 1E landing craft that can accommodate the Australian Army's M1A1 main battle tank.
Each ship can accommodate over 1,100 assault troops along with their equipment and around 110 vehicles. In addition, the Canberra-class can carry up to a million liters of aviation fuel.
The ships, when fully loaded, have a maximum range of 9,000 nautical miles (at an economic speed of 15 knots) and can achieve top speeds of 21 knots. The ships will form the core of the RANs planned new amphibious ready groups (ARGs).
Each Canberra-class LHD has a crew of 357 and can carry up to six helicopters.
The Canberra-class is based on the design of the Spanish Navy's light aircraft carrier Juan Carlos I. The LHD's are equipped with a ski-jump flight deck, which has raised speculations that the RAN may eventually upgrade the Canberra-class to operate the F-35B Lightning II Joint Strike Fighter.