Russia Offers India Three Refurbished Kilo-Class Submarines
The Indian Navy is reportedly considering three refurbished Kilo-class boats from Russia.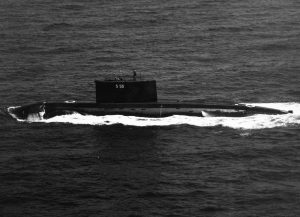 The Indian Navy is considering an offer by Russia's state-owned JSC United Shipbuilding Corporation (USC) for three refurbished Kilo-class submarines to augment its shortfall in diesel-electric submarines (SSKs), according to local media reports.
USC reportedly offered a $1.8-2 billion "three plus three" package that would include upgrade work on three Indian Navy Sindhughosh Kilo (Project 877EKM)-class SSKs with an additional three refurbished Russian Navy Kilo-class hulls.
The possible defense deal was expected to be raised at a meeting of the India-Russia Inter-Governmental Commission on Military and Military Technical Cooperation (IRIGC-M&MTC) that was scheduled to take place in Goa last month but was cancelled due to the Covid-19 pandemic.
The Indian Navy would receive the Russian-made SSKs at one-year intervals with the first boat slated for delivery three years after the conclusion of the agreement. The refit of the three Sindhughosh Kilo (Project 877EKM)-class SSKs, which entered service in 1990, 1991, and 2000 respectively, would extend their operational life by 10 years.
According to Indian media reports, senior officers in the Indian Navy submarine branch are looking at the proposal favorably and see it as a stopgap measure to address the perennial shortage of operationally deployable boats in the force.
"One important capability which the Kilos provide India is their submarine launched cruise missiles," naval analyst H I Sutton wrote for Forbes earlier this week. "They are equipped with the Russian supplied 3M-14E Club-S missile which is roughly similar to the American Tomahawk."
The Russian 3M-54E1 Klub-S submarine-launched cruise missile (SLCM) has an estimated 220 kilometer range against surface targets.
The Navy's SSK force currently consists of 14 SSKs against a projected requirement of 24 SSKs under the service's Maritime Capacity Perspective Plan (MCPP) 2012–27. One Indian Navy Kilo-class SSK was lost due to an explosion in Mumbai harbor in 2013.
Last year, India and Russia signed an intergovernmental agreement for a 10-year lease of a Russian nuclear-powered attack submarine (SSN).
The Indian Navy leased two other subs from Russia in past years. In 1988, the service commissioned a Project 670 Skat-class (NATO classification: Charlie-class) nuclear-powered cruise missile submarine, rechristened INS Chakra, under a three-year lease. In 2012, a second INS Chakra, the retrofitted K-152 Project 971 Akula-class Nerpa, was leased for a decade, which might be extended to 2027.
Last year, Russia also offered India to jointly develop a new SSK class based on the Russian Amur-1650 class. The Amur-1650 is the export version of the Project 677 Lada-class.
The Navy commissioned its second of six Scorpene-class (Kalvari-class) SSKs in September 2019.