South Korea's Response to COVID-19 in Africa 
COVID-19 has presented new opportunities for cooperation between South Korea and Africa.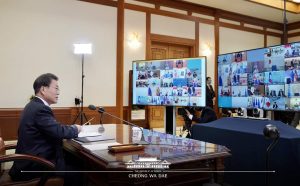 In December 2019, the Korea-Africa Foundation, an arm of the South Korean Foreign Ministry, convened the second Seoul Dialogue on Africa. This dialogue was the first major initiative in President Moon Jae-in's approach toward Africa. It built upon the initiatives of his predecessors, each of whom had their own unique policies toward the continent. The theme of the dialogue was "African Integration: Legacies and New Horizons" and led to promises of further cooperation between South Korea and the continent in the fields of entrepreneurship and infrastructure. 
COVID-19 has presented new opportunities for cooperation between South Korea and Africa. The extensive testing and contact tracing regimes that allowed South Korea to halt the virus' transmission had been praised globally and put the East Asian country in a position to be a leader in the global response to the pandemic. South Korea has already begun engaging with African states in responding to the COVID-19 pandemic. The country has focused on multilateral cooperation, shown efforts to evacuate Korean citizens who were unable to leave African states, and provided assistance to individual African nations.
Multilateral Cooperation 
The first instance of cooperation between South Korea and Africa in responding to COVID-19 was the G-20 Extraordinary Leader Summit. The summit virtually convened on March 26 to discuss global responses to the pandemic. As confirmed cases of COVID-19 began spreading rapidly across Africa, leaders such as Ethiopian Prime Minister Abiy Ahmed and South African President Cyril Ramaphosa warned about the gigantic impact the pandemic could have on the continent. In the days following the summit, South Korean President Moon Jae-in spoke with Abiy about the potential impact COVID-19 could have on Ethiopia. The two leaders also agreed on the importance of G-20 states providing support to African states after expressing concern about their ability to cope with the ongoing transmission of the virus. Moon said that he expects support to Africa "will be addressed intensively in the process of taking follow-up measures to the G-20 joint statement" and Abiy thanked Moon for his "brotherly response"  and said that the world needs "Moon's experience and global leadership." Moon also spoke with Senegalese President Macky Sall and Ivorian President Alassane Ouattara. 
Thereafter, Moon spoke with the Director General of the World Health Organization (WHO) Dr. Tedros Adhanom Ghebreyesus, who invited Moon to address a tele-meeting in May on combating the virus. Tedros asked Moon to speak as "a representative of Asia" to urge countries to follow the same successful approach that South Korea did in combating the virus. Tedros, who previously held the ministerial portfolios of Health and Foreign Affairs in Ethiopia, also urged Moon to provide testing kits and medical equipment to African states fighting the virus. Moon agreed to do so, and promised to increase South Korea's support to the WHO and the United Nations-led Coronavirus response program. Moon went on to say that South Korea's domestic and international response to the COVID-19 pandemic have and will continue to be based on the principles of "openness, transparency, and democracy." In all likelihood this was a subtle critique of China which has similarly attempted to present itself as a global leader in responding to COVID-19 and responded to the virus domestically in an authoritarian manner. 
Unrelatedly, South Korea was also forced to cancel its planned rotation of 268 troops deployed in South Sudan as part of the United Nations Mission in South Sudan (UNMISS) at the request of the South Sudanese Government. South Korea eventually evacuated the troops due to be rotated out of the country with the assistance of state-owned Ethiopian Airlines. 
Evacuation of South Korean Citizens 
Beginning in mid March in an effort to prevent new cases from arriving into their countries, many African countries began to close their airports to commercial flights with little to no notice. This led to many foreign tourists and expatriates alike being unable to return to their countries of citizenship. This forced countries, including South Korea, to negotiate the arrangement of special evacuation flights for their citizens.
When Madagascar cancelled all commercial flights arriving in the country, the nearly 250 South Korean citizens who reside in the country were unable to leave. In response, the Embassy of South Korea coordinated with the diplomatic missions of six other countries to arrange an evacuation flight on the last day of March to Addis Ababa from where passengers connected to their home countries. Similar arrangements were made in cooperation with the Japanese Embassy for the approximately 150 South Koreans who reside in Cameroon. Additionally, the Gabonese Government provided an aircraft to evacuate four South Korean citizens, and arrangements have been made to evacuate tourists from Morocco. 
Such evacuations are likely to continue for some time as African states have extended domestic lockdowns and closures of airports. For instance, South Africa recently extended its domestic lockdown until the end of April. As a result, South Korean Ambassador in Pretoria Park Jeong Dae announced that the embassy was determining how many of its nationals are looking to depart South Africa. This is part of a coordinated effort to provide a plane to repatriate South Koreans in South Africa, Botswana, and Estawini (formerly Swaziland). South Koreans have also petitioned the government to evacuate citizens from Mali.
Bilateral Assistance 
After successfully flattening the curve and limiting community transmissions of COVID-19 within its borders, South Korea has begun to provide assistance to countries around the world in fighting the virus. This has been especially visible in Africa where the South Korean government, private sector, and nongovernmental organizations have provided medical assistance. 
At the end of March, South Korean Foreign Minister Kang Kyung-wha and her Moroccan counterpart Nasser Bourita had a phone call. During the call, Bourita expressed Morocco's administration of South Korea's domestic response to the virus and requested that best practices be shared between the two countries. The two ministers also agreed to cooperate on a transaction in which Morocco purchased 100,000 testing kits from a South Korean medical supplier. Kang promised further assistance to Morocco while taking into account South Korea's domestic needs. A similar arrangement to sell testing kits was made with South Africa. 
At the beginning of April South Korean Ambassador to Madagascar Lim Sang Woo spoke bluntly about the weak position the country was in regarding its ability to fight the pandemic. Lim outlined the fact that at the moment, Madagascar only had 1,300 testing kits. As such, he expressed concern that an international plan to build African states' capacity to fight the virus did "not really exist at the moment." He went on to state that South Korea was in a unique position to provide assistance adding that if his country provided only 25,000 tests (approximately the quantity South Korea was conducting every two days) to Madagascar, the situation would be more "hopeful." Later, the South Korean Embassy in Antananarivo donated an x-ray installed medical van to the Government of Madagascar to treat those infected with COVID-19.  
A South Korean Foreign Ministry official said the country was looking to donate COVID-19 testing kits to six countries across the Middle East and Africa. According to the official, the recipient countries would be chosen based on their relationship with South Korea and their domestic capacity to respond to the virus. The South Korean ministry also advised other countries to follow South Korea's approach in fighting the virus with aggressive isolation, testing, and contact tracing. Notably, South Korea's approach did not require widespread orders to stay at home, which many have said would be detrimental to African economies. South Korea has also given public health assistance to African states. For instance, the Korea International Cooperation Agency (KOICA) assisted in building a hospital in Kajiado, a county south of Nairobi, in 2008 and has supported it since. The hospital outside of the Kenyan capital now serves as one of Kenya's COVID-19 response centers. In response, a local government official stated "I would like to thank South Korea for strengthening our health and medical capacity. Thanks to their help, we have a capability to respond immediately to COVID-19. I hope to fight COVID-19 with South Korea, a nation which is leading the fight against coronavirus."  
The assistance provided to Africa from South Korea to fight the COVID-19 has not been limited to the government, with both secular and religious nonprofits playing a role. In Ethiopia, a South Korean NGO named Warmth Day that runs programs to assist veterans of the Korean War and their families has begun providing masks and other forms of personal protective equipment (PPE) to its beneficiaries. The large Christian population in South Korea has also played a role in providing assistance. Anyang Global Methodist Church and a South Korean Christian NGO called Africa Freedom Foundation donated 10 ambulances to Madagascar. The global influence of South Korean pop-culture has even played a role in organizing local responses to the pandemic. In late-March, a South African fan group of the famed South Korean boy band BTS provided assistance to the homeless population of Cape Town. The same population was facing brutality at the hands of the security forces for violating the nationwide lockdown. 
R. Maxwell Bone is an incoming Master of Philosophy in African Studies Candidate at the University of Cambridge. He has conducted field work across sub-Saharan Africa. He is based in Washington, D.C. Follow him on Twitter at @maxbone55. 
Matthew Minsoo Kim is a Research Intern in Korea Program at the Woodrow Wilson Center for International Scholars, where he has also served as a Research Assistant. He previously served as a member of the artillery forces in the South Korean Army. He has also lived in South Africa. He is based in Washington, D.C. Follow him on Twitter at @minsoo9622.