Women in Vanuatu Vie for a Presence in Parliament
Vanuatu is one of three nations with no women in parliament. 17 female candidates are hoping to change that.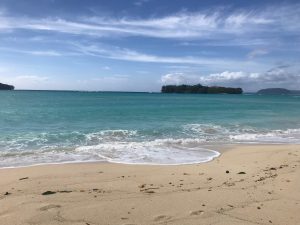 Since Vanuatu gained independence in 1980 only a few women have ever served as members of parliament, and as of today it is one of just three countries around the world with not a single female MP.
The other two countries, Papua New Guinea and the Federated States of Micronesia, are also in the Pacific.
In Vanuatu, the 2020 election count is underway, and results are expected to be announced within the next day — more than a week since voters went to the polls. But that's a short time to wait considering how long women have been waiting to have strong representation in government.
In the 2012 and 2016 elections no women were elected. This year just 17 female candidates ran against 240 male candidates with the help of the "Vot Woman" campaign launched in October last year. 
The campaign was officially launched by a consortium of NGO groups, local society groups, and current and former MPs, including Vanuatu's first head of state, Ati George Sokomanu.
"Today, the women of Vanuatu are scientists, pilots, engineers, and doctors. We need to change our behaviors and attitudes toward development," Sokomanu said at the campaign launch. "Can a woman be prime minister of Vanuatu? Yes, of course."
There were also high hopes for the Leleon Vanua Democratic Party, Vanuatu's first female-led political party, founded last year. 
One member of the party already had a high profile in Vanuatu: Hilda Lini was the first woman to be elected to parliament in the country, back in 1987. Her brother, Walter Lini was Vanuatu's first prime minister following independence.
Lini, acknowledging that since she was first elected more than three decades ago only five other women have made it into parliament, set out with other female community leaders to create a political party where women were in control. But just a month before election day the Leleon Vanua Democratic Party announced that it would not contest the 2020 election. 
"We tried very hard," Andrina Komala Lini Thomas, the party's secretary-general, told the ABC. "We did dinner dances, we did kava sales, we did ice cream sales, we did sausage sizzle sales, but we didn't make enough money."
The group was ultimately unable to fund the kind of campaign it had hoped for and so dropped out, but Thomas and 16 other female candidates still stood for election as either independents or with other parties. 
Beyond the rigid social and political norms that already place women at a disadvantage, they struggle to get the financial backing needed to compete against older, male-led parties. 
The coalition of a female-led political party was designed to give women interested in competing for a position the support they need to do so. The party now intends to use the next four years to prepare for the 2024 election. 
One of the women running as an independent is 28-year-old Litiana Kalsrap, who is believed to be the youngest candidate. Kalsrap is an experienced youth leader and climate activist and is the recipient of the Queen Young Leaders award. 
She told the Guardian that she hopes her reputation in the community will secure the votes she needs, given she has no financial support to run a fully-fledged campaign. 
"I've heard indirectly that 'she's too young,' 'she doesn't understand politics,' 'she should wait until the next election in 2024,'" she said. "I've known ever since I started doing volunteer work in 2010 that 2020 was going to be my year to contest."
Some of Vanuatu's Pacific neighbors have met the unequal playing field by amending their constitution and setting quotas for a minimum number of women to sit in parliament. The system has not been widely adopted and has proven controversial.
The Vot Woman group, with the support of Oxfam, pushed this idea, delivering a petition to parliament which called for 50-50 representation. There was swift pushback from both men and women, who claimed that Oxfam was interfering in their political process. 
"I have already appealed to the Minister of Internal Affairs to look at the status of Oxfam in Vanuatu," said Jenny Ligo, the interim chair for the Vanuatu Coalition for Gender Equity to Parliament. "They have no right to be involved in the politics of Vanuatu."
Ligo has also distanced herself from the Leleon Vanua Democratic Party, telling the Daily Post that too many resources and too much energy have been wasted in advocating for women in politics and urged women instead to "find a political party that you are comfortable with and join it."
Elizabeth Faerua, the country director of Oxfam in Vanuatu, told the Pacific Beat that they are not interfering and that it is a local issue, led by local leadership offering local solutions. 
"There is a lot of women organizations, associations, networks, groups that stand up to say this is enough," she said. "It's time that we work and call on our leaders to provide reserved seats for women in parliament."
The first unofficial results indicate that despite Vot Woman and the Leleon Vanua Democratic Party's best efforts, no seats have been won by women. With counting underway, the official results are expected to be announced soon.