Vanuatu Alone in Rebuilding After Cyclone Harold
Amid a global public health emergency, Vanuatu's efforts to respond to one disaster are restricted by its efforts to prevent another.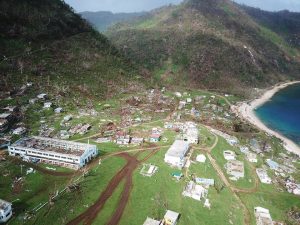 In normal times, a category 5 cyclone sweeping across the Pacific, killing 31 people and destroying thousands of homes, would have led to an influx of foreign aid and volunteers arriving en masse to help with the recovery. But Vanuatu's efforts to respond to one disaster are restricted by its efforts to prevent another.
Cyclone Harold, which also caused widespread destruction in the Solomon Islands, Fiji and Tonga, made landfall in Vanuatu on April 3. One month later, around 1,000 people on the west coast of Espiritu Santo, Vanuatu's largest island, remain with minimal shelter and are running low on food and water. The communities there, among the most remote in Vanuatu, have seen little support due to restrictions put in place to combat the COVID-19 pandemic. 
The country's second largest island, Malekula, was among the worst hit by Harold. Media reports suggest that at least a third of the island's population are in need of emergency relief but Malekula is now under a temporary lockdown, after a Filipino ship stopped there earlier this week, raising concerns of possible COVID-19 transmission. 
Vanuatu is one of a handfull of countries that is virus-free, but the fear of the virus arriving is enough for authorities to put in place similar, if not stricter, measures than other countries in the region. Vanuatu declared a state of emergency in late March. All non-essential businesses closed, commercial travel was banned, and social gatherings limited. 
In Luganville, Vanuatu's second largest city, aid agencies report that between 50 and 70 percent of buildings were damaged by Harold. More than half of the country's population of 300,000 are in need of emergency shelter. The total damage caused by the cyclone is feared worse than Cyclone Pam, which hit Vanuatu in 2015 and cost nearly $600 million, more than half of the country's annual GDP.
Dr. Christopher Bartlett, a climate scientist working on the island of Santo told Newsroom last week that they are still waiting for relief to come. "We're all pretty much stuck here and the damage is severe – up to 80 and 90 percent of all structures have been completely blown away," he said. 
"Any food gardens and crops have been decimated. We're looking at a real humanitarian disaster at the moment and trying to pull together what we can with little resources and traditional knowledge to pull us through these days while waiting for relief."
Despite the devastation, Vanuatu's Disaster Management Office has banned foreign aid workers from entering the country due to COVID-19. In a statement, the office said "This is an internally run response. We need to work together."
Although there are no known cases of the virus in the country, Vanuatu has not been spared the economic impact of the pandemic. A recent survey found that employment in the tourism sector had decreased by 70 percent. Tourism is one of Vanuatu's most profitable sector. Cyclone Harold could not have come at a worse time. 
Australia, New Zealand and China were quick to respond after Harold passed. As of April 28, a combined $8 million worth of aid has been sent to Vanuatu but distribution to communities in need has been hampered by strict quarantine measures.
According to Jacqueline De Gailande, the Red Cross secretary-general in Vanuatu, getting relief to communities in essential but so is the ongoing work to protect Vanuatu from COVID-19.
"Cyclone Harold will have a big effect on our COVID-19 activities," she said. "We cannot afford to have any confirmed cases in Vanuatu so we must really take care in the coming time."
Complicating matters further is that responding first to the emergence of the pandemic and then to one of the worst natural disaster to ever hit Vanuatu was a caretaker government.
With the recovery effort underway and restrictions still in place, parliament elected Bob Loughman prime minister on April 20. In his first statement to parliament, he thanked the caretaker government for guiding the country through a difficult time and spoke of the daunting task ahead. "While we were focused on COVID-19, we could never have known Cyclone Harold would add to the burden," he said. 
Given that COVID-19 has devastated the economy, aid agencies estimate that it could take at least a year for Vanuatu to recover from Cyclone Harold.
The Secretary general of the Pacific Islands Forum, Dame Meg Taylor, acknowledged the challenges ahead but also said it has presented Vanuatu with a possibility to reshape its disaster relief operations. 
"This is a chance for nations to plan better, to include the most vulnerable in those plans, and to shape 21st century economies and societies in ways that are healthy, clean, safe and more resilient," she told RNZ. 
She hopes that the region's experience with the pandemic will lead to improvements to health infrastructure and better disaster preparedness – and in the case of a global emergency, perhaps one less dependent on other nations who may not be able to reach them.