Another Incident on the Kyrgyzstan-Tajikistan Border
On May 24, shots were fired in the contentious border area. And reportedly again on May 27.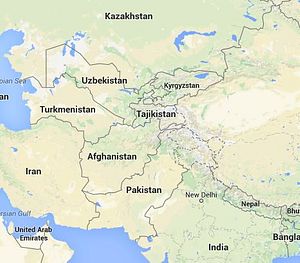 Three weeks after fresh clashes near a problematic portion of the Kyrgyzstan-Tajikistan border, shots were fired again over the past weekend and again on May 27. 
According to local media, shots were fired in the contentious and exclave-dotted border area of Kyrgyzstan's Batken region and Isfara district in Tajikistan's northern Sughd province. As with all previous incidents in the area, there are two slightly different versions of events. 
Kyrgyz media outlet 24.kg reported that the Kyrgyz State Border Service claimed that "the Kyrgyz border guards suppressed an attempt to graze cattle in the Kyrgyz Republic by the residents of Vorukh enclave of the Republic of Tajikistan… on the Kyrgyz-Tajik section of the state border in Moinok area of Batken region." At the same, the Kyrgyz State Border Service said that unknown individuals form the Tajik side began shooting at the Kyrgyz border guards around 11:40 a.m. No one was injured and shortly after noon representatives from the two states met. 
Tajikistan's border guards told Tajik media outlet Asia Plus a slightly different tale. According to the Tajik side, Kyrgyz shepherds entered Tajik territory and got into a conflict with Tajik citizens. The Kyrgyz, the report claims, dispatched additional border guards who opened fire on unarmed villagers and injured a Tajik border guard. 
Asia Plus reported on another incident on May 27, allegedly involving a Kyrgyz citizen shooting at a Tajik citizen. The reasons for the shooting are not clear. 
All of this comes three weeks after a significant flash of violence on the border. On May 8 a fight broke out among residents of the Chek district in Kyrgyzstan's Batken region. Eurasianet reported at the time that a dispute over farmland escalated from an argument, to stone throwing, to shots being fired. Later, per the Kyrgyz version, the Tajik border service reportedly fired a mortar toward Kyrgyz civilians and border guards. In the Tajik version, Kyrgyz border guards opened fire on unarmed Tajik civilians.
Conflict in the area is nothing new. Every year there are a handful of significant incidents, some resulting in deaths — followed by meetings (occasionally high-level) and talks and renewed emphasis on border demarcation. In January, after an incident on the border Kyrgyz and Tajik officials were reported to have agreed to start the process of a land swap along a disputed segment of the border. In late February, Asia Plus reported that the two sides had agreed to swap 23 hectares of land but details were thin.
While a land swap could settle the border issue on paper, in reality it will take significant work to convince a person who has all their life believed a certain patch was theirs that it isn't anymore, and some may never be convinced. There's a role for both national and local government bodies in settling such disputes, but coordination is necessary — so is involving the people living in the affected areas.
Bruce Pannier wrote last week about Central Asia's various tense borders, commenting that "The Kyrgyz-Tajik border area is far from the countries' capital cities, Bishkek and Dushanbe, and both governments have not worked as hard as they could to resolve this longstanding problem, leaving it up to local officials to practice damage control after every new violent incident."
Damage control isn't enough; neither is swapping land or even settling the border on paper.