At Meeting, North Korea's Kim Touts 'Nuclear War Deterrent'
The meeting covered a range of issues pertaining to the Korean People's Army.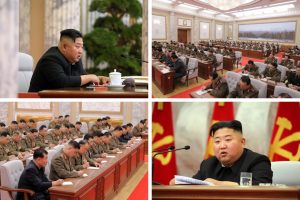 After an absence lasting a little more than three weeks, North Korean leader Kim Jong Un reappeared in state media after having presided over a meeting of the ruling Workers' Party of Korea's Central Military Commision, the Korean Central News Agency (KCNA), North Korea's external-facing state media, said.
The meeting, formally described as the "Fourth Enlarged Meeting of the Seventh Central Military Commission," was Kim's first public appearance after appearing in late April to inaugurate the opening of the Sunchon Phosphate Fertilizer Plant. Before appearing at Sunchon, Kim had been absent from view for some three weeks, prompting widespread international speculation about his health.
Kim presided over an enlarged meeting of the body, which is an important decision-making body on military affairs within the context of the Party. While the meeting covered a range of issues, including promotions for personnel and military modernization, Kim emphasized the importance of the country's "nuclear war deterrent" and called for "putting the strategic armed forces on a high alert operation."
The North Korean leader also emphasized discipline and the authority of the Party over the Korean People's Army. According to KCNA, Kim "put main emphasis on thoroughly realizing the party's monolithic leadership over the People's Army by consolidating the party organizations and political institutions at all levels within the People's Army and enhancing their function and roles, and on providing party leadership to conducting military, political, logistic and defense and all other affairs in line with the ideology and intention of the party under whatever circumstances."
According to KCNA, the meeting covered setbacks to North Korea's military goals, including "the issue of examining and setting right the unreasonable machinery and compositional defects" — an apparent reference to manufacturing deficiencies that have come to affect North Korea's arms. Among personnel promotions, the most notable was a promotion for General Pak Jong Chon, who was promoted to the high rank of vice marshal — a rank he will hold concurrently with his current position as chief of the general staff of the Korean People's Army.
Pak's promotion suggests that he is among the most trusted of Kim's deputies in the military. Pak is thought to have played an important role in the fast-paced testing campaign for new conventional short-range missiles that began in May 2019 and continues. Alongside Pak, Ri Pyong Chol was elevated to a vice chairman of the CMC. Ri, too, was widely seen with Kim during recent missile tests.
The meeting of the CMC comes less than five months before the October 10 75th anniversary of the founding of the Workers' Party of Korea — an occasion that is expected to be celebrated with a major military parade in Pyongyang.