How Indonesia Can Address the Growing Number of Female Extremists
Indonesia's gender-based counterterrorism approach faces several challenges.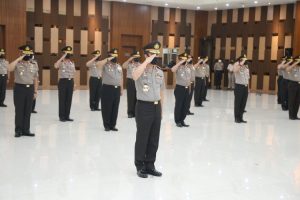 On May 2018, Southeast Asia was shocked by its first family-based coordinated suicide attacks, which targeted three churches in Surabaya, Indonesia. A day later, another family-based attack took place. In the ensuing months, there have been even more cases of family-based arrests, attacks, and foiled plots. This has clearly signaled a new trend — women as permanent fixtures of the jihadi structure – and the concomitant failure of authorities to mitigate the birth of female extremists.
From 2017 to 2019 alone, there were 13 cases of women involved in terrorist activities in Indonesia. This includes providing monetary support, planning attacks, and attempts to carry out attacks. The alarming trend can be attributed to the weak application of gender-based local Preventing and Countering Violent Extremism (PCVE) policies and initiatives. The weak implementation and loose understanding of gender mainstreaming contributes to the inefficacy of gender-based policies, ultimately failing to curb the rise of female extremists.
Gender Mainstreaming in Indonesia
Gender mainstreaming is an approach adopted in policymaking to ensure that the needs and interests of both men and women are taken into account. The idea was first introduced in 1985 at the Nairobi World Conference on Women and later endorsed by UN Women in 1995. Gender mainstreaming aims to factor in the different needs and conditions of both genders "when designing, implementing and evaluating policies, programs and projects," so that policymaking benefits not only men but also women. Ultimately, it is a strategy to achieve gender equality, improve the quality of public policies, and produce better results. To that end, the participation of women in decision-making is a necessary first step toward gender mainstreaming.
In 2000, the third president of the Republic of Indonesia, Abdurrahman Wahid, undertook significant steps at the international and national level to promote gender equality and empowerment. Notably, he introduced Presidential Instruction Number 9/2000 on Gender Mainstreaming in National Development, where he integrated the role of women into every level and sector in Indonesia's nation-building strategies. After that, the discourse about the role of women and female empowerment took off.
Unfortunately, the president's instruction on gender mainstreaming has not managed to influence relevant government agencies to consider the important role of women in counterterrorism. In agencies such as the National Agency for Combating Terrorism (Badan National Penanggulangan Terrorisme or BNPT), gender mainstreaming is weak, if not absent.
One of BNPT's main roles is to formulate national policies, strategies, and counterterrorism programs. However, BNPT's organizational structure is still dominated by men. This effects the policies, projects, and programs initiated by the agency. For example, the Strategic Plan, in place from 2010-2014 to prevent violent extremism, and the Coordination Forum on Terrorism Prevention (FKPT), launched in 2012 to stimulate dialogue on the provincial level, were gender neutral. Women's perspective and issues related to radicalism and violent extremism were not incorporated into these efforts.
Additionally, hiring quotas were introduced to ensure that the president's instruction on gender mainstreaming permeates across all sectors. However, women are minimally represented in the counterterrorism sector. They typically carry out administrative tasks instead of assuming decision-making and strategic positions.
The mushrooming of gender-based initiatives led by civil society organizations (CSOs) and nongovernmental organizations (NGOs) reflects the weak government leadership and capacity in understanding and responding to the rising threat of extremism.
For example, the issue of under-representation has been championed by CSOs through targeted discourses and meetings, such as those organized by the Asian Muslim Action Network (AMAN). AMAN organizes the Indonesia Peacebuilders Forum, which convenes women from researchers to practitioners, and survivors to victims, and tables PCVE recommendations needed for Indonesia and the region. Separately, the National Commission on the Elimination of Violence against Women (KOMNAS Perempuan) has also pushed BNPT to adopt a gender-based approach in its counterterrorism approaches. This will also allow the government to understand the factors pushing women into terrorism, which in turn may serve as guidance in shaping appropriate countermeasures.
Recommendations put forward by AMAN and Komnas Perempuan are driven upstream to push BNPT. It has been receptive and is slowly including gender-based elements such as female psychologists in its project FKPT. It is changing its perception to better, and urgently, tackle the issue of extremism. However, BNPT is still mulling over the suggestion of increasing female representation in its organizational structure and ultimately, in decision-making positions.
Is It Really a "Gender Approach"?
There has been numerous on-the-ground PCVE initiatives that include women in the fight against violent extremism. Although female participation is necessary and present, that alone does not mean that gender mainstreaming is being exercised. This loose understanding of gender mainstreaming impacts the programs, projects, and initiatives that do not incorporate gender perspectives or dynamics in their conceptualization and implementation. In other words, there is a mismatch between the understanding and manifestation of a gender-based approach.
A study by UN Women found that gendered extremist narratives and messaging on social media are widely encompassing. They spans from themes regarding motherhood to combat, from freedom to boundaries set by the secular states in practicing one's faith, and even to finding love. Underlying these myriad themes, there is one common offering: empowerment. Terrorist groups portray women as strong when assuming various roles in their organizations.
Ground efforts to empower women in Indonesia, however, largely cover these themes: equal distribution of domestic work, parenting behavior, socioeconomic stability, and women's involvement in family decision-making. These counternarratives do not address what is being preached by terrorist groups like the Islamic State (IS).
Additionally, Indonesian gender-based counternarratives are still absent. In the main, general counter-ideology narratives of Islam Rahamtan Lil 'Aalamin (translated as "Islam as a blessing to all mankind") are used to refute extreme claims made by IS. These counternarratives are often fronted by female clerics in the spirit of a "gender-based approach." Although such narratives aim to uphold humanity and universal values of justice, equality, and tolerance, they are ineffective in refuting the extreme gender-messaging that is rigorously propagated by IS. While the messenger is critical, the message also needs to be more comprehensive and targeted in repudiating the Islamic State's manipulated notions of what constitutes Muslim female empowerment. As long as this gender slant is unappreciated, claims of "gender-based" initiatives will remain an illusion in the local PCVE space.
Future Outlook
As much as Indonesia is making significant progress in PCVE efforts, it is critical to ensure that the essence of these efforts is truly nipping the threat in the bud. The two areas mentioned above must be reviewed and progress must be made toward change in order to mitigate the spread of future female radicals.
Countering the extremist narratives online is becoming both more pressing and more challenging. Chatter on encrypted platforms like Telegram has shown that female extremists are rallying one another and influencing aspiring female radicals to take up more significant roles within terror networks. The underlying radical message of empowerment is increasingly amplified and gendered ideology is being widely used as IS continues to stay resilient. Thus, while female participation is a great step toward a gender-based PCVE, targeted efforts are a prerequisite to mitigate the rise of female radicals in Indonesia.
Amalina Abdul Nasir is a Research Analyst with the International Centre for Political Violence and Terrorism, a specialist unit within S. Rajaratnam School of International Studies. She examines the evolving role of women in Southeast Asia terrorism along with the region's Preventive and Countering Violent Extremism policies.