Is China Deploying COVID-19 Diplomacy to Speed BRI Projects in Myanmar?
At present, fears that China is using the pandemic to exert excessive pressure and push through BRI projects in Myanmar are exaggerated.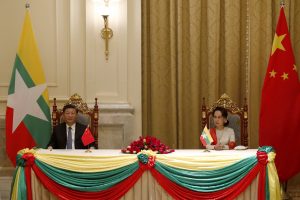 With the COVID-19 pandemic past its peak in China, attention has turned to the Chinese government's deployment of "COVID diplomacy." This term frames how China's government is sending medical supplies and personnel across the world — including to Myanmar — to build goodwill and show global leadership in fighting the pandemic. Some Southeast Asian observers say it is an overt propaganda campaign, with others going further and warning of the region's acceptance of Chinese government soft power.
For Belt and Road Initiative (BRI) partners, some view China's government are using such soft power to push through projects that may not be in the recipient's best interests. In Myanmar, some saw Chinese Ambassador Chen Hai's May 6 meeting with Deputy Minister for Planning, Finance and Industry U Set Aung regarding the implementation of the China-Myanmar Economic Corridor (CMEC) project — which falls under the BRI — as an attempt to push such projects through. 
The discussions took place soon after Myanmar released its COVID-19 Economic Relief Plan (CERP), which was published on April 27. The CERP details the country's short- and medium-term plan to deal with the economic impact of the pandemic and includes stipulations to expedite the solicitation of strategic infrastructure projects, as well as approve and disclose large investments by reputable international firms that are experiencing delays.
For the time being in Myanmar, however, fears that China's government is using the pandemic to exert excessive pressure and push through BRI projects are exaggerated. The suspicion surrounding Chen Hai's meeting is questionable given that discussions were on projects for which MoUs had been signed during Chinese President Xi Jinping's visit to Myanmar in January this year, the first such visit by a Chinese leader in 19 years.
Indeed, the acceleration of the BRI in Myanmar was already underway before the global ramifications of the COVID-19 outbreak were known. Ahead of his arrival in Myanmar in January, Xi called for the "deepening of results-oriented Belt and Road cooperation and [to move projects] from a conceptual stage to concrete planning and implementation in building the CMEC."
During Xi's visit, the Kyaukphyu SEZ and deep-sea port, Myanmar-China border economic zones, and New Yangon City developments were described as the "three pillars" of the CMEC. These were the three projects reportedly discussed during Chen Hai's May 6 meeting. Certainly, the Chinese government will be hoping to improve its image to ease BRI project implementation. Projects may be accelerated to mitigate the expected economic downturn in Myanmar. Yet, there has been no major shift in BRI project implementation because of the pandemic. Given the scale of BRI projects and importance to Myanmar's economy, it would have been astonishing if such a meeting had not taken place soon after the CERP was released.  
Moreover, Chinese government soft power projection into Myanmar needs to be viewed in context. Myanmar has shown a degree of autonomy in its economic relations with China. Indeed, soft power is defined as the ability of a state to get what it wants through attraction rather than coercion, which some see China as trying to do via its COVID diplomacy. For soft power to be successful, however, depends on how the recipient actually responds to such diplomatic overtures, not whether the overtures are made.
Myanmar is not a passive bystander and has had success in securing better terms for BRI projects. In 2017, the CITIC consortium — which won a tender to develop the Kyaukphyu deep-sea port in 2015 — agreed to lower its stake in the project from 85 percent to 70 percent. This was after a Myanmar-government led committee pushed for better terms. Furthermore, in 2018 the Myanmar government successfully scaled down the project from $7.3 billion to $1.3 billion, recognizing it was taking on too much debt through the project.  
For the Chinese government, memories of the 2011 cancellation of the China-backed Myitsone dam in Kachin State following popular protests regarding its environmental impacts and allegedly exploitative terms will also be fresh in mind. Beijing is aware that if projects are simply rammed through, they could meet resistance and stoke public anger similar to that directed at the Myitsone dam. Indeed, China's government appears ready to move at Myanmar's pace regarding BRI project implementation, also recognizing that the upcoming elections in November will constrain Myanmar's ability to move ahead with projects that the public is wary of.
Even with economic headwinds looming, and while there will be greater urgency to get BRI projects underway, this does not necessarily mean projects will be hastily and inequitably pushed through. Any exercise of COVID diplomacy deserves close scrutiny, of course; however, it is important to see projects in their local contexts and not be swayed by undue suspicion. 
Shah Suraj Bharat is a Yangon-based transport infrastructure analyst for FMR Research and non-resident fellow for Policylab Indonesia. The views expressed are his own. Find him on Twitter @ShahSurajBharat