Kim Jong Un Reappears to Open Fertilizer Plant After Rumor-Heavy Absence
Kim opened the Sunchon Phosphate Fertilizer Plant — a facility he had drawn attention to months earlier.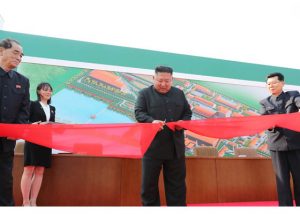 After a 21-day gap, North Korean leader Kim Jong Un made his first public appearance on Saturday. Kim attended a ribbon-cutting opening ceremony for the Sunchon Phosphatic Fertilizer Factory — a prominent facility that Kim had referenced in his high-level December 2019 plenum speech to the Central Committee of the Workers' Party of Korea.
The appearance ended more than two weeks of international speculation about Kim's health and whereabouts. Following Kim's absence from Kumsusan Palace in Pyongyang on April 15 to commemorate his grandfather Kim Il Sung's birthday — the most important day on the North Korean calendar — rumors emerged that Kim had undergone a medical procedure or surgery and was in recovery. Kim's April 15 absence was a first during his tenure as North Korea's supreme leader.
South Korean and Chinese officials denied those rumors; U.S. intelligence neither confirmed nor denied the possibility that Kim may have been recovering from a procedure.
Alongside Kim's appearance, North Korea's Party newspaper, Rodong Sinmun, released images of him cutting the ribbon at the fertilizer plant in Sunchon. Kim was seen with other prominent officials, including his sister, Kim Yo Jong. Other prominent officials including Kim Jae Ryong, the premier, and Pak Pong Ju, the former premier, were in attendance.
"He set forth the tasks and ways for developing our chemical industry in a correct orientation as required by the new century including rebuilding and updating fertilizer factories as a whole, and building more chemical industrial bases," the Korean Central News Agency reported on the visit.
In his December speech, Kim placed the Sunchon facility alongside other major national economic projects. "Construction of the Wonsan Kalma coast resort, Sunchon Phosphatic Fertilizer Factory, Orangchon Power Station, Tanchon Power Station and other projects, which are simultaneously under construction in several parts of the country, is being pushed ahead under meticulous planning, and almost all the sectors of the national economy, including metal, coal-mining, building materials and light industry, are showing a trend of remarkable growth," Kim said then.
Following Kim's reappearance, U.S. Secretary of State Mike Pompeo said that the North Korean leader appeared "alive and well." Official U.S. sources have so far refused to support the notion that Kim may have undergone a medical procedure or surgery during his 21-day absence from public view.
During Kim's public absence, North Korea was reported by South Korean authorities to have conducted a missile test involving as many as four coastal defense cruise missiles.