Myanmar and COVID-19
Myanmar is having to weigh competing public health and socioecononmic concerns, all with an eye toward navigating the precarious civil-military balance.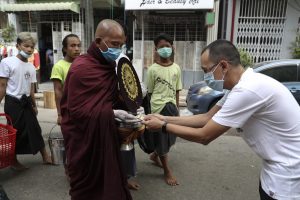 Five weeks after confirming its first COVID-19 case on March 23, Myanmar has reported 151 confirmed cases and six deaths. The country's largest city, Yangon, is the outbreak's epicenter, though cases have been detected in other states and regions. Limited testing capacity and reports of people under investigation dying before being tested have fueled fears that Myanmar's outbreak could be vastly under-reported.
In spite of recent reforms and investments, Myanmar's once-neglected health system under the Ministry of Health and Sports (MOHS) has limited surge capacity to rapidly test or treat critical cases beyond a moderate number. In early 2020, there were an estimated 600 critical care beds (including 180 ICU beds) across the entire country (roughly 1.1 bed per 100,000 people) while the World Health Organization reported that Myanmar had around 6.7 doctors and 10 registered nurses and midwives per 10,000 population in 2018.
Emergency upgrades (such as the establishment of the 2,000-bed COVID-19 Medical Center Yangon at the repurposed Phaunggyi Civil Service Training Institute outside Yangon) and contributions from other ministries, volunteer organizations, and the private healthcare sector have boosted overall capacity. Due to its key focus in tackling communicable diseases, the MOHS has good capacity to conduct contact tracing while the mobilization of schools, meditation centers and madrassahs has provided good capacity for isolating suspected cases, and volunteer organizations have stepped up to assist low income groups. However, the health system remains at very real risk of being overwhelmed should cases grow exponentially.
Testing capacity remains limited, with the MOHS relying solely on PCR tests currently performed in two facilities in Yangon. An average of 350 people per day were tested between April 18 and April 30, with a total of over 7,700 people (or 143 per million) tested by the end of April. Limited reagent supplies have also meant that tests have been mostly restricted to people presenting symptoms, suspected cases, or close contacts of established cases. Capacity is expanding due to government procurements and donations form international partners and the private sector, with new facilities coming online soon in other cities. Despite its best efforts, Myanmar, like other low and middle-income countries (LMICs), is very unlikely to be able to reach the capacity of well-resourced industrialized nations to conduct widespread testing.
With such limits, it becomes imperative to aggressively flatten the epidemic curve as much as possible. National and regional governments have rolled out increasingly stringent social distancing measures to mitigate the pandemic's spread, including localized lockdowns of buildings and streets with confirmed cases, "Stay at Home" programs, de facto curfews, and mandatory quarantines for travelers. Essential shops and markets remain open while restaurants and food stalls can sell takeout. Factories will reopen subject to social distancing requirements and MOHS inspections.
Nothing definite can be said about how COVID-19 will unfold in Myanmar. With 23 percent of the population (or 12.4 million) having one or more chronic health conditions (such as cardiovascular, neurological, or respiratory diseases) that can lead to a more severe COVID-19 outcome, the stakes are still high despite having a younger median age and different demographic structures from developed countries.
Cyclone season typically begins in May, raising the specter of natural disasters. The monsoon's arrival in June will see other major public health challenges such as dengue, influenza, and malaria – factors that will further strain the health and disaster response systems. Vertical health programs have already curtailed their activities and diverted overstretched resources toward COVID-19.
Without strict mitigation, modeling estimates Myanmar will face severe bed shortages very quickly, with peaks possibly occurring between June and July. Stringent and sustained social distancing measures could buy up to six months of preparation time before a much-tempered peak strikes. This means that further drastic responses may very well have to be introduced to allow the health system time to cope and expand capacity.
Lives and Livelihoods
In approaching the possibility of stricter measures, the government is managing two very delicate balancing acts. The first is between implementing increasingly stringent social distancing measures and sustaining peoples' livelihoods – a very common theme among LMICs. Concerns have been raised over whether Myanmar and other LMICs should implement Europe-style lockdowns, as these countries lack the wherewithal for vulnerable segments of society to weather the socioeconomic ramifications.
The 2017 Living Conditions Survey reported 24.8 percent of Myanmar's population as poor and a further 32.9 percent vulnerable to falling into poverty due to unanticipated shocks. A contemporary labor survey by the World Bank reported that 83 percent of the country's 24 million workforce was in the informal sector, meaning most lacked social protection. Even in the formal sector, only 37 percent (about 1.45 million) are covered by the government's Social Security Board social health protection scheme – actually a marked improvement due to post-2010 reforms. An estimated 62 percent of the population also reported not having any savings. This means that the livelihoods of over 30 million people are at risk of a triple whammy from broader economic trends (e.g. job losses in the garment and tourism sectors); lockdown-specific logistics such as getting adequate food and sanitation supplies; and the lack of sufficient safety nets to fall back upon.
Conditions in urban and peri-urban settlements in Myanmar's major cities mean that social distancing is virtually impossible and COVID-19 risk factors are amplified. Urban migration, multigenerational households, poor urban planning, and prohibitive land prices have given rise to crammed housing space compounded by the lack of adequate water supply and sanitation facilities. These issues are accentuated in northwest Yangon's Hlaingtharyar (with an estimated population of 1 million and density of 15,000 per square kilometer) and Shwepyithar townships, where squatter neighborhoods and crowded migrant workers' dormitories located near labor-intensive factories create additional risk factors with potential hotspots in close proximity to each other.
Social distancing is also inconceivable in internally displaced person (IDP) camps, such as those in Rakhine state housing Muslim Rohingyas and now an increasing number of non-Muslims fleeing escalating conflict between government forces and the Arakan Army that have choked overland routes to the state capital, Sittwe. Worse, many IDPs have been displaced for five or more years and rely heavily on government and donor support for sustenance due to extreme movement restrictions. The Ministry of Social Welfare, Relief, and Resettlement has mobilized response teams for IDP camps to construct wash basins, conduct education sessions, and distribute essential supplies. But with resources stretched even in Yangon's main hospitals, it will be an extreme uphill battle to mitigate and treat COVID-19 in camp settings.
Such challenges, alongside limited testing and health system capacity, posit the question of whether drastic social distancing measures should be imposed pre-emptively in high-risk urban and peri-urban areas to prevent COVID-19 in the first place or whether Myanmar should adopt such measures only once cases cross a certain threshold. On one hand, delayed responses and cases spiraling rapidly out of control due to inadequate social distancing will surely lead to the health system being overwhelmed and collapsing. However, heavy-handed responses will ultimately backfire as desperate people will be compelled to violate the measures for food while the economy grinds to a halt and hemorrhages jobs. The challenge will be finding a sustainable "Goldilocks zone," which is complicated by Myanmar's domestic politics.
Public Relations Chess
The other balancing act is between enforcing public compliance and becoming overly reliant on Myanmar's autonomous and powerful military, the Tatmadaw. Warnings of a possible major outbreak, questions over peoples' ability to strictly adhere to stringent risk control measures, and an ongoing deluge of tens of thousands of migrant workers returning from Thailand and China had fueled calls for stringent lockdowns that only the Tatmadaw is capable of enforcing. When the first confirmed COVID-19 case was reported, the former ruling and military-linked Union Solidarity and Development Party unsuccessfully tried to push for convening the National Defense and Security Council (NDSC), where the Tatmadaw holds the majority vote and could ultimately assume executive powers under crisis settings. Circumventing the NDSC, the government instead formed the country's first-ever joint civil-military "Emergency Response Committee" led by military-nominated Vice President U Myint Swe to enforce community quarantines and social distancing initiatives.
While both the civilian and military sides have extended olive branches for mutual cooperation in the COVID-19 context, a social media-amplified public relations chess game has emerged between the two. The Tatmadaw has mobilized donations and pledged its facilities and comparatively well-resourced Medical Corps to support government-led COVID-19 initiatives while simultaneously projecting itself as better prepared and crucial in Myanmar's efforts against COVID-19. However, the Tatmadaw's early mitigation measures, such as cancelling a crucial anniversary and military MPs attending parliament with face masks, had prompted widespread ridicule.
On the civilian government's side, State Counsellor Daw Aung San Suu Kyi has assumed a central and visible role in the government's response, heading two newly established committees, using social media, and hosting televised virtual meetings engaging with health staff, officials, volunteers, businesses, and union representatives. The government has also gone to certain lengths to label measures as "local ordinances" and "non-curfews" and has so far been able to rely on local and regional governments and civil society to enforce adherence. A government spokesperson's gaffe downplaying transmission risks and Aung San Suu Kyi holding campaign events across the country right up to the day the World Health Organization declared COVID-19 a pandemic had fueled criticism that she and the government were in denial over the disease's threat.
If cases do increase exponentially, the government may have no alternative but to enter into a Faustian bargain with the Tatmadaw to enforce broader and stricter measures, including lockdowns in urban and peri-urban areas. This could prove unpalatable given the association of brutal suppression of street protests in previous instances when soldiers were deployed in cities, and the Tatmadaw being accused of gross human rights violations across the country. However, the reality remains that the Tatmadaw is the only institution with the size, capacity, and organization to enact stringent measures on large areas in a prolonged manner. With the next general elections nominally scheduled for November and the country having to defend against genocide allegations at the International Court of Justice, this chess game has broader implications for Myanmar's precarious civil-military relations situation and overall political transition.
Finding a Dynamic Equilibrium
Myanmar had around two months' head start – between the disease escalating in China and the first confirmed domestic case being reported in late March – to prepare for its own outbreak. How events unfolded suggests that this crucial time was not utilized to the fullest extent. Myanmar was caught off guard by the sudden influx of tens of thousands of returnees and experienced severe shortages of protective equipment. However, since the first case was confirmed, the government appears to have found a strategic, if somewhat lumbering, footing. In early April, the government began distributing essential food supplies to people in the low-income category across the country. It is unclear if this will become a regular affair but will be an essential cornerstone if broader and more stringent measures are needed.
And after drawing criticism for introducing a paltry $70 million initial emergency fund, the government unveiled a more comprehensive and substantive COVID-19 Comprehensive Relief Plan (CCRP) on April 28, with an estimated $2-3 billion price tag (representing around 3-4 percent of GDP). Introducing the CCRP, Minister for Investment and Foreign Economic Relations U Thaung Tun labelled the country's effort as a "whole-of-nation" approach, with commitments "to mitigate the social and economic impacts of COVID-19 on families and firms." The government promised more policies to mitigate the impacts of the pandemic, but the extent and timeliness of relief provided to daily wage earners, IDPs, and people in rural and ethnic minority areas remains to be seen.
So far, the majority of the population has rallied behind Aung San Suu Kyi and the civilian government. And despite the PR chess game, the Tatmadaw appears unperturbed by letting the civilian government take the lead against COVID-19, though both camps are acutely aware of the broader political implications of how things can unfurl. A Tatmadaw-enforced lockdown of high-risk urban areas may very well have to be imposed if the situation progresses beyond a certain point, but too tough a clampdown risks forcing starving people onto the streets, making such measures self-defeating.
As LMICs around the world continue to fine tune their COVID-19 responses, Myanmar will also have to find a constantly calibrated dynamic equilibrium to both mitigate the pandemic and cushion the blow to vulnerable segments of society, all while navigating its own unique political landscape and socioeconomic context. Draconian social distancing measures implemented solely through a public health lens, lax efforts only prioritizing livelihoods, and indecisiveness prompted by political machinations will all lead to vulnerable populations paying the ultimate price.
Kyaw San Wai is a Research Officer at a Yangon-based public health organization. He was formerly a Senior Analyst at the S Rajaratnam School of International Studies, a Singaporean think tank.