North Korean Soldiers Fire at South Korean Guardpost
Seoul assessed the incident as a violation of a 2018 military agreement.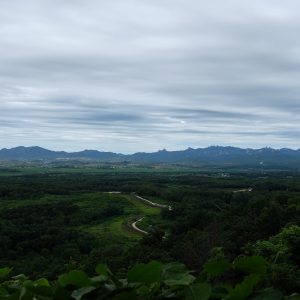 Early on Sunday morning, North Korean troops fired on a South Korean guard post along the Demilitarized Zone (DMZ) that separates the two sides, South Korean authorities said. According to the South Korean Joint Chiefs of Staff, the incident took place near Cheorwon, a town near the DMZ, at around 7:41 a.m. in the morning local time.
The incident did not result in any injuries or fatalities and represents the first of its kind this year. South Korean authorities said no equipment was damaged, but that multiple gunshots had been fired from the North Korean side.
Following the initial shots, South Korean military personnel responded with warning shots. The warning shots were reportedly followed by broadcasts from the South Korean side underscoring that the incident represented a violation of the September 2018 inter-Korean Comprehensive Military Agreement, which called on both sides to cease "hostile acts" against the other.
South Korean authorities could not immediately contact the North Korean counterparts along the DMZ to discuss the incident. "We are taking actions via inter-Korean communication lines to grasp the detailed situation and to prevent any further incidents," South Korea's Ministry of National Defense said in a statement. "We are maintaining a necessary readiness posture."
The incident was characterized as unintentional by South Korean authorities on Sunday. Seoul is reportedly still analyzing the circumstances that led to the initial gunshots.
March and April are generally a time of higher tension on the Korean Peninsula, but usually because of North Korea's increased readiness due to U.S.-South Korea military exercises. This year, due to the COVID-19 pandemic, those exercises have been cancelled. In March, North Korea conducted a range of military activities, including multiple artillery and ballistic missile launches.
Sunday's incident followed weeks of rumors concerning North Korean leader Kim Jong Un's health; Kim reappeared on Saturday at the opening of the Sunchon Phosphate Fertilizer Plant. Sunday's incident appears to have no direct connection with Kim's reappearance.
The incident was not the first time Seoul has accused Pyongyang of violating the inter-Korean Comprehensive Military Agreement. In November 2019, Seoul held Pyongyang accountable for artillery drills within an exclusion zone specified by the agreement.
The land-, sea-, and air-based tension-reduction measures in the agreement took effect in November 2018, with both Koreas taking steps as required by the agreement to prevent the odds of an accidental clash between them. The agreement was bilaterally verified and has not faced regular violations.