Road Inauguration Sparks India, Nepal Border Row
Nepal has cited the inauguration of a road by India as a violation of its sovereignty.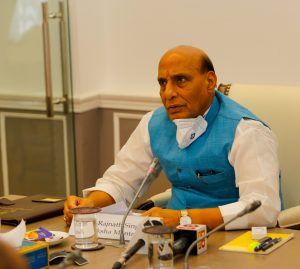 Nepal and India are in a row over a long running, but low profile, territorial dispute concerning a sliver of Himalayan land known as Lipulekh. At an elevation of around 5,200 meters, Lipulekh sits at the northwestern corner of Nepal, at the tri-boundary point with India and China. India claims the area is part of the state of Uttarakhand.
Kathmandu summoned India's ambassador to the country to protest the inauguration of a road in the disputed area at Lipulekh. In a statement, the Nepal Communist Party, the country's ruling party, said the road construction "violates Nepal's sovereignty."
"[Our] serious attention has been drawn to the 'inauguration' by India of a link road to Lipulekh of Nepal via Nepali territory," the statement, which was signed by the NCP's chairman and Nepali Prime Minister Khadga Prasad Sharma Oli, noted.
The disputed road was inaugurated on Friday by Indian Defense Minister Rajnath Singh over a video conference. The road is meant to facilitate pilgrimages for Hindus, Buddhists, and Jains to Mount Kailash in Tibet. The pilgrimage "could be completed in one week compared to 2-3 weeks it took earlier," a statement from India's Ministry of Defense noted. The statement added that Singh said the road was evidence of the "special vision for the development of remote areas" espoused by Indian Prime Minister Narendra Modi.
The Indian side pushed back on the Nepali concerns, saying that the disputed region was "completely within the territory of India." India and Nepal have not held direct talks on this dispute, but the matter represents another ongoing point of tensions between Kathmandu and New Delhi. The two sides have generally handled border disputes through quiet, diplomatic channels.
Relations between the two sides have been strained since 2015, following India's opposition to Nepal's newly promulgated constitution and subsequent imposition of an unofficial economic blockade. Kathmandu, too, has tried to reduce its reliance on India through outreach to China. India has historically been Nepal's most important diplomatic relationship.
Border tensions between the two countries have been higher than usual in the last six months — particularly after the release in November 2019 of an new official map of India, following New Delhi's decision to reorganize the former state of Jammu and Kashmir into two union territories. Kathmandu criticized that map, which prominently displayed India's claim to Lipulekh in the border area of Kalapani.