Should China Worry About the Russia-US Reset?
It's unlikely even the coronavirus will be enough to thaw U.S.-Russia ties — and break China-Russia bonds.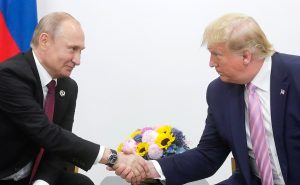 The coronavirus pandemic has offered ground for Russia to re-engage the United States. Moscow and Washington shared medical aid, struck an oil deal, and issued a joint statement commemorating their partnership during World War II. Amid an emerging new Cold War between the United States and China, is a resurrection of Kissinger's triangular diplomacy in the making?
Since the collapse of the Soviet Union, Russia and the United States have sought to reset their relations several times, but with fruitless results. The Clinton administration's engagement with the new democratic Russia was disrupted by NATO's eastward expansion and military intervention in Kosovo. Although Vladimir Putin offered assistance to George W. Bush's war on terror, the Iraq War, "color revolutions" in the post-Soviet space, and the Georgia War strained Russia-U.S. relations once again. Barack Obama's reset with Russia did not last long either as crises in Libya, Ukraine, and Syria transformed into a geopolitical confrontation between Russia and the United States.
These repeated failures illustrate the systemic confrontation between the two countries. Russia and the United States have different understandings of the post-Cold War world order. While the United States remains as the only superpower, Russia perceives itself as an equal partner with the West instead of a loser in the Cold War. Identifying itself as a global great power and regional hegemon in the post-Soviet space, Russia opposes the U.S. unilateralism and expanding influence in Eastern Europe. In response, the United States has refused to recognize Russia's sphere of influence.
Despite President Donald Trump's eagerness to improve relations with Putin, Russia-U.S. relations have deteriorated due to sanctions and diplomatic rows. The U.S. Congress has stood tough against Russia and undermined Trump's efforts at improving the bilateral relationship. The prospect of resetting Russia-U.S. relations remains bleak. Moscow's recent engagement with Washington has a limited goal of extending the New START Treaty, which is in both American and Russian interests. Nevertheless, the Trump administration has insisted on China's participation in a trilateral arms control deal.
Meanwhile, the COVID-19 crisis has caused frictions between China and Russia but is unlikely to undermine their partnership. Russia's discriminatory anti-coronavirus measures and border shutdown with China demonstrate the mistrust among the two countries. Nevertheless, Russia needs China for its economic and technological development.
As China's economy has suffered comparatively less and is supported by an ambitious stimulus package, it will become a key driver of Russia's economic recovery after the crisis. The Russian and Chinese economies are complementary and trade between the two countries rose 3.4 percent in the first quarter of this year thanks to the oil price crisis.
Although Russia pursues the import substitution of technology, since its access to Western technology is restricted the government has increased imports of high-tech equipment from the non-Western world. Specifically, Chinese products, with better reliability at a reasonable price, have supplanted both Russian-made production and Western tech companies. As a result, Russia's MTS signed an agreement with Huawei to build its 5G infrastructure. Russia's embrace of a mass surveillance system with facial recognition will also enhance its cooperation with China's Hikvision.
Most importantly, the Russia-China partnership is driven by systemic factors, namely their resistance to American hegemony. Both China and Russia oppose the Western-centered world order. The United States' sanctions on Russia and pursuit of a trade war with China further pushed the two countries closer together. As the COVID-19 pandemic has underlined pragmatism in Russia-China relations, Putin and Xi will hope their phone calls help reduce tensions on the ground.
With looming prospects of a new bipolar order after the coronavirus, Russia will likely team up with China against the United States. U.S.-China tensions have escalated since the coronavirus and Washington regards China as its top rival.
One should not anticipate Russia will fundamentally change its foreign policy toward the United States, as their deep-rooted divergence cannot be resolved. Washington also has little to offer that can draw Russia away from China. Russia-U.S. relations will remain strained, if not frozen.
It is very likely Russia will join the China bloc as a junior partner in the new Cold War. Russian experts insist that China needs Russia in dealing with international issues and will take Russian interests into account. However, given its growing dependence on China, Russia will subtly play second fiddle in a Sino-centric bloc.
There is a third scenario, in which Russia acts as a balancer to prevent any global hegemony. If Putin means to restore Russia's place as an independent global power, Moscow should intensify its diplomatic efforts to develop relations with other regional powers, including the EU, Japan, and India.
(Frank) Ka-Ho Wong is a research assistant at the Education University of Hong Kong and received his master's degree from the Moscow State Institute of International Relations. His research focus is on Russia-China relations and Russia's Asia policy.