Taiwan Chipmaker Announces US Factory as Apple Pledges to Expand Taiwan Investment
Semiconductor giant TSMC will invest $12 billion in a new Arizona chip plant, it announced Friday, while Apple will expand its Taiwan footprint.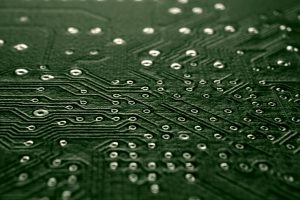 Semiconductor giant TSMC announced Friday it would invest $12 billion to establish a new chip factory in Arizona, days after The Wall Street Journal reported that the Trump administration was pushing TSMC and other chipmakers to develop plants in the United States as Pentagon officials worry about protecting global supply chains in the midst of the coronavirus pandemic.
TSMC said the five-nanometer chip production plant would create over 1,600 high-tech professional jobs. Construction will start in 2021, the company said in a Friday morning statement.
The Wall Street Journal reported Thursday TSMC had decided to go ahead with the project at a Tuesday board meeting in Taiwan. A previous report said Trump administration officials have been in talks with TSMC and American chipmaker Intel to build factories in the United States due to fears of overreliance on Asian countries for the development of critical technology.
A 2019 Pentagon report on the microelectronics supply chain raised particular concerns about Taiwan, calling it a "single point-of-failure for most of the United States' largest, most important technology companies." The report, authored by then-Air Force foreign policy advisor Rick Switzer, referred to Taiwan, China, and South Korea as "a triad of dependency for the entire U.S. digital economy."
TSMC said its new Arizona factory, its second manufacturing site in the United States, is "of critical, strategic importance to a vibrant and competitive U.S. semiconductor ecosystem."
"TSMC welcomes continued strong partnership with the U.S. administration and the State of Arizona on this project," it said. "The strong investment climate in the United States, and its talented workforce make this and future investments in the U.S. attractive to TSMC."
The manufacturer, which makes the chips found in iPhones, had been in talks with the U.S. Commerce and Defense Departments along with Apple Inc., The Wall Street Journal reported.
Separately, Apple is planning to make a $334 million investment to build a new plant in Taiwan, expanding its existing branch in Hsinchu Science Park in northern Taiwan, the science park's bureau said.
Taiwan's state-run Central News Agency, which acquired investment application data, said the new plant will be built on 30.83 hectares and will be run by former TPO Displays executive Chang Shih-cheng.
A Monday report by Taiwan's Chinese-language Economic Daily News said the first stage of investment will boost next generation monitor production, along with monitor research and development.
Apple first opened a lab at the science park in 2014, where it develops poly-silicon displays, semiconductor screens, and quantum film image sensors. The Longtan plant is set to become Apple's third overseas R&D hub, according to Economic Daily News.
Last week, Taiwan's finance ministry warned of a tough second quarter after exports fell slightly for the second straight month, due to coronavirus concerns and the U.S.-China trade conflict.
Reuters reported the ministry said weakening global consumption had hampered any potential gains made by growing demands for telecommuting along with advance chips.
While China remains Taiwan's largest trade partner, the administration of President Tsai Ing-wen has sought to diversify the country's economy and has encouraged Taiwanese factories in China to move back to Taiwan or to relocate to South and Southeast Asia.
Foxconn, the Taiwanese consumer electronics giant that produces iPhones, has attempted to relocate production to other countries for years, including Vietnam. However, Chinese media reports said in April it was building a new plant in China in a bid to enter the semiconductor industry.
Foxconn's pivot back to China could be a result of the coronavirus pandemic as Chinese factories jumpstarted production in April while many plants in South and Southeast Asia remain shuttered.
The U.S. worries of overreliance on Taiwan come despite the country's remarkable success at combating the coronavirus. Taiwan has reported just 440 COVID-19 cases and has avoided lockdowns or mass closure of schools, shops and workplaces.
But the pandemic has caused mass disruption to global supply chains, leading many countries to consider consolidating production when possible.
Despite the monthly decline in exports, Taiwan's total first quarter exports increased by 3.7 percent from last year, which the finance ministry attributed to a 20 percent jump in electronic component exports.
Imports jumped by 3.5 percent, which the ministry said is due to demand for manufacturing equipment and memory chips.
The ministry warned, however, these figures were mostly unaffected by the coronavirus pandemic, and Taiwan's government has announced an economic stimulus plan in anticipation of a slowdown.