What to Make of India and China's Latest Border Clash
More important than the latest spat are the structural factors that prevent a final resolution of the border issue.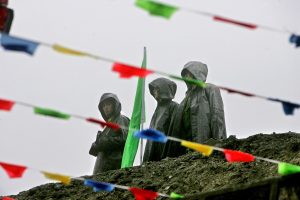 On May 10, Indian and Chinese troops clashed in north Sikkim (Naku La), which adjoins the 3,448-kilometer Line of Actual Control (LAC) that informally delimits the disputed Sino-Indian frontier. At an altitude of more than 16,000 feet, Chinese and Indian troops engaged in hand-to-hand fighting and stone-pelting, with both sides sustaining "minor" injuries. The Indian Army's statement claims the incident left 11 injured on the Indian side.
Reports have also emerged of similar scuffles in the eastern Ladakh theater on the night of May 5-6. In an area called "Finger-5" on the northern bank of the 134-km Pangong Tso (lake), which was one of the key battlegrounds during the 1962 Sino-Indian War, roughly 400 troops clashed. Mutually established protocols at the local level were used to diffuse the situation and disengage.
Assumedly as a precautionary measure, both sides have chosen to substantially reinforce the deployment of armed forces for the time being. In January this year, Indian Army Chief Gen M.M. Naravane had already stated India's desire to "rebalance" its deployment and strategy along the western, northern, and northeastern borders to deal with any kind of threat that might emerge from either Pakistan or China.
Commenting on the more recent incident, without sharing any specifics, Chinese foreign ministry spokesperson Zhao Lijian stated: "Chinese border troops have always been upholding peace and tranquility along our border areas. China and India stay in close communication and coordination concerning our border affairs within existing channels." The Indian Army's statement also downplayed the flare-up, claiming that such "temporary and short duration face-offs" were bound to occur between border troops as long as the boundary remained un-demarcated.
The basic framework for dealing with such issues has been laid out in a 1993 "Agreement on the Maintenance of Peace and Tranquility along the Line of Actual Control in the India-China Border Areas." The two sides agreed to "peaceful and friendly consultations" to resolve the boundary dispute and disclaimed the threat of force as legitimate bargaining tool. Further, until such an agreement could be reached the sanctity of the LAC was to be maintained. Any "contingencies or other problems arising in the areas" were to be dealt with "through meetings and friendly consultations between border personnel of the two countries."
However, the number of confrontations on the Sino-Indian border seem to be intensifying. In June 2017, Indian Army executed "Operation Juniper" and positioned 270 armed troops in the Doklam area of Bhutan. This mobilization was intended to deter a team of Chinese People's Liberation Army (PLA) soldiers from constructing a road that would have given the Chinese access to Indian territory. The road would have circumvented Indian posts in Dokala, and provided the Chinese access to Jampheri Ridge and a clear line of sight to the narrow Siliguri Corridor. The Corridor is commonly referred to as the "chicken's neck" as it vitally connects seven states in India's northeast to the rest of India. The Doklam standoff brought both armies face-to-face, leading to a tense 73-day military stand-off. Eventually, the Chinese decided to back down and halt their road preparations, though without abandoning their claim to the territory.
Understood within the larger scope of bilateral ties, these measures signal an incremental deterioration in bilateral ties and the emergence of an enduring rivalry. In light of China setting up a military base in Djibouti, increasing its operations in the Indian Ocean Region, increasingly interfering in border states such as Nepal and Bhutan, and deepening its ties with Pakistan through the Belt and Road Initiative, India has ramped up its emphasis on deterrence and the need to signal "resolve." A report titled "Looking Beyond Doklam" published by the Centre for Joint War Studies, a think-tank set up under India's Defense Ministry, notes that in response to China's growing assertiveness and aggression, peace on the Sino-Indian border will constantly remain under stress, "with increase in intensity, frequency and depth of transgressions." Moving forward, Doklam was likely to be the new normal.
A two-day informal summit took place in Wuhan between Prime Minister Narendra Modi and Chinese President Xi Jinping in 2018, the year after the Doklam stand-off. Both countries declared they "respect each other's sensitivities, concerns and aspirations" and reiterated their commitment to the terms of the 1993 Agreement. Still, as the recent incidents in north Sikkim and eastern Ladakh show, a return to "status quo" has not been seen. In fact, even as China halted further construction toward Dokala via the earlier alignment, it sped up its road constructions a few hundred meters to the rear and few kilometers to the east, directed toward Torsa Nala in Tibet — which forms the base of the Doklam plateau. This signals an increasing concentration of Chinese troops in the Tibetan forward military base in Yatung.
Why have we not seen any progress in terms of resolving the Sino-Indian border issue building on the "Wuhan spirit"? After all, China and India have both previously demonstrated their ability to resolve border problems with their neighbors. For instance, in the 1960s, China settled its border disputes with Nepal, Myanmar, Pakistan, and Afghanistan. Similarly, India also managed to settle most of its border disputes with contiguous states such as Nepal and Bhutan. The India-Bangladesh land boundary agreement was signed as recently as 2015 — which sanctioned the transfer of 111 enclaves, adding up to 17,160.63 acres, from India to Bangladesh, while India received 51 enclaves, adding up to 7,110.02 acres.
In terms of their border dispute, India and China are struggling with what game theorists refer to as a "commitment problem." A commitment problem arises when two states, who would be better off in the present if they consented to a mutually beneficial agreement, are unable to resolve their disputes due to different expectations of future strengths, and a consequent inability to commit to future bargaining power or a division of benefits. Simply put, if "rising" India assumes that its material power and leverage vis-à-vis China is likely to improve over time, it has no incentive to accept China's "benign hegemony" and to accept a negotiated settlement at a time when it cannot realize the advantages of this increased leverage. This is also true in China's case, as it too expects to increase its material strength and cement its superpower status in the coming decades. This could create a reasonable expectation of being able to exact greater concessions from India in the future. A status quo agreement thus, that seeks to formalize the existing LAC becomes difficult to accept.
In the absence of this commitment problem or the expectation of rapid shifts in material capacity for both rising powers, other problems such as issue indivisibility over territory could be easily addressed. For instance, for both parties, there is no "intangible" salience for mountainous tracts along the Sino-Indian border. The sense of historical possession or identity ties that bind India to Kashmir, or China to Tibet or Taiwan, are not as prevalent in this case. Further, the problem of controlling important mountain passes and strategic choke points can be resolved through mutual demilitarization, joint control, or by creating mutual hostage conditions — where India and China rest their security on the other's vulnerability by distributing the number of strategic points equally.
Therefore, as a Carnegie report highlights, the best way to guarantee "peace and tranquility" on the Sino-Indian border is to focus on military-to-military communication, which would "allow the two sides to immediately clarify any relevant issues at a more senior directive level." For India, it is also important to focus on improving military deterrence to ensure China's ceasing of provocative border activities. The failure of the Indian deterrence on this front in the 1950s had much to do with the inability to construct roads along border areas that could match China's penetration in Tibet. During the 1962 war, this meant that India was unable to mobilize large concentrations of troops in these regions or ensure a steady supply of ancillary military resources to sustain a prolonged conflict. Until shifts in material power stabilize, and structural incentives in favor of formalizing the "status quo" present, only deterrence and diplomacy can guarantee stability between two intensely nationalistic states on the Sino-Indian border.
Ameya Pratap Singh is a DPhil Candidate in Area Studies (South Asia) at the University of Oxford.