11-Year Sentence for Former Kyrgyz President Atambayev's Role in Early Release of Aziz Batukayev
Atambayev faces an additional, ongoing trial related to the violence that erupted when the state tried to detain him in August 2019.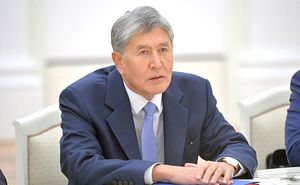 Former Kyrgyz President Almazbek Atambayev has been found guilty by a Bishkek court of corruption related to the 2013 early release of Aziz Batukayev, an ethnic Chechen criminal. Atambayev was given a sentence of 11 years and two months. The former president, who stepped down legally in 2017, faces additional charges in a second trial stemming from the violence that erupted in August 2019 when Kyrgyz authorities moved to detain Atambayev related to the Batukayev inquiry. Atambayev has also been stripped of all state awards and the court ruled that his property — cars, real estate, bank accounts, and even his TV channel — be confiscated.
Atambayev is not the first Kyrgyz president to be tried and convicted, but he is the first to actually be in the country for the trial. 
In 2010, after being ousted in Kyrgyzstan's second revolution and fleeing the country, former President Kurmanbek Bakiyev was tried and convicted in absentia to life imprisonment for the state's violence during the revolution; in 2014 Bakiyev's son was similarly tried in absentia, for embezzlement, and also sentenced to life in prison. Bakiyev has since reportedly obtained citizenship in Belarus, where he continues to live in lavish style, occasionally even meeting with Belorussian President Alexander Lukashenko.
Curiously, Atambayev had a brief opportunity to flee Kyrgyzstan. On July 24, 2019 Atambayev and a small cadre of supporters boarded a private plane and flew from the Russian base in Kant to Moscow. But after meeting with Russian officials, including President Vladimir Putin, Atambayev returned to Kyrgyzstan on July 25. Two weeks later, all hell broke loose when the authorities moved to detain him.
Atambayev was tried alongside former Prosecutor-General Indira Joldubaeva, former chief of the Hematology Center, Abdukhalim Raimjanov, and Kalybek Kachkynaliev, a former adviser to the State Penitentiary Service chief. They were also found guilty in the case regarding the early release in 2013 of Batukayev. 
Joldubaeva was ordered to pay a 5 million som ($66,677) fine; Kachkynaliev was sentenced to two years but released after factoring in time served in pretrial detention. Raimjanov, though convicted, was not sentenced because the statue of limitations had run out.
Batukayev — often referred to in the media as a "crime boss" — is an ethnic Chechen with a long criminal history featuring drug trafficking and violent crimes. In 2006, Batukayev was sentenced to 17 years in prison by a Kyrgyz court for a several serious crimes, including the murders of a Kyrgyz lawmaker along with two of his associates and an Interior Ministry official. In 2013, Batukayev was released early, ostensibly on humanitarian grounds because he had been diagnosed with leukemia.
As RFE/RL wryly reported at the time:
In early April [2013], Batukaev walked out of Naryn prison and was escorted to a chartered plane waiting to fly him to Chechnya.

His red-carpet departure sparked an outcry among Kyrgyz lawmakers, who questioned Batukaev's diagnosis and accused the government of facilitating his premature release.
Batukayev is still alive, though his whereabouts are unclear. The leukemia diagnosis was a scam, but whose scam?
As Eurasianet lays out in detail, one version put forth by Shamil Atakhanov, in 2013 the head of the State Committee for National Security (GKNB), in leaked pre-trial testimony was that Atambayev aimed to release Batukayev to associates of Ramzan Kadyrov, the leader of Chechnya, in a convoluted plot to secure the return of Kurmanbek Bakiyev's brother, Zhanysh, from Belarus. How any of that would have worked is unclear.
The Batukayev scandal — big as it was — faded with time, only to reemerge as tensions escalated between Atambayev and his successor, Sooronbay Jeenbekov.
Jeenbekov, who had served as one of Atambayev's final prime ministers, was elected in October 2017 with Atambayev's express support. But their relationship soon soured. By June 2019, Parliament had stripped Atambayev of immunity granted him as a former president and the Interior Ministry issued three summons to Atambayev for questioning in the Batukayev release inquiry. Atambayev ignored the summons and in early August the authorities moved to detain him. 
Holed up in his compound outside Bishkek, Atambayev and his supporters battled back the state's first arrest attempt on August 7. The botched raid resulted in the death of a security services member; several others were held hostage by Atambayev and his supporters overnight. On August 8, a second raid ended with Atambayev surrendering himself.
Atambayev had refused to attend his trial and refused to make a final statement in court — he's stymied the legal process in his other trial by refused to sit in the dock with his co-defendants and then being ordered out of the court entirely. 
Atambayev has long contested that entire process is politically motivated and in a sense, one certainly can argue it is. Even if Atambayev is every bit as corrupt as the state now argues, the trigger for his trial was not the crimes he committed but the dimming of his political power when Jeenbekov took over. This is a complexity that Kyrgyzstan has to work to unravel to make real progress on combating corruption. Waiting until an individual is out of power to charge them with corruption merely reinforces the notion that one should never give up power.