Balochistan Erupts in Protests Over a Murdered Mother and Her Injured 4-Year-Old
Having witnessed years of war and violence, Balochs hardly need a reminder that no one is safe in the province – not even inside one's home.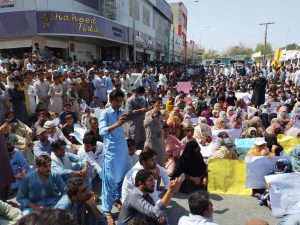 A viral video shows a 4-year old girl crying and repeating the same word again and again, "Amma" [mother]. She is fresh out of surgery and is still in her hospital bed, barely having any idea her "amma" can now never return.
This is little Bramsh, who was seen happily dancing in another of her viral videos. In the time between the two videos, she had seen her mother be taken from her forever. Bramsh and her mother are victims of sheer brutality.
In Makran, the southwestern division of Balochistan, political appraisals and systematic violence have been the norm for decades, but it was rare to witness assaults on women and children. This changed in the night of May 26 in Dannuk, Turbat. Three armed men jumped into a house where a family was sleeping under the open sky to stay cool – a normal practice in a place like Turbat, where temperature can go as high as 50 degrees Centigrade (122 degrees Farenheit).
The armed men asked for cash and whatever they could possibly benefit themselves with. When the woman, Malik Naz, resisted, she was shot on the spot, along with her 4-year-old daughter. The other family members managed to catch one of the robbers and handed him over to the local police. Two other suspects have also been detained but the alleged head of the gang is still "nowhere to be found" almost a week after the incident.
Like the meaning of her name, Bramsh has sparked a fire into people to resist and rebel against abusers of power and years of injustices and silence. She has reminded the people of Balochistan that they are in peril no matter where and who they are: women, men or even infants.
At first, this fire gave rise to an online campaign, #JusticeForBramsh. Scores of people from Balochistan, whether in Pakistan or abroad, participated and asked government authorities to intervene. After the government's inaction and silence for the last week, people in different cities of Balochistan took to the streets demanding justice – the arrest of the alleged head of the gang and hanging all the culprits involved in the assault.
Even during the COVID-19 pandemic, a large number of protesters gathered at Turbat city's "Shaheed Fida Chowk" on June 1. On June 2, citizens of Washok and Bulaida rallied to question the provincial government's safety measures and demanded the arrest of all the culprits.
A similar protest overtook the port city of Gwadar on May 30, where protesters rallied to Gwadar Press Club in support of the justice campaign for little Bramsh. Civil society members in the provincial capital, Quetta, have also announced they will gather at Quetta Press Club on June 4; a similar protest has been announced for Karachi in front of Karachi Press Club and citizens in Panjgur city also announced a demonstration at Shaheed Javeed Chowk on June 3 to protest the assault.
Protesters in all these cities warned that if all the culprits are not held accountable under the law, the protests will continue and spread to different cities of Balochistan.
For many the case of Bramsh is "very personal" as it is a "direct attack" on "Baloch honor." In Baloch society, it is considered an attack on one's "honor" when women are assaulted — that too in the premises of one's own home.
However, many question this patriarchal, barbaric, and primitive idea of "honor" and reject any connection between this slogan and the case. They consider the recent attack the result of an absence of law enforcement, prolonged unauthorized support for such armed gangs in the region, and continuous silence by citizens against aggressive authorities that have been abusing their powers.
In the last few years, there has been a rise in crime rates in Makran region: robberies, murders, and an increase in abusive authorities. As a result citizens have lost trust in the law and law enforcement authorities but have still remained silent.
Bramsh's tragedy, however, has now fired a shot for justice, law enforcement, and safety measures. An evolution is on display as demonstrators streaming into these protests take a stand against injustice and question the tension between residents of these cities and the higher authorities abusing their power to support armed gangs in the region.
People are no longer willing to accept a trade-off between justice for Bramsh and the law and order situation in the region. Both are interlinked parts of a whole, and now people are daring to demand it all.