The Gory Symbolism of a Terrorist Attack on a Palestine Rally in Balochistan
While Pakistanis were united in their outrage over abuses by Israel, few spare a word for the systemic oppression closer to home.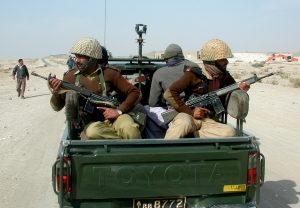 At least seven were killed and 14 injured in a bomb attack targeting the Islamist party Jamiat Ulema-e-Islam Nazaryati (JUI-N) in Chaman, a town in Balochistan, on Friday. Three JUI-N leaders were among those that died in the attack on the party's rally expressing solidarity with Palestinian victims of Israeli aggression. There is gory symbolism in Friday's attack on the JUI-N leadership: A rally designed to highlight the plight of Palestinians inevitably issued a grotesque reminder of the volatility of Balochistan.
The JUI-N, which like a few other Islamist factions and indeed Pakistan's military establishment has long supported the Afghan Taliban, wasn't the only Islamist party that orchestrated a rally in solidarity with Palestine last week. Mainstream parties like Jamaat-e-Islami and proscribed groups like Hizb-ul-Tahrir, Tehreek-e-Labbaik Pakistan, and Sipah-e-Sahaba marched in support of the Palestinian cause. Progressive and leftist movements, from student activists to women's rights groups, also rallied, demonstrating solidarity with Palestine.
In Pakistan, the Palestinian cause remains unique in how it musters support from both the right and the left. Unfortunately, for many in Balochistan, the entire ideological spectrum is similarly united in its abandonment of the plight of the province. While the right denies any wrongdoing, or blames unrest entirely on an Indian and/or Afghan conspiracy, the left's silence is largely survivalist in how it acquiesces to the state's totalitarian crackdown on any dissent on Balochistan. Even events vowing to "unsilence Balochistan" have been cancelled with impunity. The same groups clamoring loudly against Israeli occupation of Palestinian land have preferred to ignore calls to condemn an "occupied Balochistan."
After its accession to Pakistan was completed under a military takeover in 1948, decades of insurgencies in Balochistan have been quelled by army operations. This has been complemented by the exploitation of Balochistan's natural resources, and large scale human rights abuse, prompting Balochistan National Party (BNP-M) Chief Akhtar Mengal to ask that the province be declared an "occupied territory" in a scathing speech in the National Assembly last year.
Friday's Chaman attack, followed by Monday's Quetta blast, are the latest reminders of the volatility in the province. Locals highlight how the military uses jihadist groups to target Baloch separatist militias. Meanwhile, security agencies are accused of silencing local voices with impunity. The Voice for Baloch Missing Persons (VBMP) has underlined the tens of thousands (and counting) of missing Baloch persons, for which the organization launched a long march in 2015 led by Abdul Qadeer Baloch.
"I sit in front of the Quetta Press Club every day. I see more rallies for Palestine than I see for the human rights abuses in Balochistan. We speak up for everyone, for Palestine, for Kashmir, but no one speaks for us," Abdul Qadeer Baloch, known fondly as Mama Qadeer, told The Diplomat.
"Neither the United Nations nor organizations in Pakistan are interested in the arbitrary abductions of local Baloch in operations, and other human rights abuses in the province. There are over 70,000 missing persons from Balochistan; around 50,000 are registered with VBMP," Qadeer added.
Qadeer said that on March 30 his nephews Allah Din and Muhammad Asif were abducted from his native Surab town by the Frontier Corps and other security agencies.
"I've repeatedly requested progressive organizations to speak up for these abuses in Balochistan. I have begged them, because we never know if through them our voice might reach the world. I don't know if they're scared or intimidated, or if some self-interest stops them," added Qadeer.
His temporary tent, where he stages his sit-in in front of the local press club, was demolished last week.
While organizing nationwide rallies to highlight abuses against the Balochs, let alone calling for their liberation, remains unthinkable, many Baloch activists have also questioned the silence on social media, another outlet that speaks to the world. While the state's crackdown on digital spaces since the passage of the 2016 Pakistan Electronic Crimes Act (PECA) has silenced many voices on Balochistan, many activists from the province call out the selective outrage witnessed on Pakistani social media.
"Balochistan is still in carnage of being bombed by various radical groups, we have lost countless precious lives. Where is the outcry for innocent lives lost in Balochistan?" asked educator and activist Maleeha Mengal, while talking to The Diplomat.
Critics have accused many digital activists in Pakistan of acquiescing to the shrinking space on volatile subjects like Balochistan, instead aligning themselves with global narratives that cause no backlash – and force no change –at home.
"This is nothing less than performative activism through social media [posting], Insta-stories updating, for an issue that exists [thousands of] miles away. [These are] virtual pats for oneself and others for sharing and constantly speaking on the issue," Mengal said. "[Meanwhile,] self-censorship is the new norm on Balochistan, in fear of being questioned by the authorities. They probably don't want to sacrifice their comfort to speak for their fellow countrymen."
Where social media is largely quiet on the military and state's abuses in Balochistan, the traditional media has long surrendered. While a few years ago progressive English dailies could cite the Baloch nationalist perspective, today even the abduction of family members of a prominent Baloch rights activist fails to be covered by not just the increasingly shackled mainstream media, but also the alternative publications.
"There was a lot of debate in Pakistan over biased reporting on the Israel-Palestine conflict, especially after the comments of [Foreign Minister] Shah Mehmood Qureshi in the CNN interview. I wonder if people realize that there are few places with more media restrictions, especially in countries claiming to be democracies, than Balochistan," said a local journalist who requested anonymity, citing security concerns. "While the censorship keeps the majority in denial about the ground realities in the province, even those who are aware have long given up on Balochistan."