How Far Will North Korea's Military Adventurism Go?
The scope and level of North Korea's next move will be determined by the extent and type of the benefits it expects.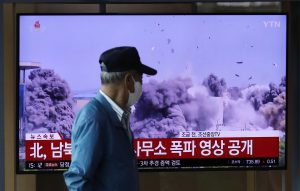 North Korea has blown up a joint liaison office used for talks with South Korea and vowed that more actions would follow. Hence, many are speculating as to how far North Korea's military adventurism will go in the future.
Provocation is defined as a strategic action to gain political advantage at a time when national values or interests are challenged. In mapping out next moves, it will be important for North Korea to anticipate what it will gain from provocations. It is also important for North Korea to calculate whether the value of expected utility will be large enough to offset the political and diplomatic costs that can be entailed by offensive actions. In this regard, we can assume that the scope and level of North Korea's next move will be determined by the extent of the benefits it can expect.
Pressuring the US
First, if North Korea wants to take an upper hand in future diplomatic negotiations with the United States, it could go as far as to show North Korea's deterrence against the U.S. by demonstrating its capability to launch a nuclear counterattack. Credibly showing its success in developing a force capable of surviving a nuclear first strike can be a tool of coercive diplomacy for North Korea. Over the past three decades, Pyongyang has taken steps to showcase reprocessing activities for plutonium production, operating uranium enrichment facilities, and extending its missile range in order to push through its demands in nuclear negotiations or induce active U.S. involvement.
North Korea is likely to choose a method that is sufficient to bring the United States to the negotiating table but not excessive enough for Washington to declare it is walking out of the negotiations. Therefore, a ballistic missile launch from a submarine, which North Korea has never done, could be an option for Pyongyang. The freeze on nuclear tests and intercontinental ballistic missile tests is understood as a promise from Chairman Kim Jong Un to President Donald Trump. Despite recent displays of anger, North Korea's media outlets have refrained from directly criticizing Trump. Besides, the freeze on nuclear and long-range missile tests is also a key factor in Beijing and Moscow's support of North Korea by pressuring Washington to take corresponding measures. In the past North Korea's test of an submarine-launched ballistic missile (SLBM) alone did not cause the UN Security Council to pass a new resolution. Therefore, if North Korea wants to get the United States to come up with a "new calculation" while minimizing political and diplomatic costs, an SLBM test is one of the options available. However, North Korea will try to gauge the timing of the attempt to have the greatest impact.
Bolstering Nationalism at Home
If, however, Pyongyang's main goal is managing internal instability and redirecting discontent to the outside, North Korea will have a different motivation behind its aggressive actions. The aim might be to shift criticism toward an external scapegoat and achieve a "rally-around-the-flag" effect. In this case, North Korea's offensive behavior will be difficult to sustain for a long time, and it is highly likely to control the level, limiting itself to low-intensity provocations on the Korean Peninsula.
North Korea is currently dealing with the damage caused by self-imposed wounds, stemming from closing its border with China and blocking material and human exchanges amid the COVID-19 outbreak. The near-halt of food, medicine, and clothing imports from China to North Korea could have worsened the livelihood of the North Korean people. Also, the North Korean military's economic profit-making activities must have been hurt. Recently, there have been reports that the discipline of North Korean soldiers has slackened and their has deteriorated. One should note that North Korea made the unusual decision to post Kim Yo Jong's statement criticizing the South on the front page of the Rodong Sinmun, the North Korean Workers Party's official newspaper, for the domestic audience and reported news of the rally by North Koreans day after day.
It is not entirely new for North Korea to choose adventurous policies to divert internal attention away from problems at home. While South Korea may be an easy target of criticism, such a strategy poses a high risk for the long term. This is because North Korea can only solve fundamental economic problems if it receives humanitarian aid from outside and pushes through demands for sanctions relief as soon as possible. If North Korea conducts a nuclear test or high-intensity provocation that undermines regional stability, it will invite additional Security Council sanctions, which could further aggravate the domestic instability that Pyongyang wants to resolve.
Pressuring South Korea
If North Korea aims to change South Korea's attitude by showing its dissatisfaction with Seoul's North Korea policy, what North Korea may be expecting to disturb South Korean society or drive a wedge between South Korea and the United States. In a recent statement, North Korea made disparaging remarks about South Korea's role as a "driver" of the peace initiative. It specifically mentioned that South Korea does not take the initiative in facilitating inter-Korean cooperation but relies solely on coordination with the United States. Because South Korea's National Assembly election in April resulted in a big win for the liberals and South Korea and the U.S. are currently agonizing over issues such as cost sharing and transferring wartime operational control, North Korea might have seen an opportune time to reignite debates about reviewing the current North Korean policy.
However, the leadership in North Korea may believe that irreversible and high-intensity provocations — for example, anything that results in the loss of South Korean lives — are politically costly. That would lead to the opposite of Pyongyang's desired goal by uniting South Korean society instead of dividing it. In an apparent crisis escalation, the South Korea-U.S. alliance will move toward strengthening its combined defense posture through a shared threat perception.
Broken communication lines can be reconnected, and collapsed buildings can be rebuilt. That is, North Korea will likely consider reversible measures to be a viable option depending on the situation. Such measures could include resuming military exercises along the DMZ, resuming artillery fire and maneuvers in the northern waters of the Northern Limit Line (NLL) in the West Sea, or reopening gun ports along the west coast, among other measures, as Pyongyang has declared the inter-Korean military agreement of September 2018 to be dead. Considering that South Korea's believes in a proportional response, North Korea may strengthen its cyber and psychological warfare activities, which are difficult for the South Korean military to respond to immediately.
Uncertain Internal Factors
Lastly, it is also possible that North Korea will plan and push ahead with its own schedule of provocations based on the internal circumstances of the North, which have yet to be identified. North Korea's offensive behavior in 2009, before the sinking of the South Korean warship Cheonan and the shelling of Yeonpyeong Island in 2010, still has not been explained well. At that time, there were rumors of Kim Jong Il's deteriorating health, preparations for the succession of power, and an economic slowdown caused by currency reform. North Korea insisted on nullifying the inter-Korean political and military agreement in early 2009, and new incidents occurred every month, including warnings to cut inter-Korean military communication lines, blocking overland passage to the Kaesong Industrial Complex, detaining Hyundai Asan employees and U.S. journalists, starting to reprocess spent fuel rods at its nuclear facilities, declaring the Kaesong Industrial Complex contract nullified, conducting a second nuclear test, and announcing pre-emptive firing zones in the northern waters of the NLL. Therefore, it is necessary to keep an eye on the domestic situation in North Korea.
After all, what we need to worry about is the "stability-instability paradox" situation. This is because we cannot rule out the possibility that North Korea will grow bolder with low-level provocations while refraining from high-intensity provocations such as nuclear and ICBM tests. Until recently, North Korea has tested the limits of patience of the United States, China and Russia through various missile and projectile tests. North Korea will determine the scope of its bold action by calculating how far it can press before the Trump administration, which has been occupied with combating the COVID-19 crisis and resolving anti-racism protests, will militarily respond, and before China and Russia will agree to additional sanctions. Low-intensity provocation, which is apparently difficult to define as a threat to international peace and stability, is not likely to cross the threshold of passing a new UN Security Council resolution. The North will choose its next steps to prevent further sanctions and meet the objective of securing the time needed for developing and mass-producing new weapons.
Besides nuclear and missile tests, North Korea has engaged in multiple types of provocations in the past — clashes along the land and sea borders, detaining South Korean and U.S. nationals, and freezing South Korean assets in the North. Attempts to sabotage South Korean assets in North Korea include blocking land routes and freezing facilities at the Kaesong Industrial Complex. However, all the facilities in Kaesong and Mount Kumgang were already closed and, with the inter-Korean liaison office removed, North Korea's options are limited. Options for detaining civilians to attract international attention are also limited, given that the U.S. travel ban on North Korea and sanctions against the North have reduced the number of civilians visiting the country. Therefore, the available means for North Korea include military activities at sea and on land such as naval firing drills, violation of the NLL by patrol boats, and incursions of the Military Demarcation Line.
It is important to note that people around him, not Kim Jong Un, have been sending out the recent statements. This will add more weight to Kim Jong Un's own statement, to be released in the future. Therefore, we cannot rule out the possibility that Kim will send a decisive message at a time when the North needs to create a new turning point. However, the mechanisms that have cut off the provocation cycle in the past are sorely lacking today. Previously, working-level talks at the Kaesong Industrial Complex, commemorative events at Mount Kumgang, reunions of separated families, and visits to North Korea for religious, sports and cultural exchanges all played a positive role in managing the crisis situation on the Korean Peninsula. Besides, in 2010, 2014 and 2015, the two Koreas continued to contact each other via health and medical assistance to the North due to the swine flu, Ebola, and MERS outbreaks, respectively. It is questionable whether the COVID-19 situation will create such an opportunity.
It is more important than anything else to prevent the possibility of misperception and miscalculation in order not to unnecessarily escalate the crisis. To this end, the South Korean government needs to maintain a firm deterrence posture against North Korea while seeking an exit strategy. It is also important that South Korea does not provide an excuse for North Korea to justify its actions at a time when the North is raising its offensive against the South with more confidence.
Dr. Jina Kim is a Research Fellow at the Korea Institute for Defense Analyses and Adjunct Professor at Yonsei Graduate School of International Studies. She holds a Ph.D. in International Relations from the Fletcher School of Law and Diplomacy at Tufts University and is on the Advisory Committee for the Blue House National Security Office and Policy Evaluation Committee for the Ministry of Foreign Affairs.