Jeepney Drivers Face Charges Amid Heightened Protest Crackdown in the Philippines
6 jeepney drivers were arrested last week and subsequently released on bail for protesting lost wages during the coronavirus lockdown.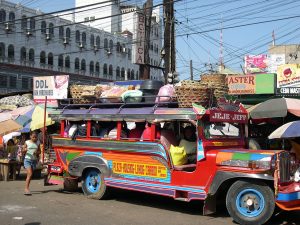 A group of six jeepney drivers were arrested last week, becoming the latest to be ensnared in what observers fear is a growing crackdown on peaceful protests in the Philippines.
The drivers were arrested on June 2 in Caloocan, a city within Metro Manila, after organizing a rally to protest lost wages during the citywide coronavirus lockdown. Manila loosened some restrictions on movement on June 1, but jeepneys, which many residents use to commute, are not allowed to operate.
The group had organized the rally to ask for permission to resume operations and to request government aid, which has been criticized for being insufficient and has not reached millions of "informal" workers, such as jeepney drivers.
Four of the six drivers were released on June 8 after posting bail of 3,000 pesos ($60). A Caloocan court ordered the release of the remaining two drivers Wednesday, including Elmer Cordero, 72, who supposedly faced a fraud charge that he said stemmed from a missed rent payment in 2002.
The previous day, the presidential office had responded to calls from humanitarian groups for Cordero's release by saying he must face charges against him "regardless of age."
Cordero posted bail of 10,000 pesos on Wednesday.
The other detained driver, Wilson Ramilla, was also freed after it was discovered a 2010 car theft case filed against him had been dismissed.
The six drivers are all members of Piston, a transport group that has previously clashed with President Rodrigo Duterte. In 2017, amid a dispute over government plans to phase out jeepneys, Duterte said he would order military and police to manage protests and told the group to be ready to face rubber bullets.
Protesters planning to demonstrate on Friday, the country's Independence Day, could face arrest as well. On Thursday, Justice Secretary Menardo Guevarra said rallies remain banned as groups prepare to oppose a controversial anti-terrorism bill, which is currently awaiting Duterte's signature.
"Solely for public health reasons and nothing else, mass gatherings, including protest rallies, are temporarily banned to avoid direct transmission of the COVID-19 virus," Guevarra said.
Earlier Thursday, Philippine National Police chief General Archie Gamboa said police would "strictly enforce" temporary prohibitions on mass gatherings.
Critics, including National Union of Peoples' Lawyers president Edre Olalia, have questioned the legality of banning rallies. Olalia told Rappler his group, along with allied groups, planned to protest Friday.
Last week, protesters rallied in Manila and Cebu against the anti-terror bill while maintaining physical distancing. Eight protesters in Cebu were detained, while no arrests were made in Manila.
Relief workers have previously been detained and charged with sedition after distributing relief packages, allegedly without permits. On Wednesday, however, a court dismissed charges against the activists relating to violating lockdown rules, saying they did not violate a public health law that has been used by authorities to arrest quarantine violators and protesters.
Regulations in Manila currently prohibit gatherings of over 10 people, including religious gatherings.
Opposition to the anti-terrorism bill has gripped the country since the Philippine Congress fast-tracked the passage of the legislation last week. Duterte now has 30 days to sign the bill, although he said this week he would allow the justice department to review its contents before signing it.
The bill contains provisions allowing authorities to detain suspects without charge for up to 24 days. It also gives authorities broad leeway in carrying out warrantless arrests, which opposition legislators have said may violate the Philippine Constitution.
Over the weekend, activists, journalists, students, and government critics saw Facebook clone accounts pop up and, in some cases, begin messaging them with death threats.
The accounts, which primarily targeted critics of Duterte's administration, led to immediate speculation of potential state involvement. Troll armies hired by Philippine politicians have notoriously been responsible for disinformation and harassment campaigns on Facebook, especially since Duterte's 2016 presidential campaign.
The University of the Philippines issued an alert after noticing its students had been targeted by the accounts, citing protests against the anti-terrorism bill and urging targeted students, faculty and alumni to file reports with Facebook.
"Following protests [against the new anti-terrorism bill] on our campuses and threats to our students, there are now multiple reports of empty, duplicate and fake accounts bearing the names of students," the university said in its alert. "We express our utmost alarm since these accounts are suspected to cause harm or spread false information."
Philippine investigators said Monday the duplicate accounts may be a "glitch," although its explanation has not convinced many observers.
On Thursday, Facebook said it had not yet found evidence that the clone accounts had engaged in malicious acts.