Mongolia's New Parliament: Familiar Party, Fresher Faces
The MPP retains its supermajority, but there is more to the results than simply a consolidation of power by the ruling party.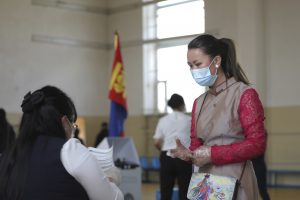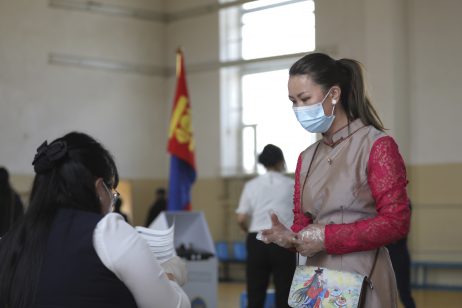 Mongolians elected 76 members of parliament on June 24. The governing Mongolian People's Party (MPP) won another resounding victory with 62 seats (slightly down from 65 won in 2016) on the strength of its effective management of the country's affairs over the past four years, but also benefiting from an electoral system that allowed it to rely on its organizational strength in campaigning and mobilizing voters. While turnout increased slightly, the many campaigns to mobilize younger voters in particular did not lead to a reconfiguration of the party landscape.
When the Great State Khural constitutes itself it will see many new faces, even though the MPP has managed for the first time to break a pattern of pendulum swings between the two dominant parties, seen over the previous seven elections since 1992. While the MPP has only lost three seats, the 62 seats it does hold are a supermajority by any definition in a parliament of 76. The other seats were won by the opposition Democratic Party (DP – 11 seats), the Mongolian People's Revolutionary Party (MPRP, as part of the Your Coalition – one seat), and the National Labor Party (KhUN, as part of "Right Person Elektorat" coalition – one seat), with the remaining seat going to former Prime Minister N. Altahnkhuyag, who campaigned as an independent.
But of the 62 MPP MPs, 27 will be new to parliament, representing significant turnover for the party. This includes current Prime Minister U. Khurelsukh who has been in this role for nearly three years, but without holding a seat in parliament. He has taken charge of the MPP as party chair, seemingly beating back the faction of MPs associated with former MP, speaker of parliament, and presidential candidate M. Enkhbold, who was not even nominated in this election. Part of Khurelsukh's intraparty appeal has been that he would bring about a necessary generational renewal. The fact that nearly half of the elected MPs are new to parliament (and over half are 40 or younger) speaks to this project within the MPP, but was also part of a campaign strategy to overcome challenges based on previous MPs' involvement in several corruption scandals over recent years.
For this election, Mongolia had returned to a multi-member plurality system. The election result suggests that this significantly benefited the MPP. Two aspects are most important here: The rural-urban mismatch in seats and party discipline. Of the 76 seats, 52 were allocated to Mongolia's provinces and two second cities even though nearly half of the population lives in the capital. It is in Ulaanbaatar where new candidates were heavily concentrated and running against candidates from the established parties. By contrast, far fewer candidates ran in the provinces and here, the MPP could rely on the power of an intact and well-organized party structure that reaches into the smallest settlements to capitalize on the higher turnout of older voters. As a result, the MPP won 42 of the 52 seats to be won beyond Ulaanbaatar. The party clearly also united voters in some districts to endorse MPP slates instead of splitting their votes between multiple parties.
But while many faces will be new to parliament, the MPP's policy — to the extent that it is recognizable as a party policy, rather than just an accumulation of pragmatic and somewhat personalist decisions — will remain stable and few policy changes are to be expected. The November 2019 constitutional amendments that came into effect in May cap the number of MPs who can serve as members of cabinet, so that the new group of MPs for the MPP will perhaps have to define a more legislative role for itself than previously, when many MPs were also members of the executive. The appointment of a cabinet by the prime minister might bring some strong personalities and hints at changes in policy, but it is too early to speculate about names or directions.
The Democratic Party roughly held its own in this election as a party, including in the provinces where it won all but one of its 11 seats, but it will be drawing some very pointed lessons as it appears to need a reboot to survive as a relevant political force. Some of its most prominent candidates failed to win election, including its party chair S. Erdene and R. Amarjagal, who had been designated as the shadow prime minister in the course of the campaign. To the extent that some voters may have been looking for a change in politics, it does not appear that the DP persuaded many voters that it represented such a chance.
But the newest political force, the National Labor Party (KhUN) also made no real inroads, winning a single seat. While the party had contested previous elections, it really emerged as a potential force in this vote with a slate of foreign-educated, younger, urban professionals as candidates, most of whom were truly new to electoral politics. Some argue that it may have been a mistake to run more than one candidate in multi-member seats as this may have split the reform vote, but there are only an additional one or two seats that might have been won had it united all votes for the party (assuming all other parties won the same vote totals). Still, even a single seat will allow the party to nominate a candidate in the presidential election next year, and the 2020 vote may have been more about asking pointed questions of other candidates and beginning to shift debates more toward policy substance than about winning seats for KhUN. Additionally, riffing off of the KhUN party coalition's name, "Right Person Electorate," long-time political force Baabar published an endorsement he called an "Electorate" of 76 "Right" candidates signed by Mongolian VIPs. Of those, 23 were elected, and though most are from the MPP, they are mostly newcomers — will these 23 MPs form some kind of new voting bloc?
In summary, there is more to the new parliament than simply a consolidation or tightening of power on the part of the dominant party, and it will be worth watching how the Democratic and third parties respond to the results.
Julian Dierkes teaches in the Master of Public Policy and Global Affairs at the University of British Columbia.
Marissa Smith is an anthropologist and Mongolia country expert based in California.