North Korea Begins Reinstalling Propaganda Loudspeakers Along Inter-Korean Border
The move marks another setback for inter-Korean relations and a challenge to the 2018 Panmunjom Declaration.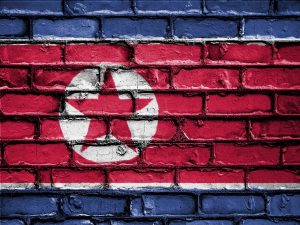 North Korean began reinstalling loudspeakers along the inter-Korean Demilitarized Zone (DMZ), South Korea's Yonhap News Agency reported on Monday. The loudspeakers, which broadcast propaganda, were removed following a 2018 agreement between North and South Korea. The step comes amid heightened inter-Korean tensions, which spiked last week after Pyongyang used explosives to destroy the inter-Korean Liaison office in Kaesong, a border city on its side of the DMZ.
According to a South Korean official who spoke to Yonhap, loudspeaker equipment on the North Korean side has been reinstalled at 20 points along the DMZ. Forty such installations were dismantled after the April Panmunjom Summit between North Korean leader Kim Jong Un and South Korean President Moon Jae-in. The summit was the first between the two leaders and the third-ever inter-Korean leaders' summit.
"We are closely monitoring the North's moves to wage psychological warfare. We maintain a tight readiness posture to properly respond to any eventualities," a South Korean Joint Chiefs of Staff official told Yonhap News Agency. The reinstallation of the loudspeakers would be yet another challenge by North Korea to the inter-Korean cooperation that was initiated in 2018, beginning with the PyeongChang Winter Olympic Games.
In addition to the Panmunjom Summit meeting, Moon and Kim met twice again that year: once in May, for an impromptu summit after U.S. President Donald J. Trump briefly canceled plans for a U.S.-North Korea summit, and once again in September in Pyongyang, for a second, full-scale summit. The Pyongyang Summit resulted in a significant inter-Korean declaration and the Comprehensive Military Agreement that resulted in several measures to reduce tensions on land, air, and sea near and around the DMZ, including along the Northern Limit Line at sea.
Following Seoul's destruction of the inter-Korean liaison office, officials in Seoul have taken a more strident tone toward Pyongyang, despite Moon's strong support for inter-Korean rapprochement and engagement. Choi Hyun-soo, a spokesperson for the South Korean Ministry of Defense, said that Pyongyang would "pay the price" if it takes steps to "defeat efforts and achievements the South and North made together for the development of inter-Korean relations and for sustaining peace on the Korean Peninsula."
Alongside North Korea's apparent reinstallation of loudspeakers, South Korean activists launched anti-North Korean regime leaflets across the DMZ into North Korean territory on Tuesday. Kim Yo Jong, Kim Jong Un's sister and a senior official in North Korea, cited recent launches of leaflets by South Korean groups in her initial threat against the inter-Korean liaison office. After the destruction of the liaison office, North Korean state media noted that it would launch as many as 12 million propaganda leaflets of its own into South Korea.