South Korean Defense Minister Emphasizes Increased Spending on Indigenous Defense Manufacturers
The economic difficulties arising from the pandemic have the South Korean government looking for ways to bolster the national defense industry.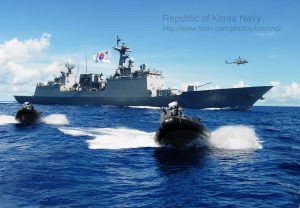 South Korea's defense minister, Jeong Kyeong-doo, said on Monday that he supported plans to continue heavy defense spending focused on indigenous South Korean firms. According to Jeong, increased spending would help these firms weather the difficult economic environment brought about globally by the coronavirus pandemic.
"We are putting efforts to spend more on purchasing arms from local companies, instead of buying from abroad, when drawing the budget plan for next year," Jeong said, speaking to executives from South Korea's top defense firms, according to the Yonhap News Agency.  "We are working on how to better support [the industry], but there have been limits in drawing visible achievements," Jeong added, according to Yonhap. "Though it is not easy, I hope we can overcome this difficult situation together."
Jeong's comments came as tensions between the two Koreas flared following the release of a statement by Kim Yo Jong, North Korean leader Kim Jong Un's sister and a top North Korean official, threatening direct military action in retaliation for what Pyongyang said was Seoul's inability to stifle civil groups from launching anti-North Korean regime leaflets across the inter-Korean border.
North Korea has in the past criticized indigenous advances in South Korea's defense technology procurement. The technically advanced South Korean military outpaces the North in the sophistication of its conventional weapons and intelligence, surveillance, and reconnaissance technologies.
In July 2018, South Korean President Moon Jae-in launched a series of reforms, known as Defense Reform 2.0, that included plans to more efficiently support the indigenous defense industry. Moon's reforms were also focused on making the South Korean defense industry more competitive globally.
According to the Stockholm International Peace Research Institute, South Korea entered the list of the world's top 10 largest arms exporters in the 2015 to 2019 period. Between 2010 and 2014, Seoul's arms export volume rose by 143 percent.
Seoul's main export destinations for defense materiel in 2019 included the United Kingdom, Thailand, Indonesia, India, and Norway. South Korea's naval shipbuilding industry is the most active as an exporter. Between 2018 and 2019, South Korea also saw a significant increase in its exports of artillery systems and related equipment.
South Korea's 2021 budget has not yet been announced, but Seoul's Ministry of Economy and Finance estimated that the topline figure would grow by 6 percent, to around 542 trillion won (or approximately $449 billion).
Seoul, like most major Asian economies, has seen an economic contraction, particularly in domestic consumption and export volumes. COVID-19's effects have been particularly acute on domestic manufacturing.