South Korean Government and North Korean Defectors Clash over Leaflets
Seoul moved to ban leaflet dropping after a demand from the North, prompting outrage from defector groups.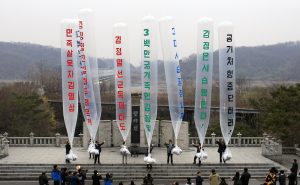 South Korea's government and North Korean defectors are at loggerheads once again. This time, the argument started with a piece of paper.
Several defector groups in South Korea announced on June 4 that they would continue to send leaflets to North Korea that are designed to convey news about the outside world and criticize North Korea's nuclear ambitions and human rights violations.
Defector groups and human rights advocates have sent such leaflets to the North using balloons for years. The leaflets are considered by Pyongyang as an attack on its government.
The June 4 announcement came after a spokesman for South Korea's Unification Ministry said Seoul planned to push new laws to ban the leaflet protests.
The ministry's plan was announced only about four hours after Kim Yo Jong, the sister of the North Korean leader, threatened to scrap a military agreement with South Korea and close down a cross-border liaison office unless Seoul stops activists from sending anti-Pyongyang leaflets over the border. Thus the move met immediate criticism from defectors who believe Seoul is "caving in" to North Korea's threat.
Park Sang-hak, chairman of the Seoul-based defectors group Fighters for a Free North Korea, criticized the ministry for acting as a spokesperson for Pyongyang.
"The ministry remained silent when the North Korean military fired machine guns at the South Korean military in the Demilitarized Zone but now is blaming us [defectors groups] citing possible damage to residents near the border just because of a word from Kim Yo Jong," said Park.
Ji Seong-ho, a North Korean defector-turned-South Korean politician, also warned if the South Korean government introduces such laws, it will face harsh criticism from the international community, adding that leaflets promote the right to know for North Korean people.
The biggest concern over Seoul's move is that it could restrict the freedom of expression, which is guaranteed by South Korea's constitution.
In 2015, groups that were trying to send leaflets to the North filed a lawsuit against the country over the police's move to stop them. At that time, the Supreme Court said since sending leaflets was a form of free expression, it should not be banned in principle. The court added that dropping leaflets could be only stopped should such activity pose a severe threat to the security of South Koreans.
Separately, South Korea attempted to pass new bills in 2018 that would make it mandatory for those who want to send leaflets to the North to get approval from the Unification Ministry in advance, but it failed to pursue the legislation further due to concerns over freedom of expression.
Since leaflets are mostly sent by defector groups in the South, the latest government move also raises concerns that it might worsen relations with defectors.
There have been growing concerns over the government's discriminatory attitude toward North Korean defectors since Moon Jae-in administration took office.
Remarks made at the North Korea Freedom Week, hosted by the North Korea Freedom Coalition and the American Enterprise Institute in May last year, show it well. For the event, prominent North Korean defectors who actively promote awareness of human rights issues in the North were invited to Washington, D.C. to share their views.
At that time, Heo Gwang-il, head of the Committee for Democratization of North Korea, said all support for North Korean defector groups had been halted since Moon Jae-in became president. He also mentioned a rumor that the government was checking the backgrounds of defectors to cherry-pick whom to support.
Another participant, Kim Heung-kwang, founder and director of North Korea Intellectuals Solidarity, said the government was gradually cracking down on defectors in South Korea, especially those who are vocal about human rights issues in the North.
Kim also claimed that he lost opportunities giving lectures at universities, public speeches, and appearing on TV shows as a North Korean expert under the new government.
Despite concerns and criticisms, the South Korean government is likely to introduce ways to stop groups from sending leaflets to the North or at least to discourage them.
This is mainly due to the agreement made between two Koreas in 2018 to take steps to reduce conventional military threats, such as establishing buffer and no-fly zones. South Korea sees the balloons used to send leaflets from the South to the North a flying object that violates this agreement.