India's Chinese App Ban Is Just the Beginning
Across India, public pressure is growing to boycott and ban all things Chinese, from food to technology.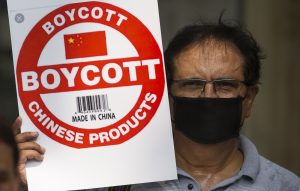 While the jury is still out on whether there has been a Chinese incursion in the Galwan Valley or which country rightfully lays claim to the disputed stretch of land along the Sino-India border, within India, digital and real borders are being hurriedly drawn. On June 29, the Indian government banned 59 Chinese apps including WeChat and TikTok citing the "threat to sovereignty and integrity" that these apps pose through the misuse and transmission of user data to servers outside India. As an immediate reaction, Chinese Foreign Ministry spokesperson Zhao Lijian said that the Chinese government was "strongly concerned" about the ban and that it is India's responsibility to "uphold the legitimate rights of international investors." On the telecommunications front, the Indian government is reportedly mulling barring Chinese companies such as Huawei and ZTE from providing equipment to state-run telcos in their 5G upgrade, an action that could eventually include private players too.
Even prior to this official intimation, many Indians were ready and roaring to boycott anything Chinese. What began as a call to boycott Chinese apps such as TikTok immediately, and all Chinese products eventually, quickly engulfed various sectors. On June 25, the Delhi Hotel and Restaurant Owners Association announced that Chinese nationals were no longer welcome in over 3,000 hotels and guesthouses across the capital city. This came close on the heels of the Confederation of All India Traders' (CAIT) decision to boycott Chinese products. On June 17, CAIT released a list of over 450 Chinese categories of products that were to be boycotted over "continued border skirmishes."
Employing boycotts as a means of registering strong disapproval and conveying an expression of protest has been a huge part of Indian nationalism. One of the biggest campaigns of the Indian independence struggle was the Swadeshi Movement. Within this campaign, anything that was not Swadeshi or the country's own — from books to clothes to education and governance — was boycotted. One of the most memorable images from the period is that of Mahatma Gandhi in the early 1930s using a spinning wheel to create thread in the traditional manner pre-dating imperial rule. It was an act of absolute rejection of the exploitive and controlling economic and political system that had entangled Indian textile manufacturing. This, according to Gandhi, would create the basis for economic independence before total independence or Purna Swaraj — absolute self-governance — from the British rule.
Shortly after the June 15 clash between Indian and Chinese soldiers where 20 Indian soldiers were killed, Union Minister Ramdas Athawale said that restaurants serving Chinese food should be banned and Indians should boycott Chinese food altogether. While concerned restaurateurs called the demand "bizarre" and "ridiculous," social media platforms went into a tizzy over whether the Chinese food served in India — fondly addressed as Indo-Chinese cuisine — is even authentic and thereby worthy of such a reprimand. Other incidents of protest and boycotting Chinese products involved citizens destroying Chinese brand televisions, vandalizing a shop in Mumbai selling Chinese toys, and burning effigies of Chinese President Xi Jinping. While many Indians are questioning this hyper-nationalism and the logic behind destroying that which has already been purchased by fellow citizens with good money, the call for boycotting all that is Chinese — whether already purchased or yet to be bought — seems to be rapidly gathering traction.
Bowing to the strong consumer demand to correctly demarcate and single out Chinese products, e-commerce websites such as Amazon and Walmart Inc.'s Flipkart have agreed to prominently display "country of origin" for all goods sold online in India. For its part, the Indian government has mandated country of origin information on its massive Government e-Marketplace (GeM) for all government purchases and has also enabled a Made in India filter on the platform in a bid to promote local products.
While the Himalayan neighbors are locked in a military standoff and engage in defense and diplomatic dialogues to de-escalate the situation, public opinion in India is split over whether recent government actions are apt or enough. Some believe that an alteration of the Indian map cannot be rightfully responded to through government action against Chinese apps; others, meanwhile, opine that it is a strong economic move and a harbinger of what could follow, especially in the technology and telecommunications sector.
Pallavi Shahi is a project consultant at the Center for Peace and Conflict Studies at the Seton Hall University. She holds a Master of Arts in Diplomacy and International Relations from Seton Hall University and has previously worked as a journalist in India.