The Shrinking Space for Refugee Rights in Malaysia
Malaysia hosts approximately 180,000 refugees but does not grant them formal recognition.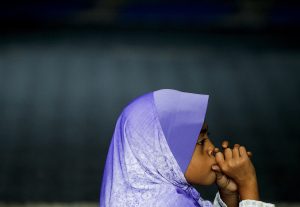 Last Saturday, June 20, was World Refugee Day. While far from a day of celebration, it was meant to be a day to recognize the unique struggles of those who leave their homelands seeking safety. The number of refugees has nearly doubled in the last decade and is approaching 80 million worldwide, nearly 1 percent of the global population.
On June 19, though, the City Council in Kuala Lumpur issued instructions banning refugees from entering a local market. The decision was a particularly sad reminder that Malaysia, a country normally known for its tolerance toward the refugee communities it has hosted in the past decades, has seen a dramatic reversal in the wake of the COVID-19 outbreak. 
While Malaysia hosts approximately 180,000 refugees from various countries, they are not granted any formal recognition by the state and remain in limbo. When the Pakatan Harapan government was elected in 2018, there was a genuine sense of optimism that it would fulfill its pre-election promises and eventually sign the 1951 Refugee Convention to grant refugees full rights to healthcare, education, and livelihood. In November 2019, an all-parties parliamentary group was formed to focus specifically on exploring legislative routes to address the refugee issue. 
With the arrival of the pandemic, however, things took a sharp turn for the worst. Local concerns were first raised after a few hundred Rohingya refugees attended a religious gathering in March, which served as a large cluster event for the virus outbreak. The real turning point was the arrival of a boat of Rohingyas in the middle of the movement lockdown, followed by the subsequent decision to turn the boat back by the Malaysian authorities. 
The feeling of insecurity and anxiety among many locals, which may well have been heightened by the lockdown, boiled over into an online anti-Rohingya xenophobic campaign in April. Even the easing of the lockdown in early June has not seen these nativist sentiments abate; instead Rohingyas remain targets, as do the wider refugee community and even foreigners in general. For example, a senior minister recently announced in an unprecedented move that foreigners would not be allowed in mosques until the situation improved. Earlier, a mosque in Johor had prominently displayed a banner stating that Rohingyas were unwelcome. 
This anti-refugee wave has also significantly hindered the work of not only the UNHCR but also the wider NGO and humanitarians activists upon whom the refugees are especially reliant in this time of scarcity and deprivation. Aid workers are often resorting to keeping a low profile on their activities lest they face a backlash for supporting refugees, who are seen as economically draining resources from more deserving Malaysians. 
What follows from here is highly uncertain. Thus far the authorities seem to be reactive to these eruptions of public pressure rather than taking proactive steps to calm the rise of online and offline hate. The hopeful view is that this xenophobia is more of a circumstantial product of the movement control order and the situation will gradually die down in the months ahead. The less optimistic view is that in Malaysia the refugee issue has now turned a dark corner from being framed in terms of humanitarian solidarity to national security and economics. 
Saqib Sheikh serves as adviser/co-founder for the Refugee Coalition of Malaysia (RCOM), a network of 14 refugee communities based in Malaysia. He also teaches media and communications as a Senior Teaching Fellow in Sunway University.