US UN Ambassador Pushes Back on Chinese South China Sea Claims
The note evoked the July 12, 2016, ruling by an international tribunal on maritime entitlements in the South China Sea.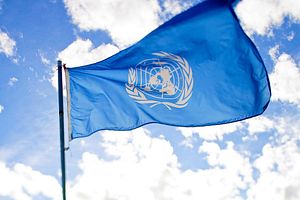 In a significant step to push back on China's maritime claims in the South China Sea at multilateral forums, the United States has challenged Beijing's claims at the United Nations.
On Monday, the U.S. Mission to the United Nations formally submitted a note verbale — a diplomatic communication — to the office of the UN Secretary-General's office arguing that China's maritime claims in the disputed South China Sea were "inconsistent with international law."
The U.S. note verbale was in response to December 2019 communications by China responding to a submission by the Malaysian government to the Commission on the Limits of the Continental Shelf, seeking an extended continental shelf in the South China Sea.
The U.S. statement, attributed to Kelly Craft, the U.S. ambassador to the United Nations, focused solely on Chinese claims and "does not comment on Malaysia's submission to the CLCS."
According to the statement, "the United States objects to China's claim to "historic rights" in the South China Sea to the extent that claim exceeds the maritime entitlements that China could assert consistent with international law as reflected in the [United Nations Convention on the Law of the Sea]."
Craft's statement is also notable for the attention it gives to the July 12, 2016, award by a Hague-based tribunal at the Permanent Court of Arbitration in the Philippines' 2013 case filed against China.
"The United States notes in this regard that the Tribunal unanimously concluded in its ruling — which is final and binding on China and the Philippines under Article 296 of the Convention — that China's claim to historic rights is incompatible with the Convention to the extent it exceeds the limits of China's possible maritime zones as specifically provided for in the Convention," the U.S. note adds.
The rest of the U.S. complaint focuses on other matters, including China's claims to straight baselines around features in the South China Sea. "In asserting such vast maritime claims in the South China Sea, China purports to restrict the rights and freedoms, including the navigational rights and freedoms, enjoyed by all States," the document adds.
Following the scrutiny at the United Nations, the Chinese government officially pushed back.
"China's territorial sovereignty and maritime rights and interests in the South China Sea have been formed in a long historical process & claimed by all Chinese administrations, which are also in line with UN Charter & UNCLOS," the Chinese Ministry of Foreign Affairs said in a tweet. "Accusations of China's lawful claims are groundless," it added.