After COVID-19: Rebooting Business in China
What a survey of Chinese business leaders tells us about China's post-COVID economy – and the future of U.S.-China economic relations.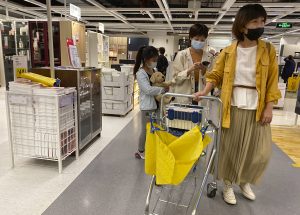 China was the first country to experience the ravages of COVID-19, having lost 4,634 people to the pandemic with 83,565 confirmed cases to date. Draconian measures were used to bend the curve and essentially stop the spread of the disease, although reports indicate that recently new cases have emerged, including those stemming from a Beijing market. For the most part, however, China has loosened restrictions and re-opened large parts of its economy. Individuals scan government-mandated QR health codes with their smartphones, and daily life has been restored to some sense of normalcy with restaurants serving customers and retail shops open to shoppers.
In this pivotal and important time, with streams of foreign policy arguments and opinion pieces sharply analyzing current U.S.-China geopolitical tensions continuing to pour forth, we at the Stanford China Program wanted to take stock of how businesses and the overall economy are coping as China tries to reopen its businesses and reboot its economy. Toward this effort, we conducted a collaborative survey of 135 senior executives in China from May 13-26. The survey was designed to help us better comprehend the variation in how Chinese businesses are reopening as well as how Chinese business leaders are viewing their prospects for the future. The research findings, based on one of the largest surveys to date of senior executives in China, helped us explore the following types of questions: What kinds of businesses have done better and what kinds have done worse? What role has the government played in economic assistance and business reopening? And how do China's business leaders view the deterioration in U.S.-China relations, the possibility of decoupling, and even future access to technology?
Overall Picture of China's Economic Recovery
The economic picture coming out of China has been mixed. The most prominent economic data point released by the Chinese government to date is the 6.8 percent drop in China's first-quarter GDP — an unprecedented contraction since the country began its reform and opening over 40 years ago. Yet, China's official unemployment data showed very little change, increasing from 5.3 percent in January, when COVID-19 first broke out, to 6 percent in early June. That workforce data, however, is limited to a survey of urban workers. It does not include the approximately 170 million rural migrant workers, nor the underemployed and informal workers for whom the impact of the pandemic has been severe. More recently, there have been some positive signs of a rebound: the May Purchasing Manager's Index (PMI) figure expanded to 50.7 and exports grew by a surprising 3.5 percent in April. The overall economic picture, in other words, is still unclear and yet to be determined.
Survey of China's Businesses
Amidst this environment of partial and fragmentary information, the Stanford China Program conducted its survey of 135 senior executives in China in order to better grasp how companies in China were rebooting themselves. The surveyed companies collectively represent over $1 trillion in global revenue and include both Chinese and multinational companies (MNCs) of varying sizes, home countries, and sectors. Forty-five percent of the companies were Chinese private companies; 12 percent were Chinese publicly-listed companies; and 42 percent represented joint ventures, U.S. MNCs and other, non-U.S. MNCs with Chinese offices. Nearly half the respondents (47 percent) were the most senior-level executives in these companies (i.e., chairman, founder, CEO, etc.) who were based in China and making key decisions from China. The sample was not representative and was skewed toward high-tech and online companies (55 percent), but it nevertheless included a diverse mix of industrial and automotive (11 percent), financial (8 percent), and consumer/retail segments (13 percent), with others in healthcare (8 percent) and media and education (6 percent). In terms of firm sizes, 58 percent of surveyed companies were small- and medium-sized enterprises (SMEs) (100-1,000 employees); but also in the mix were large companies (over 1,000 employees), including industry giants boasting over $100 billion in global revenue. The majority of the respondents (75 percent) conducted their businesses exclusively in China.
"Different Companies Living in Different Worlds"
Even with limitations to our sample, our survey provides one of the most detailed snapshots to date regarding the variation in COVID-19's impact on different businesses in China. The results also paint a multifaceted picture of the economic impacts stemming from the uncertain geopolitical environment in which different types of businesses are operating.
We found that 80 percent of all companies surveyed were experiencing serious economic fallout, including lower-than-expected demand and forced reduction of their workforce. This was true even for companies that were entirely focused on the Chinese local market. Less than half of all companies surveyed, for example, have seen their demand and sales restored to their projected levels prior to COVID-19. However, these disruptions are not uniform across China's businesses. While some companies are in distress, others report doing better as a consequence of COVID-19, with optimism for their futures. Different companies, depending on the industry and size, are, in short, living in different worlds.
For example, we found a striking disparity between high-tech and online companies versus other industries in China; and between large (over 1000 employees) and smaller firms. In general, tech and online companies have recovered faster, at twice the rate of non-tech companies, to their pre-pandemic expectations. By contrast, one-third of non-tech companies have seen their demand drop by more than half. Perhaps not surprisingly, tech and online companies are twice as optimistic about their future (e.g., future market size and future competition) as their non-tech counterparts.
Meanwhile, 50 percent of SMEs have reduced their headcount by more than 25 percent, whereas only 20 percent of large companies have had to reduce their workforce to that extent. Particularly striking is the fact that while one-third of SMEs we surveyed are in "distress mode," having trouble paying their rent, paying their workers, or paying their suppliers, 20 percent of tech/online and large-sized companies have surpassed their sales projections set at the beginning of the year. Compared to large companies, SMEs are five times more likely to face distress issues like struggling to pay workers or rent.
What about the role of the state? One might assume that the Chinese government would step in as they did in the wake of the global financial crisis in 2008 with a massive stimulus package. That massive stimulus may yet come, but, based on our survey, we see that only a little more than half of the Chinese firms (65 percent) have received government assistance. Surprisingly, almost half (45 percent) of the MNCs in our survey have also received some type of Chinese government assistance.
Prospects for Decoupling in Tech
With respect to global trade relations and geopolitical tensions, our survey further provides thought-provoking insights into how companies are viewing the prospects of some kind of economic separation. "Decoupling," a term that did not feature as a likely outcome prior to COVID-19, has now become an often-discussed theme in U.S.-China relations. The bilateral relationship has undergone rapid deterioration since the U.S.-China trade war began in 2017. The ramifications of COVID-19 have, in fact, led to anxious ruminations about the future of U.S.-China technology interdependence, international trade and economic cooperation between the world's two largest economies, and its macro-economic implications for the world.
Forty percent of local Chinese tech and online companies that we surveyed, indeed, have some level of concern now or anticipate problems in the future regarding access to global technology. Approximately a quarter (26 percent) of those companies believe they can source the same technology locally from within China, and an additional 63 percent of companies believe they can source the technology from either within China or other technologically advanced, non-U.S. countries. Even though a third (33 percent) of our Chinese local tech and online respondents believe technology access will be a serious problem in the future, only a minority (11 percent) of local tech/online companies expect inferior performance from such technology accessed from either within China or non-U.S. sources.
The majority of executives across all surveyed firms do forecast some level of U.S.-China decoupling in the technology sphere. Looking out five to 10 years from today, in fact, across all company types — local Chinese tech and non-tech companies, and MNCs with headquarters in the U.S. or non-U.S. countries — only a minority believe we will have a globally open marketplace where Chinese and U.S. tech companies continue to compete in each other's home markets. A plurality even foresee a balkanized state of technology "Cold War" between the United States and China. (Of those who gave this response, local Chinese tech/online companies comprised 14 percent; local non-tech companies, 27 percent; U.S. MNCs, 30 percent; and non-U.S. MNCs, 29 percent.) Most expect a less extreme but still quite pessimistic technology "split" where Chinese and American technology companies continue to compete in third-party countries but not in each other's home markets. (Of those who gave this response, local Chinese tech/online companies comprised 43 percent; local non-tech companies, 25 percent; U.S. MNCs, 12 percent; and non-U.S. MNCs, 20 percent.)
Prospects for economic separation also loomed large when the questions turned to supply chains for local tech/online companies in China. Sixteen percent of these respondents stated that they will be implementing heavy supply chain localization, moving to PRC-based suppliers as much as possible. Another 8 percent are planning to move to a regionalized supply chain strategy, whereas another 22 percent responded that they would conduct an end-to-end supply chain review to focus on resilience.
Concerns regarding access to technology are particularly relevant because a large majority of respondents (63 percent), across the board, saw digital transformation as the single most important change their companies needed to make at this time. The majority also identified the lack of technical talent (58 percent) and organizational structures (57 percent) as the biggest barriers to their ability to make such changes.
Implications of the Findings
What do our findings indicate? First, they highlight the large variation that exists in China. Despite Beijing's considerable power, according to our findings, the picture of recovery is hardly uniform. There appear to be real economic winners and losers in China coming out of this pandemic, and the trend continues to favor technology firms and large firms.
Second, survey results indicate that while the Chinese government is helping companies recover from COVID-19, assistance is being extended to a variety of firms — e.g., Chinese companies as well as MNCs, and tech as well as non-tech firms. The amounts do not appear large and direct government aid is less frequent, which is in line with the information coming out that Beijing's response is nowhere as large as in the wake of the global financial crisis in 2008.
Third, our findings suggest that companies in China are already bracing themselves for the fallout from deteriorating U.S.-China relations. Companies in China are already planning for decoupling by acting now to localize supplies. Thus, there may be a self-reinforcing cycle to this movement as positions harden and rhetoric around decoupling gains ground, inducing businesses in China — both local and multinational — to take concrete steps that further accelerate the process. Even within a time horizon of five to 10 years, 23 percent of respondents foresee a technology "Cold War" centered around balkanized "blocs" of U.S. vs. Chinese technology around which third-party countries will presumably align. Yet, follow-up comments by selected business leaders of companies we surveyed distinctly indicate that decoupling is highly inefficient and all-around suboptimal. While we need more systematic information, if the sentiment of these business leaders is in any way representative, then perhaps there is some hope that business imperatives and economic efficiency will create a new impetus for rebuilding U.S.-China relations at some point.
More broadly, it is worth noting that the trends we see in our survey regarding the advantages wielded by technology companies and large enterprises align with what some have observed in the United States as well. Levels of market concentration in the U.S. (as is true in China) have been rising over the last few decades and now, large U.S. companies that have the reserves to weather the storm will most likely survive the prolonged economic downturn that has been predicted. Of these, technology giants in the United States similarly look to post the farthest gains as the digitization of work and life have become increasingly important to the economy. Both countries, in other words, have seen their inequality levels rise to unprecedented heights in contemporary times and are facing a future where this trend may accelerate, thanks to COVID-19. The implications of such an economic concentration of wealth and market power may be significant.
Nevertheless, if large technology companies will grow even more powerful and dominant after the pandemic, one can also provocatively raise the question of whether they might find ways to thwart the current political momentum to decouple. Are the needs and realities of how technology production works and innovations happen such that companies can and will find ways to circumvent the forces of decoupling?
Jennifer Choo, Ph.D., is the Associate Director of the China Program, Walter H. Shorenstein Asia-Pacific Research Center at Stanford University.
 Jean C. Oi is the William Haas Professor of Chinese Politics, Department of Political Science; Senior Fellow, Freeman Spogli Institute for International Studies; the Director of the China Program, Walter H. Shorenstein Asia-Pacific Research Center; and the Lee Shau Kee Director of the Stanford Center at Peking University, all at Stanford University
Christopher Thomas is a Visiting Professor at Tsinghua University; a Board Director at Velodyne LIDAR; and recently retired as a partner with McKinsey & Company.
 Xue (Xander) Wu is the Deputy Director General of Wuhan2020 open source community; and an alumnus of Stanford Graduate School of Business
The authors would like to thank Jiashu (Josh) Cheng, Juliana Kua, Linda Zhang, Yuki Chengxing Zou, members of the Stanford Program at Peking University and the Stanford China Program who contributed to research.