As WHO Team Arrives, Notable Pneumonia Deaths Reported in Turkmenistan
An adviser to the Turkmen president and a Turkish diplomat have reportedly died from pneumonia this week.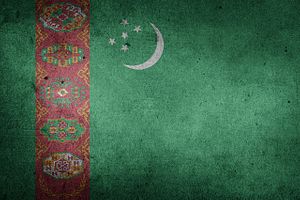 A five-person team of public health experts and epidemiologists arrived in the Turkmen capital late on July 6. The 10-day mission to a country that remains one of the few in the world to not officially confirm a single COVID-19 case is being closely watched by regional observers — hampered, of course, by Turkmenistan's isolation and the lack of a free local press. 
Meanwhile, exile Turkmen media sites and RFE/RL have reported two high-profile pneumonia deaths in the last week. 
A reminder: One does not just get pneumonia. The lung infection is caused by something. That something could be bacteria, fungi, or a virus — like COVID-19. 
The reports don't state the cause of the pneumonia that was allegedly responsible for the death of both an adviser to the Turkmen president and a Turkish diplomat in Ashgabat. Turkmen.news, a Netherlands-based exile publication formerly operating as the Alternative Turkmenistan News project, also reported that they'd received increasing tips on suspicious pneumonia deaths.
As the WHO team arrived in the country, there have also been reports of increased masking, most notably among bus and taxi drivers, people working in markets, and police. Relatedly, the prices of masks has risen. 
The WHO chalked the delay of its mission — first mentioned back in April — to pandemic travel restrictions. In a press release regarding the team's arrival in Turkmenistan, Catherine Smallwood, WHO/Europe's senior emergency officer and mission lead, is quoted as saying, "This mission reflects the commitment of WHO/Europe to a strong partnership with the Central Asian countries. Together with the Turkmen government we have overcome complex travel challenges, and we are very glad we managed to reach the country today."
According to the WHO:
During the 10-day deployment, the team aims to work together with high-level officials and public health experts in areas such as surveillance, laboratory services, patient management, infection prevention and control, risk communication, and community engagement. The experts plan to visit health-care facilities, public health centers, laboratories, emergency centers and other facilities at the national, regional and city levels.
Turkmen authorities have walked a strange tightrope, tacitly acknowledging that the novel coronavirus is a problem while also avoiding any acknowledgement that it is a current problem in Turkmenistan. In a Ministry of Foreign Affairs release, Turkmen authorities attest to their quick action closing borders, providing free care to citizens, and engaging in international cooperation regarding the pandemic threat. In late May, the government adopted a "Preparedness and Response Plan," something Smallwood highlighted in comments to RFE/RL.
But the MFA release spends more time discussing the Aral Sea than globally well-known preventative measures like masking and social distancing (neither are mentioned in the release at all). Indeed, the country's efforts are cast as organized to "prevent the introduction" of COVID-19 into the country. 
Meanwhile, RFE/RL's correspondents have reported hospitals bursting with pneumonia patients and setting up quarantine zones for suspected COVID-19 patients.