What's the Impact of Turkmenistan's COVID Delusion?
Turkmenistan says it is COVID-19 free, but the virus, analysts say, is impacting the country whether Ashgabat admits its presence or not.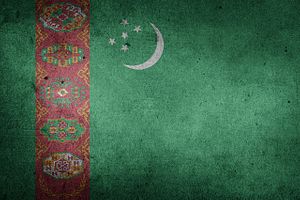 The Turkmen government maintains that it has detected no cases of the novel coronavirus that emerged from China in late December. In six months, the virus has infected more than 6.1 million people around the world; more than 372,000 have died. Turkmenistan maintains an "authoritarian fantasy" that includes the unbelievable fiction that the virus has not arrived within its borders, a delusion which experts say has served to exacerbate existing social and economic difficulties in the country.
In a virtual event on May 28, the Daniel Morgan Graduate School (DMGS) gathered a panel of regional experts to discuss the state of affairs: Turkmenistan's COVID delusion. Moderated by Edward Lemon of DMGS and Muhammad Tahir of RFE/RL, Crude Accountability's executive director Kate Watters, RFE/RL's Turkmen Service director Farruh Yusupov, and Luca Anceschi of the University of Glasgow spoke regarding the situation in Turkmenistan. 
Turkmenistan is a notoriously opaque state, purposefully isolated by an authoritarian regime led since 2007 by Gurbanguly Berdimuhamedov. Traditional independent media in the country is virtually nonexistent and reporting about it from outside is difficult, hamstrung by an inability to access reliable information (and confirm that information) about conditions and policies. The result is the creation of separate realities on a spectrum from what outlets like RFE/RL report via their sources in the country to the glory days professed by Turkmen authorities. 
"Turkmen authorities and the president likes to believe that everything is okay in Turkmenistan, everything is wonderful because they live in the era of might and happiness — even natural disasters cannot happen," Yusupov commented, referring to what many have dubbed a hurricane that ripped through eastern Turkmenistan's Lebap and Mary provinces in early May.
Sources inside the country depict a troubled state of affairs, from rising food prices to a spike in pneumonia deaths since the start of the year. There have been reports of individuals arrested for discussing the pandemic in public or wearing masks; at the same time the authorities closed the country's borders. 
In his remarks, Yusupov commented that the Turkmen government is emboldened in its line of denial by the tacit support of those international organizations that are still present in the country. 
Last month, a World Health Organization mission dispatched from Europe initially planned to visit Turkmenistan, after stopping in Tajikistan, but the visit was called off on account of Ashgabat not issuing an official invitation to the organization. As RFE/RL's Bruce Pannier noted at the time, without an official invitation, the WHO is left on stand-by but without any authority to enter the country. It may be pertinent to note that Tajikistan denied having any COVID-19 cases until immediately before the WHO mission arrived. In just one month Tajikistan's case load soared from zero to over 4,000 (with the caveat that Dushanbe's data is arguably suspect).
It's a side-effect of diplomacy: international organizations that are able to operate only at the behest of a host government don't often call their hosts out for being liars.
In her remarks, Watters addressed the role of international institutions and their complicity, via silence, in maintaining the Turkmen government's chosen fiction. She commented that the WHO and UN have taken "a very bureaucratic stance" in repeating, uncritically, government-provided data.
As Pannier reported in early May, the WHO's on-site representative in Turkmenistan, Paulina Karwowska, after visiting quarantine zones in Lebap said, "We rely on Turkmenistan's health-care bodies to report about confirmed cases, and up until now we have not been informed about any cases."
And thus Turkmenistan marches on, COVID-19 free; but the virus, analysis say, is impacting the country whether Ashgabat admits its presence or not.
Anceschi in his remarks noted that "COVID seems to be the catalyst that is amplifying Turkmenistan's current progress." 
Existing social, political, and economic issues have been exacerbated by the virus. Anceschi focused his remarks on economic matters and Turkmenistan's political isolation, and later in the discussion Watters highlighted this same effect on human rights issues. 
On the economic front, COVID-19 has prompted a new stage in the deterioration of the Turkmen economy, which began in 2009 with the Central Asia-China gas pipeline. That reoriented Turkmenistan's gas market to serve a single major customer: China. Not only has volume of trade in energy plummeted because of the pandemic, but prices have tanked too — meaning if Ashgabat could find new customers, it won't help much. 
Turkmenistan's isolation, Anceschi noted, has also been enhanced by the COVID-19 crisis at the same time that pressure on what social contract existed between the people and the state has been heightened. 
Anceschi summed the situation concisely: "Unfortunately, the victim in all of this is the population, who's having their rights to health disregarded by the government to create an authoritarian fantasy."