Do EU Sanctions on Cambodia Still Matter?
The sanctions are too little, too late to have the desired impact — especially amid a pandemic.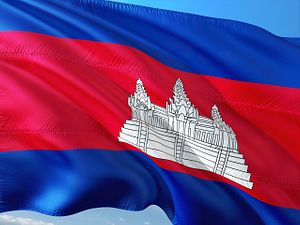 It seems so long ago (though it was only in February) that the European Union finally decided to partially remove Cambodia's trade privileges under its Everything But Arms (EBA) scheme. So much, as they say, has happened since.
As I laid out back in January 2019 in The Diplomat, Brussels had every right to withdraw Cambodia from the preferential trade scheme, a response to Phnom Penh forcibly dissolving the country's only viable opposition party, the Cambodia National Rescue Party (CNRP), over spurious claims of plotting a U.S.-backed coup; the arrest of the party's leader, Kem Sokha, on treason charges; and other repressive actions.
The problem for the EU now is that the effects of the EBA's withdrawal are going to be difficult to ascertain, given the COVID-19 pandemic has already decimated parts of the economy. The Asian Development Bank expects Cambodia's economy to contract by as much as 5.5 percent this year.
If there is any point to the EU punitive measures – which will restore tariffs and quotas on certain exports – it would have been to deal a quick blow to the Cambodian economy. Sensing this, Phnom Penh would realize it needed to negotiate an end and introduce political reforms – or so the plan went.
Now, though, this won't be possible. Some of the trade privileges are supposed to be rescinded in August; come September, it will be almost impossible to tell how much of the downturn of the manufacturing sector was due to the pandemic or due to the trade privilege revocation. And without being able to know how much EBA withdrawal impacted economic conditions, it will be easy for Phnom Penh to pass the buck.
Prime Minister Hun Sen will be able to overlook the withdrawal altogether come August, claiming that the collapse in the manufacturing sector was solely because of the pandemic – which, of course, he wasn't responsible for. In fact, his government's handling of the crisis has earned public praise. At the same time, Cambodia's ruling party will be able to direct considerable public anger against the EU for further wounding an already flailing economy. "Here's kicking a man when he's down," will be the rhetoric put out by Phnom Penh – and the ruling party's pliant media are already laying the ground.
Granted, the effects are going to be tough. "If the Commission allows the EBA withdrawal to take effect in August this could in fact result in the near collapse of the already pandemic-devastated apparel, footwear and travel goods industries in Cambodia," argued three lobbying groups earlier this month. They also asked for a 12-month delay in withdrawal, though the Nikkei Asian Review reported earlier this month that the EU won't issue a postponement unless "significant progress" on political reform is first taken by Phnom Penh.
Interestingly enough, Ken Loo, secretary-general of the Garment Manufacturers Association of Cambodia, one of the aforementioned lobbying groups, has said the private sector is "not pressuring the Royal government to negotiate with the EU," perhaps an indication that Phnom Penh doesn't want to hear anything more about it.
Pandemic or not, though, the EU sanctions were always unlikely to work as intended. If the recent history of sanctions against North Korea, Iran, and Russia teaches us anything, it's that punitive measures must be imposed with four provisos. First, sanctions must be implemented quickly and somewhat unexpectedly, so that the sanctioned government doesn't have time to prepare for them. Second, maximum pressure must be exerted from the beginning. Third, they must remain in place until reform is proven, not promised. Fourth, they must be imposed by multiple parties.
Brussels has been consistent from the beginning; it wants judicial reform, Kem Sokha to be released from jail, and the CNRP to be allowed to return as a legal party. The EU first mused about the possibility of EBA withdrawal in 2017, yet the formal fact-finding mission didn't begin until July 2018 and the more formal process of evaluation only started February 2019, while the final decision came a year later. Instead of early action, say after the CNRP dissolution in November 2017, the EU pursued "enhanced engagement" with Phnom Penh when it was blatant to most observers that Hun Sen wasn't going to stop his political assault because of the "threat" of future sanctions.
Moreover, the delay gave time for Hun Sen to consolidate power. In the time between the EU fact-finding mission and its decision in February 2020, Cambodia's ruling party won all 125 seats in parliament at the 2018 general election; repopulated the military with Hun Sen loyalists, including his eldest son and heir apparent, Hun Manet, as its de facto chief; arrested dozens of grassroots CNRP activists; closed down even more civil society and media operations; took over almost all locally-elected positions; introduced even more repressive legislation; and extinguished any hope of Sam Rainsy, the other opposition leader, returning to the country when he was blocked from doing so late last year.
Indeed, as the EU dithered, the CPP consolidated its political power to the point of no return. Put differently, Cambodian politics cannot feasibly go back to pre-2017 days, which is essentially what the EU wants. The status-quo-ante has long passed.
Most pundits are probably correct that Kem Sokha will be prosecuted whenever his trial begins again, but he will be swiftly pardoned by Hun Sen on the condition he doesn't engage in politics again. The EU will see his likely release as a victory, but it has more to do with domestic politics than assuaging Brussels. Pardoning Kem Sokha would irrevocably divide the CNRP, remove a leading opposition figure from politics and "prove" Hun Sen was right all along about the party's putschist instincts.
Moreover, if sanctions were going to change Cambodian politics, they needed to be wielded more forcefully, such as by cutting all of the country's trade privileges under the EBA scheme. Instead, the partial suspension decided by the European Commission in February covers only about a fifth (or around $1 billion) of Cambodia's exports to the EU, its largest trading partner. And they needed to be imposed by both the EU and the United States. But Washington has sought détente with Hun Sen since the new U.S. Ambassador W. Patrick Murphy arrived in Phnom Penh last year. The latter, of course, is not the EU's fault, but Brussels delayed measures until 2020, when the United States imposed limited sanctions on Cambodia in 2018. Had EU measures come sooner, it might have influenced U.S. policy.
Writing today, it's difficult to see how EBA revocations will have any impact. Done differently – earlier, more forcefully, and in partnership – it might have been possible to extract some political reform from Hun Sen. But might is the operative word.
As almost every analyst notes, the ruling party's main source of legitimacy is economic development, which has seen Cambodian GDP climb from $2.5 billion in 1993 to $24.5 billion in 2018, according to the World Bank. But that isn't its only source of legitimacy. Other examples include the party's historical roots as the one that overthrew the Khmer Rouge; its ending of Cambodia's protracted civil war; Hun Sen's personality cult; and, of course, fear.
However, what needs remembering is that while the economy matters, the Cambodian People's Party isn't going to sacrifice its own power for the sake of a billion dollars in trade. Nor, in fact, for the fate of a hundred-thousand-or-so manufacturing workers. And especially not now that the economy is already in a woeful state. For some, EU measures following the pandemic are a "one-two punch." For the ruling party, they probably couldn't have come at a better time.