Hun Manet Still a Long Way From Cambodia's Top Job
Hun Sen's number one son has the resume but needs broad support.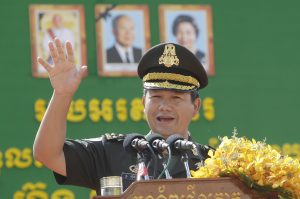 Speculation has persisted in recent months that Hun Manet will eventually succeed his father as prime minister of Cambodia. It's a job the West Point graduate is qualified for, but the way ahead is filled with obstacles should he want to lead.
This is also the type of talk that usually makes local headlines in the government-friendly press during a quiet news spell, particularly in these times when pandemic lockdowns and avoiding COVID-19 are the dominant drivers of the news cycle.
But Hun Sen is a proven political operator. Positioning his family within Cambodia's power structure has been a hallmark of his rule since he was first named prime minister under Vietnamese occupation in 1985.
That history helps explain why Hun Manet's rise to the head of the army has been swift and his recent appointment as the head of the youth wing of the ruling Cambodian People's Party (CPP) should not come as a complete surprise.
The frenzy of speculation was aided by trips to China and elsewhere, with Hun Manet increasingly playing an important role. As one observer put it: "He knows heads of state and the military chiefs personally and quite well and that helps his chances."
Those chances, however, are predicated on several factors yet to play out. Even Hun Sen has said there could be other candidates adding, "The first concern is whether the party would accept him. The second is the general elections."
Hun Sen has made it clear he intends to be around for the next election, due in 2023. A transfer of power is a possibility ahead of the poll in 2028, or afterwards, assuming his health holds.
Current politics are messy, given the last election: the main opposition party was banned, its leader Kem Sokha arrested on treason charges, the independent press closed or sold off, and NGOs and human rights activists were pursued by the police and through the courts.
The CPP holds every seat in the National Assembly and Cambodia is effectively a one-party state, which has alienated the West and pushed Phnom Penh ever closer to Beijing.
Cambodia's outstanding issues need to be resolved and that would be difficult without an election seen as free, fair, and plural. Hypothetically, that would at least afford Hun Manet some plain sailing while coming to grips with the job.
Between now and then there are potential challenges and while Hun Sen remains the most powerful man in Cambodia he does not dictate to the CPP.
Sy Chhum and Sar Keng, both CPP vice presidents, are among the key decision-makers and their backing for any candidate would be required.
Another Hun Sen son, Hun Manith – who is also in the military and heads the intelligence department – has also been touted and there are no shortage of senior CPP members and their siblings in politics who would contest the leadership if it was in their interests.
In the current climate Beijing would require guarantees of a smooth transition in power while public approval could prove tricky. Kem Sokha got tantalizingly close to winning the 2013 election amid changing demographics.
A post-war baby boom has resulted in an average age of just 25.6 years. Kem Sokha and his political partner in exile Sam Rainsy have counted on the youth vote for much of their support, and that is where the CPP and any future leader will struggle.
In the meantime, Hun Sen's and the local media's comments on the future leadership serve a second purpose, reminding the military and ordinary Cambodians that the "strong man" is still in charge and for a few years to come, and there is a dynasty to back him.
Luke Hunt can be followed on Twitter @lukeanthonyhunt