Kazakhstan Decriminalizes Defamation, Keeps Hindering Free Media
Hailed as a step in the right direction, the decriminalization of defamation is still not enough to relieve pressure from the press.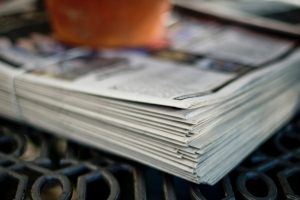 Kazakhstan's President Kassym-Jomart Tokayev signed a law to decriminalize defamation at the end of June in a small victory for press freedom, which continues to face substantial barriers. 
In the first four months of 2020, according to the media watchdog Adil Soz, a handful of journalists faced trial, charged with "defamation" under infamous article 130 of the penal code. In 2019, Adil Soz recorded 26 trials against journalists for violations of article 130. Members of the press and citizen journalists could face hefty fines or a sentence up to three years in prison if found guilty.
Article 130 was used repeatedly to muzzle the press and discourage journalists.
Harlem Désir, OSCE representative on freedom of the media, welcomed the decision to decriminalize defamation.
"Too many journalists have been criminally prosecuted or investigated, or have fallen victim to heavy fines, simply for performing their duty of informing citizens," Désir said.
Last December, during a meeting of the newly-formed National Council of Public Confidence, Tokayev promised that the decriminalization of defamation would foreshadow a wave of reforms.
It is important to remember, however, that defamation – both in terms of libel and slander – is still a punishable offense. Administrative charges can result in significant fines or 25 days in jail. And there are other articles in the criminal code, "insult" and "distribution of deliberately false information," that could be used against the press in much the same way "defamation" had been.
Furthermore, Kazakhstan's security forces have shown in recent years that they are eager to monitor online communication and punish violations even outside the traditional media sphere. In this case, spreading false rumors and offending the honor and dignity of the First President have been key violations that have brought citizens to trial.
A 2010 law, in fact, protects former President Nursultan Nazarbayev and his family from any verbal or written attack that undermines his legally-enshrined status as the Leader of the Nation.
In an editorial at the Washington Post in 2011, Nazarbayev promised to decriminalize slander.
"We will, for example, make defamation a civil rather than a criminal offense to encourage free speech and bring us into line with international best practices," Nazarbayev wrote.
Yet the new criminal code, adopted in 2015, featured stricter and harsher penalties for defamation and in August 2019, Nazarbayev urged the ruling Nur Otan party to toughen the punishment for defamation.
"No one gave permission to insult," Nazarbayev said. 
During the COVID-19 pandemic, several journalists have lamented pressure and were questioned by the police, according to NGO Reporters Without Borders. 
Such practices follow the hard line employed against the press during protest actions, which have increased since Nazarbayev's resignation in March 2019. Journalists are often detained before they can reach the protest site and the press is routinely filmed and checked for up-to-date credentials. In a country with few independent outlets, the authorities maintain an iron fist also against citizen journalism.
While the decriminalization was widely welcomed in Kazakhstan, the blurry boundaries in the law between defamation, insult, and "fake news" would allow for arbitrary application of the articles in the civil and penal codes, according to Adil Soz.
Coincidentally, the adoption of the new law in Kazakhstan happened just hours after a controversial anti-disinformation law passed in Kyrgyzstan.
The Kyrgyz parliament voted in favor of a bill that would crack down on digital dissent. The draft law sparked online and offline protests, calling for President Sooronbay Jeenbekov to veto the bill.
As governments in Central Asia catch up with new information technologies, it is crucial to monitor their efforts in muzzling the press, which has had to endure numerous attacks in the past decades. 
Despite the positive step of decriminalizing defamation, Kazakhstan still has a long way to go if the government is serious about relaxing restrictions and hurdles to press freedom.