Duterte's Rejection of Calls for 'Revolutionary Government' Met With Doubt in the Philippines
The president said he was unfamiliar with a group calling to install him as head of a new government, despite video showing him at the group's convention in 2018.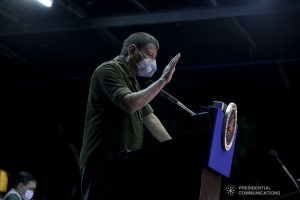 Philippine President Rodrigo Duterte this week rejected an effort to install a Duterte-led "revolutionary government" by a group of his supporters, whom he claimed not to know despite a video of him attempting the group's convention in 2018.
Spokespeople for the national police and armed forces also rejected calls by the group, the Mayor Rodrigo Duterte – National Executive Coordinating Committee (MMRD-NECC), to overturn the Philippine Constitution and have Duterte lead a new government until December 31, 2021, after which elections would be held under a new constitution.
Duterte has said he could declare a "revolutionary government" twice in the past, and the latest call from the MMRD-NECC comes as his office has addressed rumors of his health. A new government could potentially prevent Leni Robredo, the vice president and a Duterte critic, from becoming president should Duterte have to leave office.
The call also comes in the wake of the country's controversial new anti-terror law, which broadly defines terrorism crimes as encompassing any attempt to overthrow the government.
Antonio Parlade, a high-ranking military official and key figure in the Philippines' anti-communist task force, said that while he opposes a revolutionary government, members of the MMRD-NECC should not be arrested as they want Duterte to remain as the head of government.
When asked if other groups wishing to remove Duterte could be arrested, Parlade said: "Of course."
Presidential spokesperson Harry Roque also initially said the calls fell under freedom of expression, although police later said they would probe the MMRD-NECC and explore whether to file a complaint.
Lawyers had said the group could be liable for violating the anti-terror law or laws against inciting to sedition.
While Duterte's administration has rejected the call for revolutionary government, the comments from Parlade and Roque are not the only reason some find their opposition unconvincing.
Duterte, during an address to the nation on Tuesday, said he did not know the MMRD-NECC. However, GMA News reporter Joseph Morong quickly posted a video to Twitter showing Duterte at the group's convention in 2018.
The group's spokesperson also claimed on Facebook that Duterte had appointed group members to government posts after winning the presidency in 2016.
In 2019, Duterte said he would declare a "revolutionary government" and suspend habeas corpus to arrest his critics in an impromptu outburst, drawing rebukes from human rights advocates.
Loretta Ann Rosales, the former chairwoman of the Commission of Human Rights, said at the time such an action would violate the constitution. "The president should know that employing tactics from the Marcos playbook does not end well," she said, referring to the late dictator Ferdinand Marcos.
Although Duterte and his government allies have not endorsed the MMRD-NECC call for a revolutionary government, the Philippine Bar Association warned Thursday that the public must remain vigilant to prevent the movement from becoming a reality.
"There is a danger in letting movements like this fester without immediate action. This allows them to coagulate and gather," the lawyers' group said in a statement. "The greatest sin we can commit right now is to dismiss or ignore the true dangers these repeated calls for 'revgov' pose."
The president's office has said it is focusing on combating the coronavirus pandemic. It also said Thursday it is contemplating whether to publicly address swirling rumors about Duterte's health.
Duterte said in his Tuesday address he has Buerger's disease and Barrett's esophagus, which could lead to stage one cancer, and said his doctor had advised him to stop drinking – although Roque, his spokesperson, said the doctor had given his advice "a long time ago."
Duterte, 75, became the oldest person to be elected Philippine president when he took office in 2016. He has addressed speculation about his health numerous times in the past, but he has refused to make his medical records public and has not allowed his physician to share information about his health.
Last weekend, rumors festered in the Philippines that Duterte had recently flown to Singapore to visit a medical facility. Christopher "Bong" Go, a senator and Duterte's former presidential aide, posted a selfie with Duterte on Monday to counter the rumors, saying the president is "only in the Philippines."