India Reduces Paramilitary Troop Strength in Kashmir in a Bid to Signal Normalcy
The drawdown is in the Goldilocks Zone: big enough to be noticed, but not so large that it would jeopardize New Delhi's grip over the region.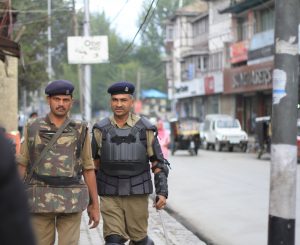 In a notable development yesterday, the Indian government announced that it was withdrawing around 10,000 paramilitary personnel – part of the Central Armed Police Forces (CAPF) – from Kashmir. On August 5 last year, the Narendra Modi government effectively abrogated a constitutional provision (Article 370) that granted autonomy to the state of Jammu and Kashmir. It also brought the former state under direct central control after carving out Ladakh from it as a distinct political entity.
Around that time, more than 65,000 paramilitary troops were present in the region, concentrated in the Kashmir Valley, alongside the army and local and state police. Last December, the central government had withdrawn more than 7,000 troops from the region while in May this year, it pulled an additional 1,000 soldiers out. Adding those to the numbers announced yesterday, India has withdrawn more than 27 percent of CAPF soldiers from the peak of deployment last August.
This is a Goldilocks Zone drawdown: big enough to be noticed (and politically capitalized), but not so big that it would jeopardize New Delhi's grip over the region. It carries two signals. First, and this is also the government line, it suggests that the situation in Kashmir while remaining volatile is not nearly as bad as many feared it would be following the August decision. Second, the Modi government remains quite keen on demonstrating to Kashmiris and the world at large that it stands vindicated, despite severe criticism from liberals at home and abroad about the heavy-handedness of its Kashmir policy.
Following a security review meeting with the Indian Home Minister Amit Shah last week, the establishment assessed, as Hindustan Times' Shishir Gupta reported, "that the forces could do with fewer numbers, particularly given its successes over the last one year in eliminating top terrorist commanders." And some of the key outfits operating in the Kashmir Valley have indeed found themselves in dire straits.
For example, since March this year more than two dozen recruits who joined the Hizbul Mujahideen, a marquee terrorist organization, have been eliminated. Hizbul leader Burhan Wani's killing by Indian forces in the summer of 2016 led to some of worst clashes between security forces and secessionists since the start of large-scale insurgency in Kashmir in the early 1990s.
Indian journalist Praveen Swami attributes this dramatic turn of fate for Hizbul to logistical and leadership problems. At the same time, it is not hard to imagine that COVID-19 has also come to aid the Indian security forces. Due to the pandemic, Kashmir was effectively locked down twice – once due to the restrictions imposed since August last year, and the other following a nationwide federally-mandated COVID-19 lockdown in March, just when certain restrictions from the security-related one were being removed.
This included effective curtailment on the freedom of movement within the region. Plausibly, these restrictions, in turn, allowed Indian forces to contain or eliminate targets who would not be able to move around to avoid detection.
Modi, in his Indian Independence Day speech on August 15, was keen to suggest that his Kashmir policy has paid off. He declared that he was "committed" to holding local elections in Jammu and Kashmir. As a federally controlled territory with a legislature, following elections it would have a chief minister even though her or his powers will be circumscribed.
Indeed, over the past one year New Delhi's insistence that the situation in Kashmir was "normal" – even when on-ground reporting showed that that was far from being the case – became an occasional subject of dark humor in the country.
A noticeable reduction in the strength of CAPF forces in the Kashmir Valley is one way through which the Modi government is trying to send an all-is-well message. By now it has gotten adept at wielding the power of optics.