Kiribati Announces Plans to Raise Islands Above Rising Seas
As climate change and sea level rise threaten to inundate Kiribati, its government has proposed a radical new plan to raise the islands.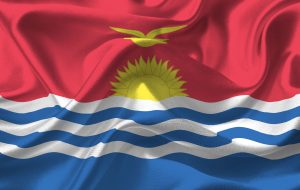 Earlier this week, Kiribati President Taneti Maamau announced that his country will be seeking the support of their new diplomatic partner, China, and other allies to raise the nation's islands in an attempt to fight back rising sea levels. 
With the country only 2 meters above sea level at its highest point, climate scientists have long argued that Kiribati could be wiped off the map within the next 70 years as global warming worsens. 
In his first in-depth interview since being re-elected in June, Maamau told the Guardian that his government's strategy "identifies raising our islands" as a counter to climate change, and plans "to secure dredgers that will assist with these efforts."
"There are already plans to build up part of Tarawa through dredging fill materials from the lagoon. Kiribati in its 20-year vision has also included strategies to secure dredgers that will assist with these efforts as well as dredging channels in the outer islands," he said. 
"The strategy is still in development but clearly identifies raising our islands as a way forward in our fight against climate change. This is also clearly demonstrated in our national climate change policy."
Former President Anote Tong has long criticized Maamau for his views on climate change. Tong spent much of his tenure meeting with world leaders, speaking at the United Nations, at the COP21, and other forums. He garnered the attention of the international media, raising awareness to the plight of his homeland and his people. 
The attention paid off. Tong's administration was approached by entrepreneurs the world over. The ideas ranged from building artificial floating islands to castle-like sea walls. Responding to a question of whether building a floating island was possible, Tong said: "It's radical, unprecedented, way out of the box, but in the absence of other options, unless you can come up with alternatives, I'm afraid that these are the options available to us."
His government then secured funding to buy an island in Fiji, where Kiribati citizens began migrating in anticipation of what was to come. Tong coined the term "migration with dignity," as an idea that people should move while it's a matter of choice instead of waiting until the end. 
After Maamau succeeded Tong he announced that his government's official intention was to "put aside the misleading and pessimistic scenario of a sinking, deserted nation." His government dismantled climate policies set by the previous government and arrested, detained, and deported journalists for reporting on the change of course. 
Maamau told the Guardian that he rejects migration as a strategy, arguing that the islands can survive with the right adaption measures, and said that the people of Kiribati will not be forced to leave. 
Speaking to an international climate conference in Bonn, Germany, in 2017, Maamau said, "Climate change is indeed a serious problem, but we don't believe that Kiribati will sink like the Titanic ship. Our country, our beautiful lands, are created by the hands of God." Instead of asking world leaders for support in combating climate change, he sought cooperation in the country's new 20-year plan to develop Kiribati into the "Dubai of the Pacific," filled with skyscrapers and 5-star resorts. 
While the finer details of who will be involved in the effort to raise the islands are still disputed, climate scientists have praised the announcement regardless, as it signals a potential reshuffle of Maamau's priorities.
Paul Kench, a coastal geomorphologist and dean of science at Simon Fraser University in Canada, is advising the Maamau government in its efforts to raise the islands. He told the Canadian Broadcasting Corporation that while it is a challenging project, it is technically feasible.
"We need to raise these islands by maybe a meter or more and so we need the aggregate, which is largely sand and gravel. In these settings, that comes from the deep lagoons where sand and gravel are being flushed into, so we need to dredge that material out of the lagoons and then deposit it on the islands," he said. "But there's houses and infrastructure on those islands so there would need to be a staged relocation and replacement of a lot of the infrastructure on the island's surfaces."
Questioned on the shift from Tong's efforts to pressure world leaders to take action to combat climate change to Maamau's attempts to adapt to it, Kench said: "Anote Tong did a wonderful job at raising global awareness about the plight of atoll nations, and we still need to commit to mitigation of climate change. But despite that, the sea level rise that we're going to expect over the next century is locked in. If we stopped pumping out greenhouse gases tomorrow, sea level is still going to rise."
"I think one of the interesting things is a change in attitude of the countries to say: We don't want to flee and go somewhere else. We want to stay… Let's come up with viable adaption strategy so that we can remain in place and retain our cultural identity."