North Korea Steps up Its War on COVID-19
As North Korea doubles down on COVID-19 containment measures, local sources report several outbreaks.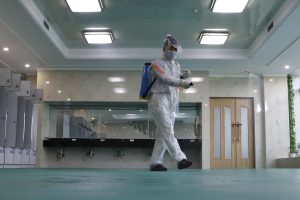 According to various reports coming out of the country, North Korea is increasingly doubling down on its efforts to prevent the spread of COVID-19. Although officially Pyongyang has yet to confirm a single case, and the infection rate remains unknown, sources inside the country paint a grim picture of the true impact the pandemic is having on the population.
How bad is the spread of the virus really and what has Pyongyang been doing about it?
First Suspected Infection
On July 26, North Korean state media finally announced its first suspected case of COVID-19 within the country. The announcement came after months of reporting zero cases of the virus inside its borders. But this wasn't an ordinary citizen who happened to catch the virus inside the country. According to leader Kim Jong Un, the person in question was actually a defector who fled South Korea back into North Korea in mid-July.
According to state media reports, the man was arrested after spending a few days in the border city of Kaesong and was showing signs of a potential COVID-19 infection. Authorities were subsequently ordered to seal off the entire city and dispatch health officials to the area.
The South Korean government did admit to the re-defection. But despite the North's dramatic announcement, the South made clear that the man in question was unlikely to be infected with COVID-19. On Wednesday, the World Health Organization's representative for North Korea told Reuters that the person in question had been tested for COVID-19, "but test results were inconclusive."
All of this raises various questions. Why did Pyongyang choose to use this defector as its first potential COVID-19 case and announce it to the world in such a dramatic way? To shift the blame, perhaps? If the country is indeed dealing with other outbreaks of the virus, it would help the government save face by simply blaming the situation on a defector from the South. This might also provide Pyongyang with an excuse to request much-needed international medical aid to help ease the government's burden in dealing with possible outbreaks.
Information on the Ground
North Korean residents are, however, not convinced by the government's story of the defector being the country's first possible COVID-19 case. Various ordinary North Koreans are skeptical of this narrative, since numerous suspected infections have already been identified in towns bordering both China and Russia.
More recently, investigations conducted with local North Koreans by ASIAPRESS have revealed that the virus may have spread to at least three of North Korea's nine provinces. According to local sources, COVID-19 infections have been reported in Pyongsong, South Pyongan province; Sariwon, North Hwanghae province; and parts of South Hwanghae province.
The same report also noted that travel between provinces is almost impossible and contact with people from other regions is not allowed. Even through movement restrictions were slightly eased in June, strict measures are back in place and people are being ordered to be more careful than ever.
Quarantine measures are also being strictly enforced. Anyone suspected of having contracted the virus is ordered to stay home and wait to be diagnosed by health officials. Any family members of the suspected patient are put in special quarantine facilities designated by the government to prevent a possible spread of the virus.
Moreover, according to sources in North Hamgyong province, authorities are not reporting details about the number of infections in order not to frighten residents. People living in the area are resorting to eating kimchi, red pepper paste, and garlic to try and prevent infection. Given the country-wide shortage of medicine due to the prolonged border blockade with China, there isn't much else ordinary North Koreans can do besides trying home remedies and washing hands frequently.
Increased Crackdowns at Borders
North Korean authorities have also stepped up their efforts in policing the country's border areas. Given that China is still recording new virus infections, North Korean border guards have been ordered to remain on high alert. According to a local Ryanggang province military source, the central government this week went as far as deploying 1,500 elite special forces soldiers to the province's border area with China.
The increased presence of soldiers is reportedly aimed at preventing people in the border region from defecting to China as well as preventing illicit smuggling activities near the border. A crackdown on smuggling has been especially noticeable recently given the ongoing border blockade and lack of many essential goods at local North Korean markets. Despite the dangers, some people have nevertheless defied government orders and tried to smuggle in goods from across the border to make a living. In other cases, incidents of smuggling among high-level officials has also been reported recently.
North Korean authorities have also been ordered to strengthen border security near the city of Hyesan to prevent the spread of the virus. Extra wire fencing has been installed to try and prevent smuggling from taking place. Here, too, smuggling activities have continued despite the government's best efforts. However, locals in the city say the fencing will have little impact on smuggling given its low quality and inability to block every area of the Sino-North Korea border.
In another recent example, authorities also ordered the lockdown of a major port after coronavirus-infected goods were detected among (illegal) imports that arrived in mid-July. The government has banned any other goods from entering the port and dispatched disease control officials from the central government to the site.
An "All-People Campaign" Aimed at Beating the Virus
Throughout the spread of the pandemic, the North Korean government has continuously promoted various behaviors to the public through its various propaganda channels to try and prevent the spread of the virus. Washing hands and wearing masks were some of the most basic things people were told to do.
More recently, state-run media outlet DPRK Today posted an article on Monday detailing the government's "anti-epidemic work." According to the piece, the anti-epidemic work is being carried out as an all-people campaign involving the entire society. People must wear a face mask "out of duty" and "control and encourage each other" to do the same.
The article also mentioned that "a thoroughgoing medical examination is being conducted across the country to find out those with fever and abnormal symptoms," while "anti-epidemic posts installed in key spots across the country are rigidly conducting disinfection and medical examination of personnel, goods and vehicles."
Coronavirus Isn't the Only Health Concern
According to a recent Yonhap News report, the death rate of North Koreans suffering from chronic illness is expected to rise this year. Due to the shortage of medicine in the country, people suffering from chronic illnesses are at increased risk during these difficult times. As per the report, 80 percent of all deaths in North Korea are caused by chronic diseases. This means that the danger posed by a lack of medicine, a byproduct of the closed border with China, may be much greater than the risk posed by the coronavirus.
Besides illnesses, major food shortages are yet another concern plaguing the minds of many North Korean citizens these days. Although the country's food situation is generally not good, things are much worse this year. The situation has gotten so bad that the central government reportedly allowed some provincial governments to release food reserves meant for war time. Food rations per person have dwindled over the months and food insecurity is once again one of the top problems throughout the country.
An Unpredictable Future
With COVID-19 cases continuing to surge around the world, it is impossible to predict when this pandemic will finally come to an end. It is also difficult to estimate when North Korea will deem it safe enough to reopen its borders with China and allow its desperate citizens to resume trading activities.
Seven months after the border closure first came into place, North Korea's economic and health situation seems to be reaching dangerously new low points. Facing troubles from every possible direction, Pyongyang's decisions over the next few weeks will be crucial in deciding how best to get the country out of this dark hole it is currently in.
Gabriela Bernal is a Korean affairs analyst based in Seoul, South Korea. She is a Ph.D. candidate at the University of North Korean Studies and a translator for Daily NK.