Struggling With Drought on the Mekong
Climate change and dams combine to push water levels to record lows.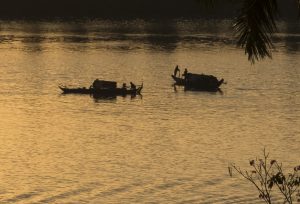 Drought, climate change, and the construction of dams – on a scale that beggars belief – are threatening a river system that traverses five countries and feeds 70 million people who live hand to mouth.
For a second year in a row the Mekong River is at a record low, reduced to a trickle when it should be heading into a full flood. Water levels are down by two-thirds and rainfall for the three months of the current wet season is also down by about 70 percent.
The annual water festival has been cancelled.
Where the river empties into the South China Sea, at least two of 12 exits have closed. Salinity is creeping further inland, threatening 850 already endangered fish species. Fishermen complain their daily catch has been reduced to a kilogram or two, enough for just the village cat.
The Mekong River Commission (MRC) forecasted that the "extreme drought" is now expanding across northern Cambodia, southern Laos, and into central Vietnam.
It described the plight of the Tonle Sap as "very critical" with water depths across the Lower Mekong Basin below the minimum levels recorded in 1960 and 2019.
"The current low flows could have severe impacts on Cambodia due to a loss of fisheries and irrigation potential," said An Pich Hatda, chief executive of the MRC Secretariat in Vientiane.
"It is time to walk the talk and to act in the common interest of the entire Mekong River Basin and the affected communities."
It's an unprecedented man-made problem, which the military-backed governments and one-party states of mainland Southeast Asia are choosing to ignore as Beijing and financial institutions pour billions of dollars into hydroelectricity, profiting the powerful few.
According to the Stimson Center, a think tank in the United States, a cascade of more than 400 dams in China and Laos have been been built, are under construction, or are on the drawing board.
There is no evidence to suggest "fish ladders" – much touted as the answer for migrating fish deprived of their upstream breeding grounds – have worked. A report by research company Eyes on Earth Inc. has accused China of hoarding water behind its dams, a charge denied by Beijing.
A severe lack of sediment needed to constantly replenish river banks has resulted in large parts of the river system turning from brown to blue. That may be prettier to look at, but soil erosion is now looming as a threat to the thatched homes, glitzy skyscrapers, factories, and highways lining the waterfronts.
Meanwhile, climate change has exacerbated the impact of the Indian Ocean Dipole, similar to the El Nino weather pattern in the Pacific Ocean and sometimes known as the Indian Nino.
Unusually cool sea surface temperatures across the eastern half of the Indian Ocean and warmer water in the west cause floods in East Africa and drought in Southeast Asia.
It's a phenomenon that has been peaking at record extremes. The Indian Ocean Dipole historically occurs once every 17.3 years, but scientists are forecasting its frequency will increase to once every 6.3 years over this century due to carbon emissions and excess energy in the atmosphere.
Luke Hunt can be followed on Twitter @lukeanthonyhunt