Tsai Takes a Political Risk to Pursue a Taiwan-US Trade Agreement
Her Friday announcement that she would ease restrictions on U.S. pork and beef imports led to a backlash from opposition politicians and local farmers.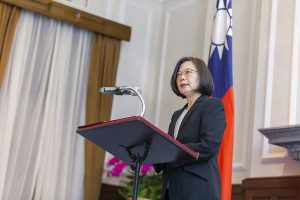 Taiwan President Tsai Ing-wen eliminated a major hurdle to a bilateral trade agreement (BTA) with the United States when she eased restrictions on U.S. pork and beef imports on Friday, a move that carries significant political risk and has sparked concerns among health experts.
Tsai said in a Friday speech Taiwan would set standards on acceptable ractopamine residue levels in imported pork and ease restrictions on imported U.S. beef from cattle aged more than 30 months. These changes are to take effect on January 1, 2021.
Tsai's Democratic Progressive Party (DPP) had long been opposed to easing restrictions on ractopamine, a leanness drug given to animals that is banned in over 150 countries, but allowing pork and beef imports has been a U.S. prerequisite to negotiations on a bilateral trade agreement.
Although Tsai on Friday said her decision was backed up by scientific studies, it may prove unpopular with the public. In 2012, then-President Ma Ying-jeou of the opposition Kuomintang (KMT) eased restrictions on importing U.S. beef containing ractopamine residues and saw a rapid drop in his approval ratings.
Taiwan's Ministry of Education on Friday said only Taiwanese pork and beef would be served in public schools.
Taiwanese pig farmers have also raised concerns that opening the market to U.S. imports will increase competition and affect domestic pork prices, possibly driving many Taiwanese out of a market that has already dwindled in recent years.
Health experts on Friday called for a proper risk assessment on the long-term consumption of ractopamine, noting the maximum limit of acceptable ractopamine had been set without a clear scientific consensus in 2012 by the Codex Alimentarius Commission, which implements international food standards.
On Saturday, the Consumers Foundation, Chinese Taipei also called on the government to publish a transparent account of its decision-making process.
One study by a group of Taiwanese researchers, which was leaked to support the government's decision, concluded that eating meats containing ractopamine posed a risk "within an acceptable range." The study did not assess risks of cancer or heart disease.
The KMT said Saturday it would protest Tsai's decision, noting the DPP had opposed Ma's attempts to open Taiwan's market to U.S. meat imports.
KMT chairman Johnny Chiang accused Tsai on Twitter of having "double standards" due to her decision to "accept ractopamine riddled US pork imports, while forbidding the use of ractopamine domestically."
On Monday, Chiang said his party would consider protesting on the streets should Tsai insist on allowing U.S. meat imports.
Another KMT official said Monday that several counties had already established ordinances regarding pork containing ractopamine, while a New Taipei city councilor said the KMT caucus in that city would sponsor a bill requiring pork to contain no ractopamine.
DPP officials, including Premier Su Tseng-chang, have sought to reassure the public that imported pork will not pose a risk to public health. Chen Chien-jen, Taiwan's former vice president and an epidemiologist, said Sunday people should not worry about the plan to import pork containing ractopamine.
However, the controversial nature of ractopamine could lead to a dip in the popularity of Tsai and her administration.
Some analysts believe Tsai may be taking a calculated risk to lift the ban now. University of Las Vegas political science professor Austin H. Wang noted Tsai can weather a temporary dip in popularity as the next elections are over two years away and the country's opposition parties are in disarray.
The government has pledged to support Taiwan's domestic hog industry with a new US$339 million fund and to boost inspection procedures for pork and beef imports.
Chen Chi-chung, chief of the Council of Agriculture, said six measures would be taken to stabilize the domestic industry, including pricing safeguards and incentive measures for consumers and restaurants to buy domestic pork.