Aceh Offers Sanctuary to Rohingya After Grueling Sea Voyage
The gesture of humanity casts into stark relief the challenges facing a resolution to the humanitarian emergency in Rakhine State.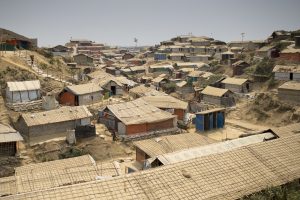 This week, another boat carrying Rohingya refugees landed on a beach in Indonesia's Aceh province after six months at sea, according to local authorities and human rights groups.
The wooden boat, which carried 297 people fleeing the volatile western region of Myanmar, was spotted by local fishermen several kilometers off the coast of Lhokseumawe, on the eastern coast of Sumatra, and landed shortly after midnight.
The boat was rescued by local fishermen after a frightening and grueling passage in which people claimed that they had been effectively held hostage by people smugglers who demanded payment before letting them land. While at sea, around 30 people reportedly died and were thrown into the sea. Two more of the arrivals have since died from maladies linked to the journey.
The Muslim Rohingya, who hail from the northern part of Rakhine State on Myanmar's west coast, have long faced discrimination from that country's government, which views them as foreign interlopers and has refused to grant most citizenship.
In August 2017, Myanmar's army responded to scattered attacks by Rohingya militants by razing villages, shooting civilians, and driving more than 700,000 desperate people over the border into Bangladesh. The United Nations' human rights chief has described the assault on the Rohingya as an act of  "appalling barbarity" potentially amounting to genocide.
Long before the recent barbaric offensive, conditions in the region were bad enough as to push many Rohingya to board leaky and overladen vessels in an attempt to find sanctuary in other parts of Southeast Asia. According to Amnesty International, before landing on the beach in Aceh on September 7, the boat had been turned away by authorities Malaysia and Thailand. Malaysia, which had previously accepted tens of thousands of Rohingya asylum seekers, has since tightened its borders due to fear of COVID-19.
In many ways, Aceh represents an exception to Southeast Asia's inhospitable norm. The devoutly Islamic province on the western tip of the island of Sumatra has taken in a significant number of vessels carrying Rohingya refugees, most recently in June, when a rickety wooden oat carrying 99 Rohingya civilians was helped ashore.
Most of these rescues have been carried out by local fishermen, sometimes in the face of opposition from Indonesian authorities. "Everywhere they reject us, only in Aceh do they accept us," said one Rohingya man who arrived there in June 2020.
What explains Aceh's hospitality toward the Rohingya, whom a U.N. official described in 2009 as "probably the most friendless people in the world"?
As Max Walden and Balawyn Jones noted in a recent article, there are a number of reasons that account for the province's welcoming attitude, from simple Islamic solidarity to a system of customary maritime law, known as Panglima Laot, which obliges Acehnese fishermen to help seafarers in distress. A strong cultural tradition of hospitality to guests may also explain the warm welcome, as well as Aceh's recent experience of civil conflict and natural disaster, which has generated considerable local empathy for the uprooted and bereft.
However, these glimmers of humanity only cast into stark relief the extent of the challenges facing any  resolution of the humanitarian crisis in Rakhine State. Around 1 million Rohingya refugees now languish in refugee camps in Bangladesh, while a violent civil war between the ethnic Rakhine Arakan Army and the Myanmar military complicates any possibility of their return. Even then, the Rohingya remain the subject of hostility among a significant proportion of the state's Buddhist Rakhine population, as well as among many ethnic Burmans.
Against Myanmar's tangled backdrop of racial and religious divides, the tragedy of the Rohingya seems destined to continue.