Inside China's Belt and Road Tangle
Far from being a strategic masterplan, the BRI is a chaotic enterprise that contains the seeds of its own negation.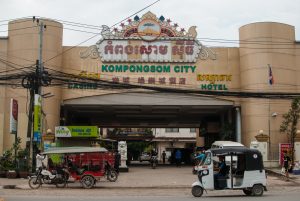 In January 2017, three days after the inauguration of President Donald Trump in the United States, the Indian writer Brahma Chellaney published an article describing China's gargantuan Belt and Road Initiative (BRI) as a form of "debt-trap diplomacy." The aim of the multibillion-dollar infrastructure initiative, Chellaney argued, was to saddle small nations with debt that could not hope to repay, "leaving them even more firmly under China's thumb."
The "debt-trap" label quickly stuck, and has morphed since into something approaching conventional wisdom, especially in Washington. Then-U.S. Secretary of State Rex Tillerson would later that year describe Chinese loans to finance infrastructure projects as a form of "predatory economics." In late 2018, then-National Security Adviser John Bolton claimed that Beijing's "predatory actions" were aimed at "advancing Chinese global dominance."
However, a new report from the London-based think-tank Chatham House offers a robust challenge to the "debt-trap diplomacy" thesis. As noted last week by my colleague Abhijnan Rej, the report's authors, Lee Jones and Shahar Hameiri, portray a reality that is much more messy and ambiguous. To begin with, they argue that the BRI has been driven less by global strategic considerations than by domestic economic factors — particularly, the need to find overseas outlets for Chinese industrial overcapacity.
They argue that China's development financing arrangements are too chaotic and poorly coordinated to produce anything approaching a cohesive strategy. Complicating the picture further are the decisions and actions of recipient governments, which have piggy-backed on the BRI in order to advance their own domestic interests. Governance problems at both ends "often result in badly conceived and poorly managed projects with substantial negative economic, political, social, and environmental implications."
Jones and Hameiri base their conclusions on detailed case studies of controversial Chinese investments in Sri Lanka and Malaysia. In other parts of the region, however, the BRI picture is if anything even more chaotic. Consider the recent news that the Chinese embassy in Myanmar was forced to issue a press statement officially dissociating itself from a controversial $15 billion border development currently under construction in eastern Kayin state, across the border from Thailand. The statement attempted to make clear that the sprawling Shwe Kokko New City, a 72,843-hectare assemblage of hotels, casinos, luxury villas, and industrial zones, was "a third-country investment and has nothing to do with the Belt and Road Initiative."
The Shwe Kokko project, which is being built by a Chinese company called the Yatai International Holding Group in partnership with an armed militia allied with the Myanmar military, broke ground in 2017, with ambitious plans to establish a hub of "science and technology, gambling and entertainment, tourism, culture and agriculture." These also included an international airport, a "huge Safari World," and an "international firearms training center." In practice, much of Yatai's activities have focused on online gambling, which is banned in China, but flourishes — to the tune of $24 billion per year — in the more relaxed jurisdictions of Southeast Asia.
The Chinese embassy's denials came after several years in which Yatai and its little-known chairman She Zhijiang have claimed the mantle of Xi Jinping's grand enterprise. According to Yatai's promotional materials, Shwe Kokko New City represents "a new chapter for the Belt and Road Initiative," while a promotional video produced by Yatai is chock full of references to the BRI. Given that the Shwe Kokko project is deeply unpopular in Kayin state, where it has resulted in land confiscations, an inflow of Chinese workers, and the social ills that inevitably accompany gambling operations, Chinese officials are rightly concerned about the project's potential to tarnish the BRI as a whole.
A similar example can be seen in Cambodia, where the arrival of the BRI has been accompanied by a transformative wave of Chinese private investment, much of it involving gambling. In 2015, the coastal port-city of Sihanoukville was officially designated as a focus for BRI developments; within three years, it had metamorphosed into a miniature Macau on the Gulf of Thailand, drawing in huge numbers of Chinese nationals to work, run, and gamble in the city's dozens of casinos.
Before long, Sihanoukville's freewheeling casino economy had swamped "official" BRI projects like the $2 billion expressway connecting Sihanoukville to the capital Phnom Penh, and the Special Economic Zone located next to the city's port. Following in its wake were reports of violent crime, prostitution, and drug trafficking.
Concerned about rising anti-Chinese sentiment among the Cambodian public, Prime Minister Hun Sen's government, at the apparent urging of Beijing, announced a ban on online gambling operations, effective January 1 this year. This, along with the effects of COVID-19, has largely brought Sihanoukville's casino boom to an end. But the Cambodian and Chinese governments continue to clean up the mess that has sprung up around the BRI, with every week bringing fresh reports of the arrests of Chinese nationals on charges running from kidnapping to drug trafficking. As in Myanmar, the association of the BRI with unsavory private interests has threatened to tarnish an important bilateral relationship.
Private Chinese companies have a number of reasons why they might want to associate themselves with the BRI. One is to foster the impression that they enjoy the backing of the Chinese state, thus smoothing their access to elite circles in foreign countries. Another is to curry political favor at home, where private businesses have been encouraged to participate in the BRI, and offer declarations of support for the BRI and official shibboleths like "Xi Jinping Thought."
One problem of the BRI is that it has always been difficult to define precisely. It has never been clear which projects are "officially" part of the scheme, nor what its outer limits are. In this sense, the BRI scheme is consistent with the Chinese government's tendency to launch projects with great fanfare, and only later to fill them with content.
As it stands, Beijing is struggling to safeguard the BRI's reputation from the interests of recipient governments and private firms, whose activities often run counter to the objectives of the BRI — even as they parrot its rhetoric.