Is Bangladesh Growing Closer to China at the Expense of Its Relations With India?
Bangladeshi experts believe media speculation on deteriorating Bangladesh-India relations is overhyped.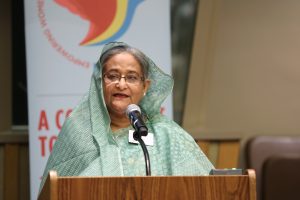 If you are an avid news reader and follow the Indian and Bangladeshi newspapers, you may have come across multiple reports and commentaries detailing how the bilateral relations of these two friendly neighbors are in a state of crisis.
The media storm began after a phone call between the prime ministers of Bangladesh and Pakistan. After that, a claim surfaced that the Bangladeshi prime minister did not grant the Indian ambassador in Dhaka a meeting for months. Unmentioned was the fact that the country's prime minister did not meet any foreign diplomats at all during the early period of COVID-19.
Indian newspapers floated theories that China was dragging Bangladesh to its side by various means, for example, by "khairati" (charity) projects such as granting duty-free entry to 97 percent of Bangladeshi products. In late July, former senior Indian diplomat Pinak Ranjan Chakravarty wrote an op-ed in the New Indian Express titled: "Bangladesh too on the Chinese radar." The Hindustan Times, in its editorial "Focus on Bangladesh," warned that India was losing a friendly neighbor through wrongheaded policies.
In Bangladesh also, at least two newspaper editors wrote articles on how Bangladesh-India relations were being challenged by China's growing clout in Dhaka.
The reports and commentaries resonated with India's Nepal crisis — as if Bangladesh was about to break free from India's influence and give in to China. But does reality match this speculation?
Bangladeshi international relations experts suggest otherwise.
Lailufar Yasmin, professor of international relations at the University of Dhaka, said that "bringing China in Bangladesh-India bilateral relations is more about creating hype." Instead, "Bangladesh should have an independent policy so that it can deal with India, China, America and other great powers separately," Yasmin added.
Shahab Enam Khan, professor of international relations at Jahangirnagar University, also believed that the media on both the sides are overreacting to a potential downturn in Bangladesh-India relations. "Foreign relations do not work on the basis of emotional inclination, national interest matters," Khan said.
However, after Indian Foreign Secretary Harsh Vardhan Shringla paid a visit to Dhaka,  feverish media speculations and commentaries reached a new peak.
Some analyses even had descriptions of how the Bangladeshi prime minister made Shringla wait for hours in the hotel, and collated other trivial details to suggest a possible collision course in India-Bangladesh relations. I asked Humayun Kabir, former Bangladeshi ambassador to the United States, for his thoughts on the matter. He has also served as the deputy high commissioner in Kolkata, India.
Kabir echoed the academics, noting that "We are becoming too imaginative on this I should say."
"We are neighbors, so we have different kinds of collaborations and we have certain challenges also. If we look at the broader picture, in the last 10 years, I think the relationship (Bangladesh-India) both widened and deepened in many dimensions. So, that is the broader picture that we find," he said.
Bangladesh does have growing commercial relations with China. As the country increasingly seeks funding for its infrastructure projects, China has stepped in.
During the 2016 visit of Chinese President Xi Jinping to Bangladesh, Beijing offered a stunning $24 billion in loans. How much of that money has or will actually make it to Bangladesh is a matter of debate and discussion. But since 2016, China has consistently supported Bangladesh financially. As a result, Dhaka's relations with Beijing have naturally strengthened over the last four years.
Yasmin, however, wanted to go further back in time. She said, "maybe we are not noticing that from 2006, our largest trading partner has been China. So, China's involvement in Bangladesh is not new." Xi's Dhaka visit strengthened an existing commercial relationship between the two countries.
The development of Bangladesh-China relations – which some observers claim comes at an expense to Bangladesh-India ties– can only make sense if we look at how relations between the countries are unfolding from a larger perspective. "What is happening in the region is a logical change based on national interests and geopolitical necessities. What Bangladesh would need to do is maximize its national interest and economic growth for which it will continue to hold meaningful relations with different countries regardless of regions," Khan added.
However, there is also a clear indication that New Delhi has been overprotective of its relations with Bangladesh in the recent months.
Amid India-China tensions in eastern Ladakh — which resulted in a skirmish with the Chinese military in the middle of June, resulting in the deaths of 20 Indian soldiers — as well as growing tensions with Nepal, India has found itself isolated from its neighbors in part thanks to increasing Chinese influence in the region. Having both commercial and political stakes in Bangladesh, New Delhi expected Dhaka's support in the ongoing conflict with China. But to New Delhi's surprise, Dhaka did not take a side. Instead, it took a neutral stance and called for peaceful settlement of contentious issues. As a result, according to Kabir, since June, "India became more sensitive about its neighborhood."
In light of China's growing clout among India's neighbors, does Shringla's recent Dhaka visit indicate New Delhi's fear of losing its neighbors to China? Khan did not think so. He instead considered trade and development as the key issues for India's immediate neighbors over cross border security concerns. "It is not an issue of India losing out to any other country, it is just the organic need of the developing countries with which Indian economy and foreign policy have to synchronize."
However, even though they ruled out speculations about growing Dhaka-Delhi distance, the experts have noticed a change in India's approach to Bangladesh. From June, India has modulated its stand on the Rohingya issue. Instead of taking a definitive pro-Myanmar stance, India now says that Bangladesh's concerns when it comes to the Rohingya must also be addressed. The experts believed that this is not just a single event; rather it is a follow-up of India's changing foreign policy toward Bangladesh.
Could this be a different India that learned a lesson from its dealings with Nepal? If so, can Bangladesh leverage it to get India to sign off on an agreement around the Teesta river, ending a longstanding dispute between the two countries?
"I think the bargaining power of Bangladesh has increased a lot compared to the previous times," said Yasmin. But she also raised pragmatic concerns that unresolved issues with India like Teesta dispute will still be tough to resolve, because these issues are connected to India's internal politics. Kabir advised Bangladesh to be sensitive about its neighbor's positions.
"With two close neighbors with multi-level and multi-layered relationship, we need to be sensitive about each other's priorities, needs and expectations. We have to live with each other. That is the reality of life. The better we can make our relations, the better for both of us," said Kabir.
But what about the future? With increasing trade relations with China, could Bangladesh lean on Beijing instead? Such questions did not worry Khan. "Bangladesh is not leaning towards any country. Bangladesh is India's largest trade partner in South Asia while China is equally influencing Bangladesh and Indian economies." Yasmin said statements that claim Bangladesh is gradually shifting toward China like the rest of India's neighboring countries only serve "to create absolute sensation."
"I think the persons saying these sensational statements are not considering the historical developments of Bangladesh-China relations," she said.
But India's concerns and overprotectiveness of its relations with Bangladesh cannot be ruled out either. Could it be something about Dhaka that worries New Delhi? Kabir said, "there could be occasional hiccups, occasional gaps may come. Just like the relationship between human beings, the relations between the states may also witness ups and downs. But I would not lose the larger picture when I look at these issues."
Masum Billah is a journalist based in Dhaka, Bangladesh.