Modi and Rajapaksa Meet Virtually Amid Sustained Complications in India-Sri Lanka Ties
The Rajapaksa brothers have the better hand in the bilateral relationship.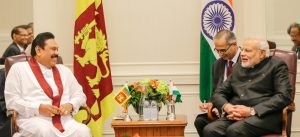 On September 26, Indian Prime Minister Narendra Modi and his Sri Lankan counterpart Mahinda Rajapaksa engaged in their first virtual summit where they discussed maritime co-operation, infrastructure projects, Sri Lanka's debt repayment problems, among other issues.
While this was a bilateral summit, China was the elephant in the room. The initiatives and issues that Modi discussed with Rajapaksa were centered on countering China's mounting influence in the island.
India and Sri Lanka share historical experiences and cultural bonds. Just a narrow strip of water separates the two countries. India has traditionally looked upon Sri Lanka as falling within its sphere of influence. Over the past decade, however, the strategically located Indian Ocean island has been perceived to move into the Chinese orbit.
It was during Mahinda Rajapaksa's presidential terms that Sri Lanka tilted toward China. Now, his brother Gotabaya is president, while he is prime minister. Both leaders won election with massive mandates. They are expected to turn to China for more loans for infrastructure projects increasing Sri Lanka's indebtedness and hence vulnerability to Chinese pressure.
This is of serious concern to India as Beijing could take control of strategic assets in lieu of unpaid debt as it did with the Hambantota Port.
In recent years, India has stepped up efforts to win back ground lost to the Chinese. In a bid to reduce Sri Lanka's dependence on China, New Delhi has sought to ease its Indian debt burdens through currency swap facilities. It agreed to a $400-million currency swap for Sri Lanka some months ago and now Sri Lanka has asked for another currency swap worth $1 billion.
Sri Lanka is far smaller than India in terms of geographic area, size of economy or military strength. Still it does seem that increasingly, it is Colombo, not New Delhi, that is calling the shots in the bilateral relationship. Its play of the "China card" has given it significant leverage over India.
On at least two issues – the East Container Terminal (ECT) project at Colombo port and implementation of the 13th Amendment (or 13A as it is called) of the Sri Lankan Constitution – the Rajapaksas have not yielded to pressure from New Delhi.
In the run-up to the August general election, Colombo suspended the ECT project, which India, Japan, and Sri Lanka were to jointly implement. Protests by the port's trade unions over the question of foreign ownership of the container terminal is said to have prompted the government's decision. But in India, it was widely believed that China may have been instigated the protests that pushed Colombo to call for a review of the project.
It is almost two months since Mahinda was sworn in for another term as prime minister but there are no signs that he is thinking of green signaling the project. India is keen to see the ECT project revived but Colombo is dragging its feet on the matter. No decision in this regard was announced after the Modi-Rajapaksa meeting.
Neither did the meeting result in a bridging of the gap in their positions on the question of Sri Lankan Tamil rights. India's long-held position is that Sri Lanka must meet Tamil aspirations through implementation of 13A which provides for devolution of power to provincial councils.  Sinhalese nationalists, including the Rajapaksas, are strong supporters of centralization of power and are opposed to 13A. Indeed, they have been promising to repeal 13A much to the chagrin of Sri Lankan Tamils and India's concerns.
That the gap in positions persists is evident from the fact that the joint statement issued after the Modi-Mahinda meeting outlined their positions separately. Besides, a statement issued by the Sri Lankan government subsequently made no mention of Modi's call to Colombo to implement 13A. Clearly, there was no meeting of minds on the Tamil question and the Rajapaksas are not about to heed Delhi's call.
New Delhi has little leverage over Colombo today. Gotabaya and Mahinda are firmly ensconced in power. They have a strong "China card" to play in dealing with Delhi. It is "advantage Rajapaksas" in India's diplomatic engagement of Sri Lanka.