Singaporean Earns Temporary Reprieve in Capital Drug Case
But for those opposing the death penalty in Singapore, the decision marks just one tiny step toward abolition.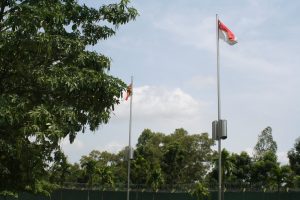 Thanks to a last minute judicial intervention, a Singaporean national has narrowly avoided the sentence imposed on him by the country's High Court in 2016. At dawn on September 18, the 44-year-old Syed Suhail Bin Syed Zin was scheduled to be executed by hanging at Singapore's Changi Prison for drug trafficking offenses.
The reprieve was announced on Facebook today by the human rights lawyer M Ravi, who wrote that judges had agreed to an interim stay of execution. The decision will delay the sentence pending an appeal to the High Court's earlier dismissal of Ravi's request for a judicial review into Syed's case.
Before the last minute stay, Syed's case had attracted considerable attention from death penalty abolitionists and human rights groups, who described it as another instance of the inhumanity of the death penalty in general, and the cruelties of Singapore's system in particular.
According to High Court documents, Syed was arrested in August 2011 and charged with possession of 38.84 grams of heroin. In January 2016, the court found Syed guilty of drug trafficking under Singapore's draconian Misuse of Drugs Act. The law carries a mandatory death sentence for offenses involving more than 15 grams of heroin.
Singapore's use of the death penalty is intimately associated with the city-state's zero tolerance policy toward illicit drugs. Over the years it has resulted in dozens of hangings, including of many foreigners. In May, Punithan Genasan, a 37-year-old Malaysian national, was sentenced to death via Zoom on a heroin trafficking charge dating back to 2011.
Singapore is one of four countries known to have carried out executions for drug-related offenses in recent years, according to Amnesty International.
Since Syed's execution date was announced on September 14, death penalty abolitionists have highlighted the callous way that his case was handled. According to Think Center, a local non-governmental organization, Syed's family was informed barely a week ahead of the set execution, and told to make funeral arrangements. No allowance had been made for them to travel from Malaysia before the execution of the sentence, given the ongoing COVID-19 restrictions. The organization described the forty-something Syed's sentence as "a grim reminder that Singapore's factory of death has never ceased."
Then there is the question of whether the death penalty even serves its intended function. In a recent article on Medium, Singaporean journalist and anti-death penalty campaigner Kirsten Han argued that the Singaporean government's view of the death penalty – that it deterred drug use, and therefore saved more lives in the long run – failed to address the complex root causes of drug use and dependency. According to the organization Human Rights Watch, Syed began using heroin in 1999, and spent two extended stints in a drug rehabilitation center trying to recover from his addiction before his arrest on trafficking charges.
"At the end of the day, the capital punishment regime is a lazy way to 'solve' a problem," Han wrote. "It allows us to take the 'easy' way out and not talk about things like the intersection of class and race when it comes to crime and policing, or about more holistic and restorative ways of dealing with drug use and abuse."
Shortly after the announcement of the reprieve, Han welcomed the news, but said that similar stays had been granted in the past and still ended in execution. "This development gives us hope and time," she told The Diplomat, "but I don't think we can say it's any indication that the Singaporean judiciary is softening on capital punishment." Singaporean courts have the power to grant clemency, but have not done this for a death row inmate since 1998.
On the same day, however, Singapore's Court of Appeal also reversed its own decision to convict a Nigerian national of a capital drug trafficking charge, nearly a decade after his arrest. This news casts at least a glimmer of hope that lawyers working on Syed's behalf will manage to overturn his sentence, if not his conviction.
"I dream of better days because hope is my only possession," Syed wrote in a handwritten letter that he sent to his lawyer M Ravi a few days before his scheduled hanging. He added: "I love Singapore. Everything I love is here. Being Singaporean, though, has expedited my execution."
Thanks to the lawyers and activists toiling on his behalf, that execution has been delayed – at least for now.