Singapore to Resume Executions After 6-month Break
Critics say that Singapore's death penalty has mostly snared low-level mules and done little to stop drug traffickers and organized syndicates.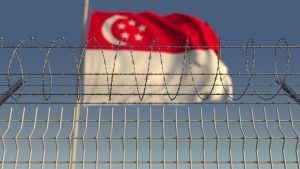 A Singaporean man is scheduled to be hanged next week for abetting an attempt to smuggle cannabis into the island-state, in a resumption of executions after a half-year pause, activists said Thursday.
The family of Tangaraju Suppiah, 46, was notified in a letter that he would be executed next Wednesday, anti-death penalty activist Kokila Annamalai said.
Tangaraju was detained in 2014 for drug consumption and failure to report for a drug test, according to another activist, Kirsten Han. He was later linked to two drug traffickers through a phone number used to coordinate the delivery of cannabis. The High Court found Tangaraju guilty of conspiring to traffic 1 kilogram (2.2 pounds) of cannabis and sentenced him to mandatory death in 2018, Han said.
"The last execution carried out in Singapore was in October 2022. Death row prisoners, their family members and abolitionists have been holding our breath for the past six months, terrified of when the killing spree will begin again. We will fight for Tangaraju till the end," Annamalai said.
Singapore, which has harsh drug laws, executed 11 people last year for drug offenses. The hanging of one particular Malaysian sparked an international outcry because he was believed to be mentally disabled. It brought the country's capital punishment under deeper scrutiny, with rights groups slamming it as a blatant flouting of international human rights norms.
Both the activists said access to justice for Tangaraju was denied because he was questioned without a lawyer. Tangaraju also never handled the drugs he was accused of conspiring to traffic, they said. He had to represent himself in his appeal, which was rejected by the top court on February 26 on the grounds that Tangaraju failed to show a miscarriage of justice, they said.
Annamalai said Tangaraju's family is appealing to the public to protest his execution.
"The idea that a man might soon be hanged for abetting an attempt to traffic 1 kilo of cannabis — a plant-based substance that's being decriminalized or legalized in a growing number of jurisdictions — is, in and of itself, outrageous in the most horrifying way," Han said.
Critics say that Singapore's death penalty has mostly snared low-level mules and done little to stop drug traffickers and organized syndicates. But Singapore's government defends it as necessary to protect its citizens and says all those executed have been accorded full due process under the law.
Han said Singapore's harsh criminalization would only drive the drug trade underground and block people from accessing health care or harm reduction services that could help address the root causes of their use.
"Harsh, uncompromising measures like the death penalty are not proven to have a deterrent effect. Not a single person who uses drugs is helped or supported by a hanging of another, likely from a minoritized or marginalized community. It is especially useless, pointless and heartless when it comes to a case as problematic as Tangaraju's," she added.