Southeast Asian Parliamentarians Face Chilly Political Climate
The region's authoritarian turn has made life difficult for lawmakers opposing entrenched political interests.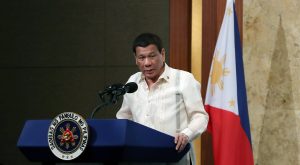 On October 26, 2015, two lawmakers for the Cambodia National Rescue Party (CNRP) were leaving a parliamentary session in the Cambodian capital Phnom Penh when they were attacked by a well-organized mob.
The pro-government rent-a-crowd, numbering in the hundreds, had been trucked into front of the National Assembly building to call on Kem Sokha, the CNRP's vice president, to resign as the body's vice president.
As Chamroeun and Saphea drove out of the complex, police deployed at both ends of the road in front of the building stood by as the "protesters" converged on the cars. The two men were dragged from the vehicles before members of the mob repeatedly stomped on their heads and bodies. They were left prone and bleeding on the tarmac.
Chamroeun and Saphea had won election to the National Assembly in 2013, when the CNRP had taken a large bite out of the majority of the ruling Cambodian People's Party (CPP). The stage-managed daylight attack marked the beginning of a concerted CPP crackdown that has squeezed most meaningful opposition out of existence. After being forced to resign his National Assembly post, Kem Sokha was arrested in September 2017 and charged with treason. Two months later, a CPP-controlled court ordered the party dissolved amid a wider crackdown on civil society groups and the independent press. Most of the CNRP's elected parliamentarians fled into exile abroad. National elections in July 2018 saw the CPP win all 125 seats in the National Assembly.
The attacks on Chamroeun and Saphea also foreshadowed a regional trend. According to a new report from ASEAN Parliamentarians for Human Rights, published today, opposition parliamentarians in a number of Southeast Asian nations have been subject to intensifying pressure from the region's governments.
The report, based on interviews with more than 80 former and current members of parliament from Thailand, Timor-Leste, Malaysia, Philippines, Myanmar, Indonesia, Cambodia, and Singapore, concludes that "governments in the region have been targeting opposition lawmakers as part of their broader attempts to suppress dissent and attain unchecked power."
While violence and threats are sometimes employed, many attacks are more oblique and subtle, often involving the use (or abuse) of the region's legal systems. According to APHR, the choice methods include filing politically-motivated cases against outspoken opposition members of parliament (MPs), stripping them of their seats, threatening or surveilling them, or (in the case of female MPs), organizing campaigns of sexist vilification against them.
According to the human rights group, this trend has proceeded in parallel with a broader repressive turn in Southeast Asia. In addition to the dire situation in Cambodia, the past few years have seen a worrying authoritarian resurgence in other nominally democratic Southeast Asian nations.
In Thailand, an election in March 2019 allowed a military junta led by Prime Minister Prayut Chan-o-cha to dress up continued army rule in civilian guise. After scraping through the election by a narrow margin, his government took a leaf from Cambodia's book by disbanding on a technicality the popular Future Forward Party, which had run third in the election. A similar situation has persisted in Malaysia, where, just two years after its landmark election victory, the opposition Pakatan Harapan coalition was removed from power in March amid Byzantine backroom dealing.
Perhaps the most serious case is that of the Philippines, where President Rodrigo Duterte was elected in 2016. The Duterte administration has since prosecuted a bloody "war on drugs" involving thousands of extrajudicial police killings, while closing down newspapers and targeting outspoken critics.
In each of these cases, the government has chosen to target elected members of parliament. According to APHR, since the beginning of 2018, at least 27 opposition MPs from these three nations have become the targets of police investigation, faced legal complaints, or been charged over the exercise of basic human rights. In Philippines APHR member and Senator Leila De Lima has been imprisoned for the last three and a half years on dubious charges.
While the targeting of MPs is just one aspect of a broader crackdown on civil society activists, the media, and other forms of dissent, the report emphasizes that attacks on lawmakers have a symbolic importance that goes beyond their effect in silencing the individual. Attacking prominent opposition MPs, it concludes, "sends a clear message that anybody in society could face similar treatment."