Prominent Duterte Critic Released on Bail in the Philippines
Former Senator Leila De Lima has walked free on bail after nearly seven years in prison on charges that her supporters say were politically motivated.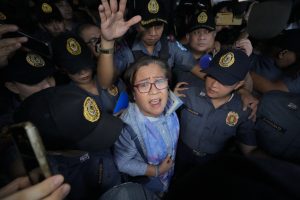 Leila de Lima, the Philippines' most prominent political prisoner, has walked free on bail after nearly seven years behind bars. A former opposition senator and justice secretary, de Lima has been detained since 2017 on drug charges she says were ginned up in order to halt her Senate investigation into then-President Rodrigo Duterte's violent "war on drugs."
Yesterday's release order was granted after witnesses recanted their testimony in the case, one of three drug-related charges that she has faced since her arrest in 2017.
"For years, my whole being has been crying out for justice and freedom," she told reporters after emerging from court in the city of Muntinlupa yesterday. "For more than six long years I've been praying, praying so hard for this day to come."
In February 2017, de Lima turned herself in to police after prosecutors filed criminal charges alleging that she facilitated drug trafficking in the largest prison in the Philippines while she was justice secretary between 2010 and 2015.
Three charges were eventually filed against her, the political motivations of which were obvious. Prior to her arrest, de Lima had served as chair of the Senate Committee on Justice and Human Rights, in which capacity she had begun a public inquiry into the thousands of extrajudicial killings believed to have been committed under Duterte's anti-drugs campaign.
She had previously also led the government's Commission on Human Rights, in which capacity she spearheaded investigations of the activities of "death squads" in Davao City in the southern Philippines, where Duterte was mayor for more than two decades prior to becoming president in 2016. De Lima served five years of her six-year term as senator from behind bars, before losing her bid for re-election in 2022.
Starting late in Duterte's term, the cases against her have fallen apart. In February 2021, she was acquitted on the first charge on the basis of weak evidence. The second charge was dropped in May of this year, after key witnesses recanted their testimony.
After these retractions, de Lima's defense team petitioned for bail on the outstanding charge, arguing that she faced real dangers while in custody at the Philippine National Police headquarters in Manila. In October 2022, she was taken hostage by three Islamic State-linked Muslim militants in a failed attempt to escape from prison.
Since her detention, de Lima's case has become an international cause celebre, and a symbol of the stifling political atmosphere that settled under Duterte's rule. In 2018, the U.N. Working Group on Arbitrary Detention declared that her detention was arbitrary, and international human rights groups have agitated for her release.
U.S. Ambassador to the Philippines MaryKay Carlson welcomed yesterday's order to release de Lima "at long last," The Associated Press reported. EU Ambassador Luc Veron said it was "a significant step for the rule of law in the Philippines" and expressed hope that the resolution of the remaining charges will be accelerated.
Charles Santiago, the co-chair of ASEAN Parliamentarians for Human Rights, said that his organization was "delighted and relieved that Former Senator Leila de Lima is finally able to breathe free air after spending over six years in unjust detention."
"Nevertheless," he added, "we are appalled that it has taken so long for Sen. de Lima to regain her freedom, given that she never should have been detained in the first place. We also note that while she has been granted bail, she is still awaiting trial for the last remaining drug case against her."
Yesterday's release order was granted after a Philippine court rejected a request for bail by de Lima's lawyers in June, when a judge said the court was "convinced that there is great probability that the crime charged has been committed and that the accused are the agents thereof."
Her supporters are now hopeful that she cleared of the last charge, and the final injustice wiped clean. Butch Olano, the Philippines director for the rights group Amnesty International, said that de Lima's release on bail was "a welcome development and a step towards justice."
He added, "This last remaining drug case against her must be dismissed and those behind her arbitrary detention and other violations of her human rights must be brought to justice."