Thailand's Radical Grandmothers
A group of women are using weaving skills to fund their fight against mining pollution in rural Thailand.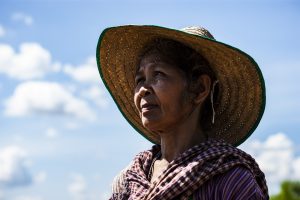 In a village of northeast Thailand, a group of resilient women weaves bright-colored scarves to fund their fight against the mining company that has allegedly poisoned their land and water.
In 2006, the mining company Tungkum Limited started extracting gold close to the village of Na Nong Bong, in Loei Province. First, the villagers complained about dust and noise, resulting from rock explosions. Later they reported health conditions consistent with poisoning. According to the NGO Fortify Rights, in 2007 government tests found unsafe levels of arsenic, cyanide, and manganese in local rivers and underground water supplies. These chemicals are commonly used in gold-mining processes.
Also in 2007, the communities surrounding the gold mine founded the Khon Rak Ban Kerd ("People who love their homeland") group to ask for the closure of the mine and the restoration of the environment. Ranong Kongsean, one of Na Nong Bong's social leaders, had a dream: raise funds for the villagers' fight through the sale of textiles weaved by women of the community. This is how the Radical Grandmothers' collective was born.
In their decade-long struggle for justice, the radical grandmothers and other residents have faced threats, harassment and criminal prosecutions, both from the mining company and the local authorities. On the night of May 15, 2014, a group of about 150 masked men armed with sticks and guns surrounded Na Nong Bong and beat the villagers, while trucks brought previously harvested ore out of the mine. Police and provincial authorities did not intervene or answer villagers' calls that night. In 2016, the Loei Provincial Court convicted an army lieutenant colonel and a retired lieutenant general for their involvement in the attacks.
The mine is now out of operation, as Tungkum Limited's license expired in 2013. In December 2018, the Loei Provincial Court ordered Tungkum Limited to pay 104,000 baht (about $3,150 at the time) to 149 families affected by the mining activities. The court also ordered the company to take measures to restore the environment. Still, villagers have yet to receive any compensation and nothing has been done to restore the environment.
"They did not take responsibility for anything that happened here," says Ranong Kongsaen. "They said they had never done it."
Tungkum Limited went bankrupt in February 2018. Tongkah Harbor Public Company, Tungkum Limited's parent company, denied any responsibility for issues regarding its subsidiary.
The women of the Khon Rak Ban Kerd group received a National Human Rights Commission award for defending human rights on International Women's Day, March 8, 2016. "I keep fighting for the next generations," says Ranong. "I don't want the next generations to say, why didn't this generation try to […] make a change? If I have to die because […] I fought so hard against the injustice, it will be worth to die this way."
Valeria Mongelli is a a freelance documentary photographer and journalist currently based in Thailand.