The Desperation of Japan's Detained Asylum Seekers
A look back at the wave of hunger strikes among detained asylum seekers in Japan last year.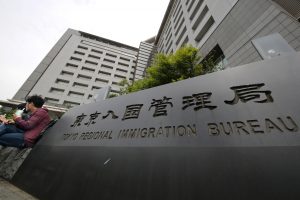 Since the 2015 worldwide refugee crisis, the number of people seeking asylum in the Global North has increased dramatically. The United Nations High Commissioner for Refugees (UNHCR) estimates that as of last year, there were 79.5 million forcibly displaced people around the world. Among those people, 4.2 million sought asylum. In response, the advanced economies of the Global North have tightened their restrictions on asylum.
In Japan, where I conducted research in 2019, more than 10,000 foreigners sought asylum that year. Prolonged waiting periods of more than 12 months are common here for those who have applied for refugee status. (By comparison, the United States had more than 97,000 asylum seekers in 2018. As I was interviewing asylum seekers in Japan about their prolonged detainment, the U.S. had approximately 42,000 people detained by Immigration and Customs Enforcement.)
While visiting the Immigration Service Agency (ISA) East Japan Detention Center in Ushiku, Ibaraki Prefecture, and Tokyo Detention Center, I witnessed the rapid spread of hunger strikes among long-term detainees. This essay seeks to portray the asylum seekers' plight amid their prolonged detention. To protect their identities, pseudonyms are used throughout this article.
"We Will Not Be Heard Unless We Endanger Our Health"
When I first met Ali, he was being carted by an ISA staff member into a small, florescent-lit meeting room where a large acrylic board separated the detainee and visitors. Ali was weak and bound to a wheelchair. He had been on hunger strike for 23 days, protesting his indefinite detainment, which at this point had lasted more than two years, and that of hundreds of others like him. ISA staff would place food for him and five other detainees at the entrance of their room. This is where it would remain.
Ali, an Iranian, was 21 years old when he first sought asylum in Japan, and has been detained by ISA since then. In that time, he had attempted suicide twice.
We sat across from one another in the Ushiku Detention Center. He'd been in that location for 13 months already, and the only way out of the detention center system was for him to agree to deportation. He saw refusing to eat as his last hope. The serious deterioration of his health, he thought, could lead to a provisional release from the detention center, which would allow him to live outside – albeit under numerous restrictions. In little more than three weeks, he'd lost 10 kilograms. When we spoke, he weighed just 49 kilograms.
"Please," Ali pleaded in fluent Japanese, "give back to me the two years of my life. Two years during your youth are happy years, aren't they? When I think about it," he said, putting his right hand over his chest, "my heart aches."
At the time, Ali was among approximately 1,400 detainees in custody in detention centers scattered across Japan, where asylum seekers and undocumented foreigners awaited their release. The Japanese government approves a minuscule number of the roughly 8,000 applications for refugee status it receives annually. In 2018, only 42 of 10,493 applicants were granted refugee or special resident status — 0.4 percent of applicants. Rejected applicants are either deported immediately, or held in ISA detention centers.
In contrast, 23 percent of applicants in Germany in the same year were offered residency, and 35 percent of applicants in the U.S. were resettled there. While 68 percent of Burmese asylum seekers, 45 percent of Turkish Kurds and 19 percent of Sri Lankans have been recognized as refugees around the world, Japan does not recognize their home countries as places of political persecution.
The detainees at the Ushiku Center come from a variety of countries, led by Sri Lanka, Iran, China, Nepal, and the Philippines. Many fled their home countries due to political or religious persecution. Turkish Kurds, for instance, were suffering from what they viewed as the cultural and political suppression of the Turkish government. Many flee Turkey to Japan, where they can travel without a visa, and seek political asylum there. The Japanese government, however, is concerned about damaging the amicable relationship that it has with the Turkish government if it recognizes Ankara's treatment of Kurds as political persecution. So far, no Turkish Kurd has been officially recognized as a refugee in Japan.
In June 2019, a Nigerian man in a detention center in western Japan died from hunger. He had gone on hunger strike after his request for provisional release was denied. His death triggered a series of hunger strikes among detainees across the country. Through the summer months of 2019, more than 100 of some 320 detainees there went on hunger strike, protesting their long-term detention.
Despite the fact that the existing protocol discourages the detention of asylum seekers for longer than six months, more than 90 percent of the detainees at the Ushiku Center have been kept there beyond a year.
"[O]ur message will not be heard unless we endanger our health," an Iranian man told the Japanese newspaper Asahi Shimbun. Their intention: to convey "that long-term detention is wrong."
"Here There Is No Future"
"They completely ignore our plights," Abdul, an Iranian detainee, explained. "I don't even know what they want to do with us." Abdul fled Iran after being arrested due to his involvement in an anti-government movement. He was tortured in police custody. Afterward, he sought asylum in Japan.
When we met, he'd already been detained for three years and nine months. He angrily described the inflexibility of the migrant detention system, comparing the Japanese government's treatment of detainees with the killing of civilian hostages by the Islamic State. "This is like a warzone — no, it is worse than warzone. If this is a warzone, you would be saved if you surrender. Here, they would kill you even if you surrender … I just don't understand the Japanese government's intentions."
"I am losing a sense of time because my life is being taken away," he lamented.
Abdul had been arrested in Japan and spent five and a half years in Japanese jail for a drug possession charge. "Everyone makes a mistake. It is just a matter of whether you get caught or not. Even speeding is a crime."
From inside the detention center, he regrets seeking asylum in Japan. "This is really like a dungeon. If I were to die, I would like to die in my own country's prison. … You could never recover from psychological injury, unlike a bodily injury that eventually heals … Had I been arrested in Iran, I would have been a free man after spending four or five years in prison. But here, there is no future."
The extremely low rate of asylum in Japan is partly due to the large number of applications from knowingly ineligible applicants. As long as an asylum application is pending, they are allowed to stay in Japan. This means, at any given time, approximately 8,000 individuals are residing in Japan for three to six months with this pending status.
In 2017, for instance, the largest contingent of asylum applicants came from the Philippines, Indonesia and Vietnam – residents of nations that aren't typically granted refugee status. The United Nations' 1951 Refugee Convention defines a refugee as "someone who is unable or unwilling to return to their country of origin owing to a well-founded fear of being persecuted for reasons of race, religion, nationality, membership of a particular social group, or political opinion." This definition leaves much room for debate as to whether an asylum applicant has "a well-founded fear" and whether the persecution against the applicant is based on his or her race, religion, nationality, or a particular social group. As a result, scholars, bureaucrats, lawyers, and refugee rights advocates debate who are "real" refugees, and who are "fake" ones. While there are no reliable data regarding how many "real" and "fake" refugees exist, those who approve of the low refugee recognition rate in Japan argue that only a few hundred should be considered legitimate refugees, while refugee rights advocates insist that a thousand or more asylum applications should be approved.
Those who are rejected, however, must agree to their deportation. The 1951 UN Refugee Convention posits the fundamental principle of international law, non-refoulement, which forbids a country receiving asylum seekers from returning them to a country in which they would be in likely danger of persecution. If they refuse to be deported, they either stay in their detention centers or get placed into a center for the first time. These rejected applicants, and some pending applicants, fill detainee centers, alongside individuals who have overstayed their visas.
As a result of the application rejections and the asylum seekers' inability or unwillingness to return to their home countries, an increasing number of asylum seekers are detained at ISA detention centers for a prolonged period. At the end of 2019, 453 detainees had been detained by the ISA for more than six continuous months, and some for more than three years. Trapped in the void between the international laws on refugees and domestic policies on refugee recognition, these asylum seekers cycle through periods of prolonged detention and provisional release, sometimes for decades.
"Showing No Pity"
Ushiku Center is a sprawling concrete compound located in rural Ibaraki Prefecture. Its closest train station is 10 kilometers, or a 30 minutes bus ride, away. The tall walls surrounding the compound make it difficult for outsiders to know what is happening inside. Only the small parking lot and a sterile visitor's entrance are visible to outsiders. Inside, however, the treatment of asylum seekers in the detention centers is reminiscent of life in prison. Four or five detainees are locked inside a tatami-style cell of 16 square meters for more than 18 hours a day. Guards pass by the windows to the hallway; most rooms do not have a see-through window to the outside. Detainees do not leave their cells for meals. Television is allowed from 7 a.m. to 10 p.m. They have only 40 minutes to be outdoors during exercise time. Free time is limited to two short blocks in the morning and afternoon, during which they are allowed to leave their own room. Even during the free time, the detainees are allowed to meet only with other detainees living in the same block. Expensive payphones and 30-minute visitations are the only connections the detainees have to the outside world. During their detention, there is no educational programming or job training that would help them integrate into Japanese society. If the detainees are deemed disobedient by the officials, they are moved to special solitary confinement, described by the detainees as the "punishment room" (chobatsu-bo), where there is no television, and they are not allowed to go outside at any time.
Many detainees suffer from mental and physical illnesses as a result of the perpetual waiting. Suicide attempts are disturbingly common, and many of the detainees are prescribed sleeping pills and antidepressants. The Ushiku Center has a nurse, rotating doctors who make a regular visit during weekday afternoons, and a psychologist and dentist who make a monthly visit. One doctor who volunteers at the center regularly to consult with the detainees criticized the care offered at the center. The doctor told the Mainichi Shimbun newspaper: "It is dangerous for a nurse [not a doctor] to make critical medical decisions, but ISA seems to have no intention to cure the detainees and believe that its job is to keep the detainees 'deportably healthy.'"
Dozan, a 30-year-old Turkish Kurd who came to Japan in 2007, has been detained in the Ushiku Center for nearly two and a half years. He has attempted suicide three times. Most recently, he took the rope ISA staff had tied around his feet and tried to choke himself by wrapping it around his neck. When the staff stopped him from choking himself, Dozan banged his head on the wall, "trying to kill [him]self by internal bleeding." The staff then placed head gear on him to prevent him from further harming himself. He continued to bang his head on the wall for an hour. "While I was doing it, the staffs were laughing at me, showing no pity." When we met at the Ushiku Center's meeting room, he was wheelchair-bound, and his eyes seemed not to focus well. He had been on a hunger strike for nearly 20 days.
Dozan was seeking provisional release from the detention center. Provisional release would only allow him to stay out of the detention center for a limited period. During the provisional release, he would not be allowed to work, or to leave his prefecture of residence without the ISA's permission. He would not be qualified for social welfare services, such as national health care benefits. He would have to report to the ISA office in Tokyo every two weeks to renew his release permit. Due to these limitations, provisionally released detainees must rely on relatives, NGOs or Japanese individuals who are willing to help them to survive. Whether a renewal of the release is approved or not is entirely up to the ISA, and there is a chance that Dozan could be re-detained without any given reason.
Two weeks after Dozan's fourth attempt, he stopped his hunger strike, after the ISA staff assured that he would be provisionally released within a week. In addition to a sleeping pill and a medicine to facilitate digestion, he is taking an antipsychotic, an antidepressant and sedatives. He was told by the ISA staff that the hunger strike was useless. Staff told him, "Once you get out of here, we will catch you again. What you are doing right now is meaningless."
Many of those, like Dozan, who had been on hunger strike at the Ushiku Center gained provisional release from the center in July and August 2019. According to Asahi Shimbun's reporting, Majid, a 51-year-old Iranian man, had been detained for a total of two years and five months. Due to the hunger strike, his health deteriorated and he had little appetite. When he was released on July 9, 2019, he was unable to walk.
Provisional release is granted when the health of a detainee deteriorates, according to a Ushiku Center official, who added, "Depending on the situation, they could be detained again." Indeed, Majid was detained again on July 22. ISA officials gave no reason for the re-detention. In fact, multiple detainees had been taken into detention after a two-week provisional discharge, a common practice. Speaking to Asahi Shimbun, a Japanese attorney who represented one of the provisionally released then re-detained subjects, views this as the immigration authorities' attempt to make an example of other hunger striking detainees, to say, "hunger strike is useless."
Taku Suzuki, an anthropologist who has studied transnational migration for the past 20 years, is currently investigating Japanese state policies towards refugees.